BARTech and Deltamarin Look to Optimize Hulls for Wind Propulsion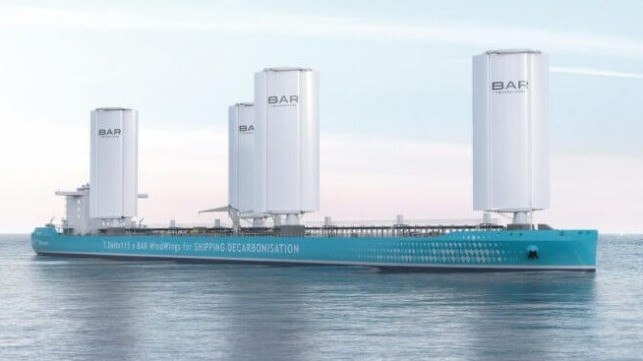 Marine engineering consultants, BAR Technologies, and naval architects, Deltamarin, are partnering in an effort that looks to optimize the hull designs of large commercial ships to maximize the propulsive effects of the new generation of wind sails. According to the companies, while the designs for the various wings and sails have advanced, the underwater shape of the vessels is not maximizing the effectiveness of the technology.
In announcing their new research partnership, BAR Technologies and Deltamarin said above deck there have been great strides in design that harnesses the potential of wind propulsion. The next frontier, recognized in their partnership, is to complement this with hull forms modified specifically to maximize wind power. Progress they noted toward maximum efficiency depends upon full consideration of variable factors, such as the type of vessel and the route it is taking. To get closer to the best solution in general, they believe more research must be completed on how performance can be improved under the water's surface. They have jointly developed the designs for a new Aframax/LRII design.
BARTech was formed to leverage and commercialize expertise from racing yachts to commercial shipping as part of the efforts at decarbonization. They previously developed the WindWings, a rigid sail technology, and working with Deltamarin developed designs for the first installations. Last year, BAR Tech working with Yara Marine Technologies as its distributor announced the first installation contract for the WindWings. Two of the rigid sails are being installed on the Pyxis Ocean, a five-year-old 80,962 dwt dry bulk carrier owned by Mitsubishi and operating for Cargill.
They had previously projected the installation of WindWings would allow operators to save 1.5 tonnes of fuel per WindWing per day, on average global routes. This was estimated to equate to a reduction of approximately 4.7 tonnes of CO2 saved per WindWing per day, assuming the use of heavy fuel oil for main propulsion.
"With this new hull design, BAR Technologies and Delatmarin's early predictions suggest that as much as 10 tonnes of fuel per day can be saved with an Aframax/LRII hull and four WindWings using a North America/Rotterdam roundtrip as an example," the companies reported.
"Wind is the free fuel, and it is the gauntlet laid down in front of innovators like ourselves to work out how we can displace fossil fuels with wind power," said John Cooper, Chief Executive Officer of BAR Technologies. He predicted that the Aframax/LRII design developed with Deltamarin would be the first of many as they work to accelerate efforts to achieve decarbonization for commercial shipping.