Ballast Water Convention to Enter into Force in 2017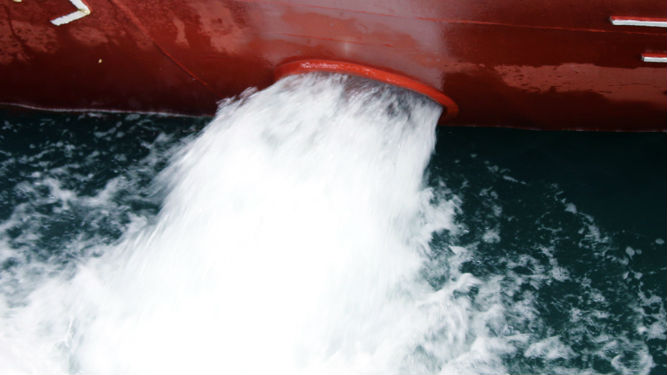 Accession by Finland has triggered the entry into force of the IMO Ballast Water Management Convention.
The Convention will enter into force on September 8, 2017, marking a landmark step towards halting the spread of invasive aquatic species, which can cause havoc for local ecosystems, affect biodiversity and lead to substantial economic loss.
Under the Convention's terms, ships will be required to manage their ballast water to remove, render harmless, or avoid the uptake or discharge of aquatic organisms and pathogens within ballast water and sediments
"This is a truly significant milestone for the health of our planet," said IMO Secretary-General Kitack Lim.
"The spread of invasive species has been recognized as one of the greatest threats to the ecological and the economic well-being of the planet. These species are causing enormous damage to biodiversity and the valuable natural riches of the earth upon which we depend. Invasive species also cause direct and indirect health effects and the damage to the environment is often irreversible," he said.
He added, "The entry into force of the Ballast Water Management Convention will not only minimize the risk of invasions by alien species via ballast water, it will also provide a global level playing field for international shipping, providing clear and robust standards for the management of ballast water on ships."
Finland's accession brings the combined tonnage of contracting states to the treaty to 35.1441 percent, with 52 contracting parties. The convention stipulates that it will enter into force 12 months after ratification by a minimum of 30 States, representing 35 percent of world merchant shipping tonnage.
The Convention will require all ships in international trade to manage their ballast water and sediments to certain standards, according to a ship-specific ballast water management plan. All ships will also have to carry a ballast water record book and an International Ballast Water Management Certificate. The ballast water performance standard will be phased in over a period of time. Most ships will need to install an on-board system to treat ballast water and eliminate unwanted organisms. More than 60 type-approved systems are already available.
"The entry into force is a very good step towards clarifying what ships have to deal with in the near and bit farther future," says specialist ballast water management consultant Jad Mouawad. "Many questions remain during the implementation phase: how the revised Type Approval guidelines will be integrated into the retrofit timeline, how ship owners should choose a ballast water treatment system strategically to ensure compliance with the U.S. Coast Guard requirements (that have not yet type approved a ballast water treatment system), what changes will the IMO do to the Convention text besides the timeline changes already agreed to.
"The immediate reaction to the anticipated ratification for us has been a sharp increase in requests for market and feasibility studies for shipowners. Simply put, shipowners are asking us which systems they should buy, how to lay an installation strategy based on their scheduled survey dates, dry docks and so on. I recommend all shipowners to do this homework before starting to buy systems."
ICS Looks to IMO for Clarification
The International Chamber of Shipping (ICS) reiterates that it is now more vital than ever that IMO Member States finalise the revision of the G8 Type Approval Guidelines for treatment systems at the next session of the IMO Marine Environment Protection Committee this October.
ICS Chairman, Esben Poulsson said: "We must ensure that shipowners can have absolute confidence that the expensive equipment they will soon have to install will be effective in treating ballast water conditions normally encountered during worldwide operations and be regarded as fully compliant during Port State Control inspections.
"The fixing of a definite implementation date, after so many years of delay, will at least gives shipowners some of the certainty needed to make important decisions about whether to refit the new mandatory treatment equipment or otherwise to start sending ships for early recycling," Poulsson added. "Unfortunately, the entry into force of the new IMO regime will not resolve the extreme difficulties that still exist in the United States."
ICS says there is still great uncertainty with respect to the more stringent United States approval regime for treatment equipment, which started to be enforced in January 2014 (the U.S. not being a Party to the IMO Convention).
The U.S. regulations require all ships that discharge ballast water in U.S. waters to use a treatment system approved by the U.S. Coast Guard. However, because no systems have yet been approved, ships already required to comply with the U.S. regulations have either been granted extensions to the dates for fitting the required treatment systems or else permitted to install a U.S. Coast Guard accepted Alternate Management System (AMS), in practice a system type-approved in accordance with the current IMO Guidelines.
However, an AMS will only be accepted for operation for five years, after which time a fully U.S. Coast Guard approved system must be installed. But the U.S. Coast Guard does not guarantee that an AMS will be subsequently granted full approval. Hence shipowners that may have installed an AMS in good faith, at a cost of between US $1-5 million per ship, might then have to replace the system completely after only five years.
"The impasse in the U.S. is a particular concern for operators that have installed ultra-violet systems" observed Poulsson.
ICS says that the situation has been compounded by the Coast Guard announcing, at the end of last year, that it will not accept the methodology used by other IMO Member States to approve UV treatment systems when assessing the number of viable organisms in treated ballast water.
ICS will therefore be working with IMO Member States to impress upon the United States the importance of coming to a pragmatic solution. Otherwise, once the IMO Convention finally enters into force next year, the shipping industry will be faced with real chaos." said Poulsson.
INTERTANKO Cautiously Optimistic
INTERTANKO is advising its Members to remain focused and cautious in the months ahead.
INTERTANKO's Managing Director, Katharina Stanzel, commented that: "The entry into force of an international Convention providing global requirements will always be welcomed by INTERTANKO and the international shipping industry. In practical terms this development provides certainty for owners with a firm date now in place from which installation and dry docking schedules can be determined. However, this must be balanced against the fact that the IMO has yet to complete its work on reviewing and revising the G-8 type approval guidelines for ballast water management systems."
INTERTANKO's Environment Director, Tim Wilkins, added that: "INTERTANKO and its industry partners have pushed hard for more robust type approval procedures for ballast water management systems," something that IMO member States are now considering in a full review of the procedures. However, he added that: "While the revised type approval guidelines are now likely to be completed in advance of the entry into force of the Convention, there remains uncertainty as to when an owner will be able to install 'second generation' ballast water management systems actually tested and approved using the amended guidelines.
"It will take a reasonable amount of time before manufacturers are able to attain type approval and ensure such systems are commercially available. This would place some owners in the position of having to install 'first' generation ballast water management systems at substantial expense that may not work and/or may not meet the environmental objectives of the Convention."
Manufacturers Upbeat
Equipment manufacturers are positive about the news with Mark Kustermans, Market Manager for manufacturer Trojan Marinex, says: "Today, the global marine community has taken a significant step forward in its effort to mitigate the threat of aquatic invasive species. This outcome was possible from the contribution of countless stakeholders around the globe that recognize the environmental and economic impact of this threat and who continue to work toward global regulations that better serve the marine industry. Trojan Marinex and our partners are steadfast in our support of these efforts and of our customers as we move forward."
Equipment manufacturer DESMI says the ratification is a much needed step forward which will now allow the entire shipping industry to start planning the actions required in order to comply with the convention. For far too long shipowners, suppliers and regulators have had to deal with unknown timelines, but now we can start planning and look forward. "The major issue left to be resolved now is the U.S. Coast Guard's recent decision to not accept test methods that are accepted in the rest of the world. These test methods are crucial for the approval of major technologies such as UV technology, which currently holds a market share of approximately 50 percent.
"The international community must address this issue with the U.S. Coast Guard in order to find a pragmatic solution ASAP. The current situation where one administration implements its own rules and enforces them in a way that collides with the rest of the world is not sustainable. Shipping is a global business that needs globally uniform rules and regulations."