Autonomous Survey Vessel Development Continues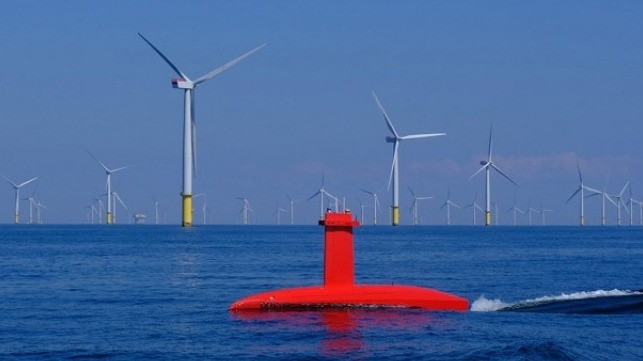 The use of autonomous vessels in marine surveys is increasing, and, most recently, U.K.-based survey company Bibby HydroMap completed testing of DriX, an autonomous unmanned survey vessel, this week.
Developed by iXblue, the eight-meter (26-foot) vessel is designed for shallow and inshore survey as well as offshore work and can accommodate a hydrographic and geophysical survey payload. It was tested in an an offshore wind farm environment in a range of sea states. Testing took place in and around the Gwynt Y Môr offshore wind farm, operated by Innogy Renewables UK. The 576MW offshore wind farm is in a tidally-challenging area off the North Wales coast and is the fourth largest operating offshore windfarm in the world.
Specific locations of interest were identified within the wind farm environment to provide a direct comparison with conventional survey methodologies. Fitted with a Teledyne RESON Seabat IDH T50 multibeam echosounder, the system was able to acquire unprecedentedly clean bathymetry at speeds greater than eight knots, remaining on the intended survey line in cross-tides in excess of 1.5 knots.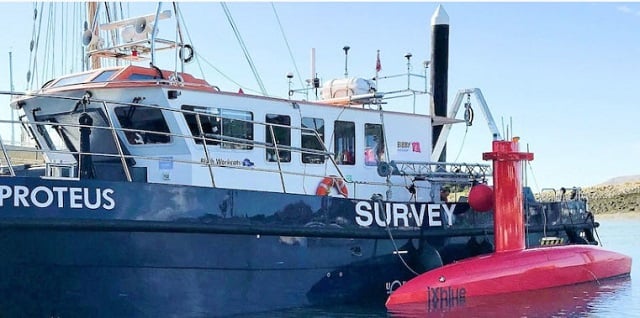 With a unique hydrodynamic gondola housing the payload DriX has been designed to dramatically reduce the amount of aeration around the multibeam echosounder. During the trials, a significant improvement was realized when compared to the conventional deployment methods seen with the majority of vessel mounted multibeam echosounder systems.
The vessel is able to operate at speeds of up to 14 knots and capable of making line turns of less than one minute. The test confirmed it was able to continue operations in conditions that would have been unsafe for conventional vessels.
Alaska Test for ASV Global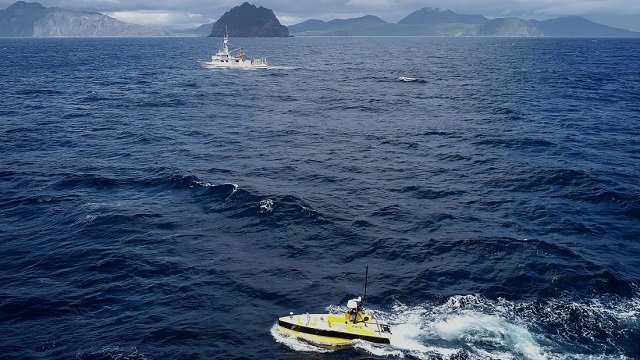 The news follows a successful survey using another autonomous vessel off the coast of Alaska earlier this month. ASV Global and TerraSond completed a hydrographic using an ASV Global C-Worker 5 unmanned vessel alongside the Q105 survey ship acting as the mother vessel. Fitted with a multibeam echosounder, the C-Worker 5 carried out 53 percent of the survey. The vessel was productive in an offshore capacity and also when working close to rugged, rocky shoreline with an abundance of uncharted navigational hazards. This operation marks ASV Global and TerraSond's fourth unmanned charting survey for NOAA in as many years. The total unmanned survey lines completed now stands at almost 15,000 kilometers (9,300 miles).
A team of research engineers is also using an ASV Global C-Worker 4 autonomous surface vessel to explore the use of autonomy for charting surveys in the Arctic regions. The team from the University of New Hampshire and NOAA are testing the diesel-powered, four-meter (13-foot) vessel which has a longer endurance and is larger in size than other unmanned surface vessels used by NOAA. The C-Worker 4 is equipped with a standard suite of hydrographic survey equipment and can independently follow planned survey lines at a distance of approximately eight kilometers (five miles) from the ship. The ASV can also be remotely driven when alongside the ship for deployment and recovery.
Sea-Kit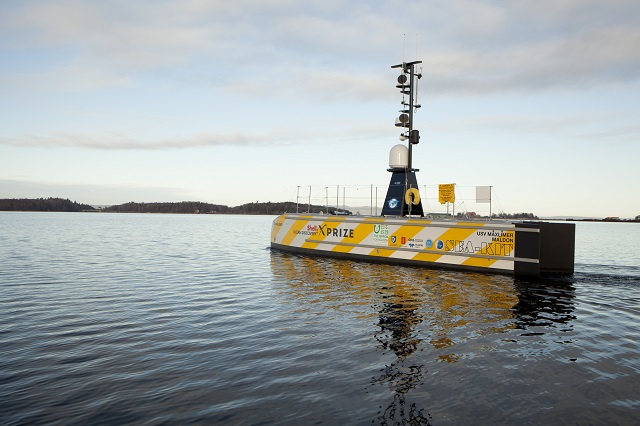 In February, Hushcraft built a Sea-Kit long range and endurance autonomous vessel designed to act as a mother-ship for a Kongsberg Maritime Hugin autonomous underwater vehicle. The vessel was designed for use by the GEBCO-NF Alumni Team to provide unmanned, high quality seabed mapping. Hushcraft said the vessel is a world first, because the Sea-Kit can act as an autonomous vessel in its own right and is also the first vessel that allows another unmanned vessel to be launched, recovered and controlled through an unmanned vessel.
Sea-Kit can carry a deployable and retrievable payload of up to 2.5 tons and is anticipated to make seafloor mapping safer and more efficient. It uses Kongsberg Maritime's K-MATE, an autonomous control engine that is also being deployed for the fully electric, autonomous container feeder Yara Birkeland.
Oceanalpha in Antarctica
Oceanalpha's M80B unmanned surface vessel has performed surveys in Antarctica earlier this year. The 5.65 meter (18-foot) vessel has an endurance of over 100 nautical miles and a maximum payload weight of 150 kilograms. It can load single-beam echo sounder, multi-wave sounding system, side scan sonar, forward looking sonar and other acoustic detection equipment. The trimaran has good stability and a specially-designed bow bulb to reduce spray and therefore improve the quality of measurement data.