Australia Uses Robots to Search Ships' Hulls for Cocaine Bales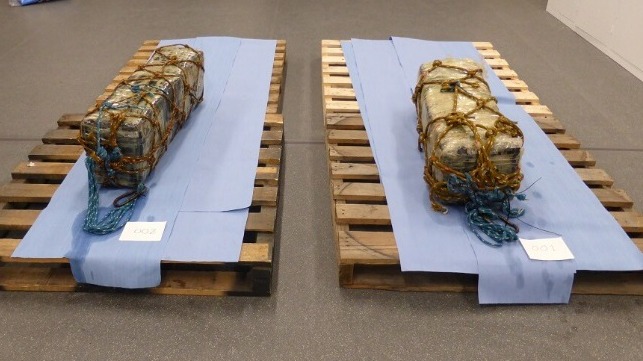 The Australian Border Force (ABF) has seized 200 kilograms of cocaine at the Port of Melbourne after deploying an underwater remotely operated vehicle (ROV) to conduct a search.
The cocaine was attached to the hull of a cargo ship which had traveled from Argentina via New Zealand and had a value of $80 million (US $51.4 million). Using an ROV, the ABF officers were able to identify a suspicious hull attachment in the ship's sea chest at the Port of Melbourne on August 9. Specialist divers from Victoria Police Search and Rescue Squad retrieved the packages of cocaine and handed them over to the Australian Federal Police (AFP).
Upon the seizure of the illegal consignment, the ship and crew were allowed to continue its voyage after it was searched. It traveled from Victoria across to Western Australia, and then back to South Australia.
Courtesy AFP / ABF
"This concealment method is not new, and this seizure is another case of law enforcement remaining one step ahead of criminals attempting to bring harmful, illicit drugs into our country and into our community," said Richard Chin, AFP Commander. "We have prevented 200 kilos of cocaine from reaching our streets and in doing so we have prevented approximately one million street deals and the significant harm to our society that flows as a result."
Authorities in Australia intend to increase the use of submersibles to inspect the hulls of arriving cargo ships as they attempt to combat increasing illegal drug trafficking. Organized crime groups are using parasitic hull attachments below the waterline of cargo ships to try and avoid detection. This strategy is on the rise despite the dangers of retrieving the consignments for the smugglers, which can result in death and serious injury.
In May, the body of a diver was found at the port of Newcastle near a cargo ship that had arrived from Argentina. The police believed the diver was attempting to retrieve a consignment of drugs, as numerous packages of cocaine were found around his body.
Victoria Police Search and Rescue Inspector James Dalton adds, "Our message is clear: if you are attempting to import drugs or illegal goods via ships into Victoria, we will detect them and ensure the people involved are held to account. We will do anything we can to prevent drugs from reaching the hands of vulnerable Victorians."