Australia Continues Safety Crackdown Banning Bulker for 90 Days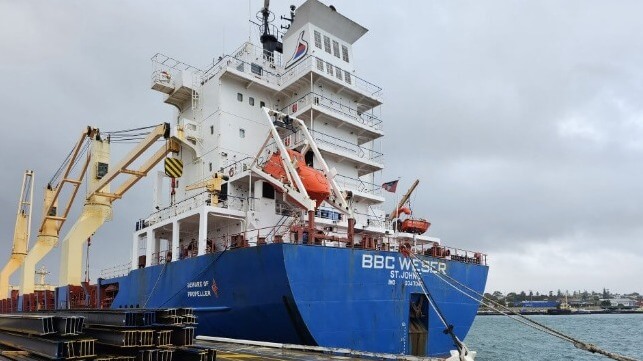 The Australian Maritime Safety Authority (AMSA) issued its second 90-day ban in a week to a merchant ship that the safety regulator believes is "unsafe and unseaworthy," posing a risk to the ship and its crew as well as Australia's marine and coastal environments. Calling itself a "tough-but-fair-safety regulator," AMSA continues to strictly enforce safety regulations and is monitoring operators which have shown a pattern of violations.
The Antigua Barbuda-flagged general cargo ship BBC Weser, a 17,500 dwt, 470-foot project carrier used primarily for heavy cargo and operated by Briese Heavylift, shows from its AIS data that it has been in Australia for more than a month. The 17-year old vessel is currently docked in Fremantle where it has been since June 3. AMSA reports it detained the ship in May 2023, with the database showing an one-day detention in Newcastle. It was the first detention issued to the vessel in nearly a decade, although Chinese inspections in April also flagged deficiencies without a detention.
"BBC Weser poses a significant risk to the safety of the seafarers onboard, and Australia's marine and coastal environments," said Michael Drake, AMSA Executive Director of Operations. "The defects on the BBC Weser are especially concerning, as they are detainable deficiencies that would have been obvious to anyone onboard."
AMSA reports "a significant number of ballast air vents onboard were defective," highlighting that functional ballast air vents are critical safety components that prevent water entering a ship, while allowing air to escape, preventing a dangerous vacuum from developing inside a tank. As a result, the ship is being banned from Australian waters for 90 days.
The vessel's operator is under a one-year review where AMSA says all of its ships are eligible for inspection every three months as part of ongoing compliance activities. This order started in April.
AMSA had twice contacted Briese Heavylift GmbH & Co to warn them of their poor performance and the potential consequences of further detentions, or more serious compliance and enforcement action, the safety regulator wrote in its report. AMSA says the ship's operator has a history of poor performance, with one-in-five of their ships having been detained in Australia since May 2021. This rate is more than three times the average for ships visiting Australian waters. Previous detentions were due to defective emergency generators and unsafe work platforms, negligence AMSA reports led to a crewmember being critically injured while working on one of their ships.
Currently, AMSA has 18 managers or owners on its review list for monitoring of their vessels. This includes several well-known names, including MSC Shipmanagement, COSCO Wallem Ship Management, Maersk (Safmarine), Mitsubishi Ore Transport Co., and Hoegh Autoliners.
At the beginning of June, AMSA also imposed a 90-day ban on a Panama-flagged bulk carrier Babuza Wisdom for what it described as a "plethora of detainable deficiencies," including a defective rescue boat engine. Two other vessels were also issued bans earlier this year in what the agency described as a "crackdown on poor performers" in the maritime industry.