Tug Goes Aground, Spills Fuel Off British Columbia
The ATB tug Nathan E. Stewart and her tow, the barge DBL 55, went aground near the remote town of Bella Bella, British Columbia on Thursday morning.
Her crew were rescued and no injuries have been reported. The barge was empty at the time of the grounding, but the tug is said to be carrying approximately 60,000 gallons of diesel.
An image provided by the council of the Heiltsuk tribe Thursday afternoon shows the Stewart almost fully submerged, suspended by its ATB coupling pins from the barge's notch. A large slick is visible on the waters around it.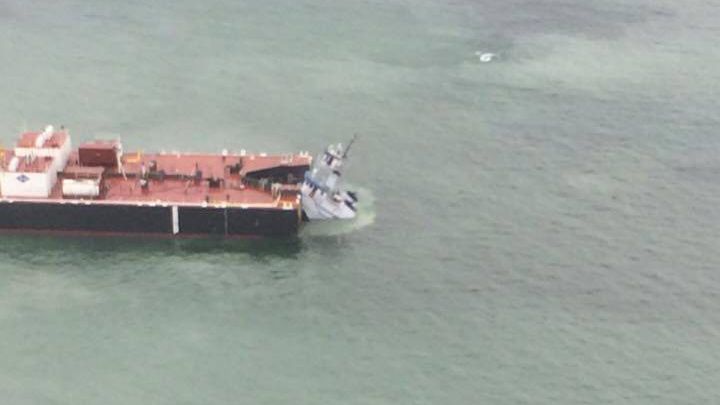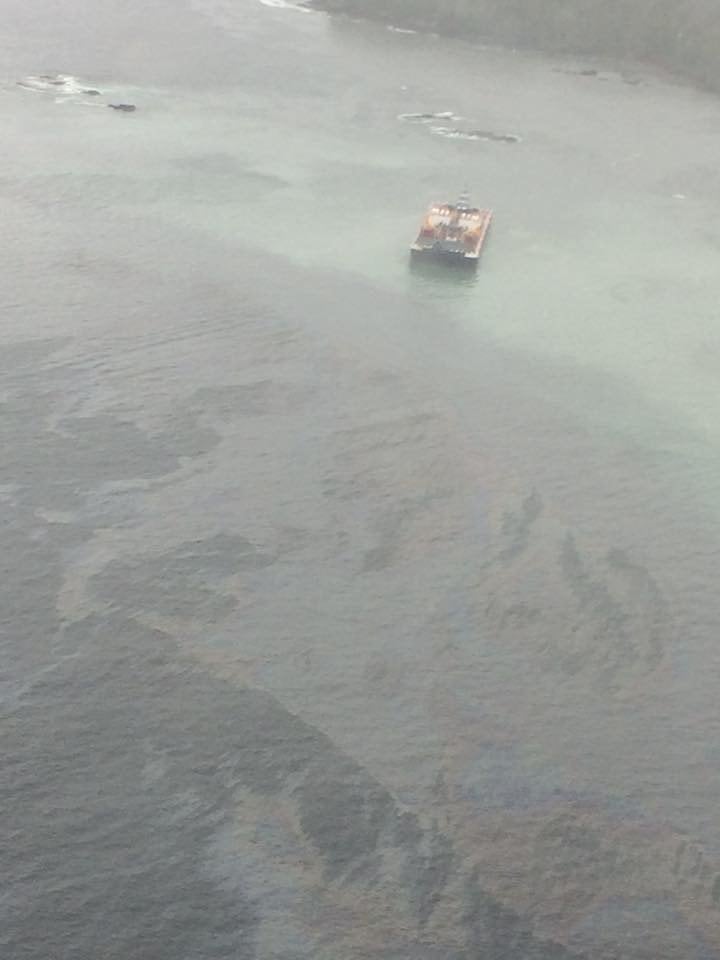 Images courtesy Marilyn Slett / Heiltsuk Tribal Council / twitter
The cause of the accident has not yet been determined. The Stewart's past AIS track shows her making nine knots on a steady course just prior to reaching her current position.
Tribal members told Canadian news outlets that the spill is directly adjacent to productive clam beds, which provide the community's fishermen with part of their income. In addition, they expressed concern that the diesel could spread to other areas the tribe depends on for subsistence.
"Though we are thankful that the barge was empty, we are gravely concerned about the potential ramifications of the fuel spill from the tug," stated Heiltsuk Chief Councillor Marilyn Slett. "Our Gitga'at neighbours to the north are still unable to harvest clams and other seafoods ten years after the sinking of the Queen of the North. This spill area is in one of our primary breadbaskets."
Kirby Offshore Marine, the vessel's operator, said in a statement that it regrets the Stewart incident and is working to respond. "Western Canada Marine Response Corporation was activated and have deployed vessels and crew from their response base in Prince Rupert. A mobile skimming vessel, boom skiff, workboat, and tug, along with a total of 2,500 feet of boom, have been deployed to the scene. Resolve Marine Group, worldwide salvage and coastal recovery specialists, have been contacted and are deploying assets to the area," the firm added.
Kelly Brown, director of the Heiltsuk's resource management department, alleged that the initial spill response in the remote location was inadequate.
"The first responding vessels were not equipped to deal with a spill, and had to return to town to gather more gear," she said in a statement to an activists' group. "The Heiltsuk are providing our own equipment because what responders have been able to provide so far is insufficient."