Asian Piracy Incidents Drop to Four-Year Low
The Regional Cooperation Agreement on Combating Piracy and Armed Robbery against Ships in Asia (ReCAAP) has issued its half yearly report saying there has been an improvement in the piracy and armed robbery situation in Asia.
The period January to June saw the largest decrease in number of incidents compared to the same period in the past four years of 2012-2015. The number of incidents reported decreased by 64 percent compared to the same period in 2015, with only 41 incidents reported compared to 114 in 2015.
The decline in incidents was most evident in the Straits of Malacca and Singapore, where one incident was reported compared to 55 incidents during the same period in 2015. Two incidents involved hijacking of tankers for oil cargo theft compared to 10 during the same period in 2015.
Four incidents in the first half of the year involved the abduction of crew from tug boats, namely Brahma 12, Massive 6, Henry and Charles 00 in waters off Eastern Sabah and Southern Philippines. These incidents, along with another seven, involved the crews being physically mistreated.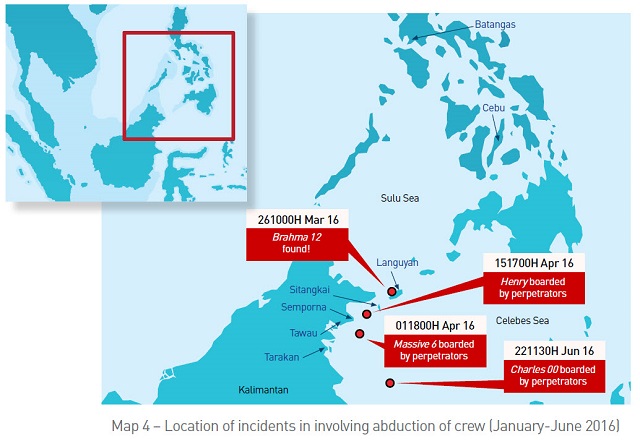 Of the 41 incidents reported during January to June 2016, 30 incidents occurred on board ships while at anchor/berth and 11 incidents on board ships while underway.
The situation at most ports and anchorages in Asia has improved this year except at certain locations in India and Indonesia. More than three-quarters of the 30 incidents reported at ports and anchorages occurred in Indonesia (Belawan, Pulau Batam, Samarinda, Semarang, Tanjung Priok) and India (Haldia, Kandla and Visakhapatnam). The remaining incidents occurred in Vietnam (Hon Cam, Hon Gai, Vung Tau), China (Longkou, Tianjin), Philippines (Batangas) and SCS (off Pulau Bintan).
ReCAAP ISC urges the littoral states to step up surveillance and the shipping industry to adopt appropriate preventive measures.
The report is available here.