Anti-Piracy Mission Deploys Surveillance Drones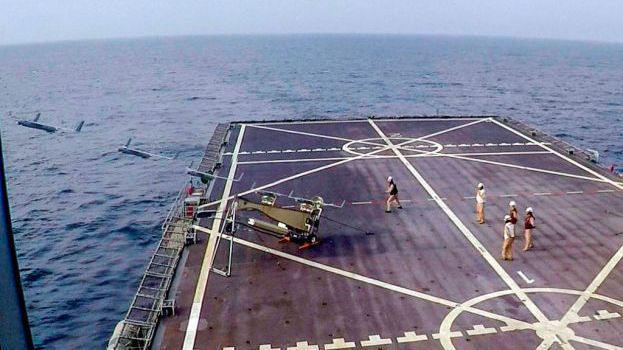 EUNAVFOR's Operation Atalanta, the European Union's anti-piracy naval mission in the High Risk Area off the coast of Somalia, is using drones to monitor the nation's coastline and search for pirate activity.
The Spanish Navy vessel ESPS Galicia has deployed a Boeing ScanEagle remotely piloted aircraft to provide long-endurance aerial surveillance during coastal patrols. The ScanEagle can be launched and recovered from a small footprint, and it can stay aloft for up to 18 hours; it provides imaging capability both day and night, and serves as a relatively low-cost complement to the over-the-horizon surveillance capabilities of the Galicia's two Sea King SH-3D helicopters.
To date, the Galicia's ScanEagle system has racked up over 500 hours of flight time in service of Operation Atalanta. Among its other missions, the drone went aloft to provide constant monitoring of the hijacked tanker Aris 13.
The ScanEagle is also in service with the U.S. Navy, the U.S. Coast Guard and the Royal Navy, and it was deployed off Somalia during the famous Maersk Alabama hijacking, when pirates attempted to kidnap Captain Richard Phillips. The drone small enough to launch from an 80-foot SEAL operations boat, yet large enough to carry a small radar, an infrared camera or a ViDAR optical detection system. The latest model can operate at a distance of up to 60 miles from its command and control base.
Despite the ScanEagle's proven capabilities, the UK Royal Navy will stop using the system this year due to budget constraints, part of a series of deep cuts to the service's front-line weapons systems, units and platforms.
Piracy Returns off Somalia
Pirate activity off Somalia has returned since NATO ended its long-running Ocean Shield patrol mission in November. Abdihakim Abdullahi Omar, the vice president of the Somali region of Puntland, recently told reporters that NATO's failure to address illegal fishing and toxic waste dumping was partly to blame for the recent resurgence in maritime crime. "We requested NATO warships to tackle the illegal fishing, but they replied it was not their mandate," he said. "We told them that if they cannot take measures against the illegal fishing vessels who come under their cover and those who pour wastes into our waters, then their presence is a burden rather than a benefit."
However, Joshua Tallis, a research analyst for CNA Corporation, recently told the Sri Lanka Guardian that fishing has not traditionally been a major part of the Somali economy, and that most pirates are not former fishermen. "That does not excuse the devastation of toxic dumping and IUU fishing, only its ability to causally explain piracy," he said.