AIDAprima Receives Portugal's First LNG Bunker Delivery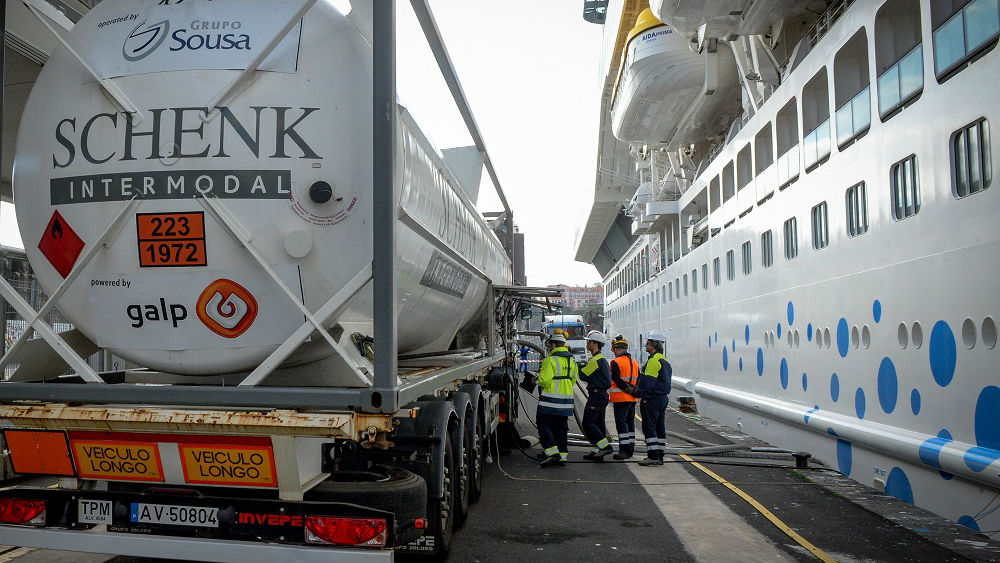 Energy company Galp has conducted Portugal's first LNG vessel refueling at the port of Funchal, Madeira.
The 124,000 ton AIDAprima has capacity for 3,300 passengers and 900 crew, and the LNG is used to fuel an auxiliary motor that produces the energy used by the ship while at port. She received enough LNG to power 42,000 households, said Galp, which now has the capacity to refuel ships with LNG at any port on Portugal's mainland and islands and will soon also provide ship-to-ship refueling.
AIDAprima is driven by three MaK 12V M43C diesel engines and one MaK M46DF dual-fuel engine. She also uses Mitsubishi Heavy Industries' proprietary Mitsubishi Air Lubrication System, which releases small air bubbles to cover the bottom of the vessel, reducing the friction between the hull and the surrounding water. This is predicted to reduce CO2 emissions and fuel consumption by around seven percent.
Carnival Corporation has signed with Meyer Werft and Meyer Turku to build a total of seven LNG-powered cruise ships for four of its 10 cruise brands by 2022 – two for AIDA Cruises, two for Costa Cruises, one for P&O Cruises UK and the two ships for Carnival Cruise Line.
The industry marked an important milestone recently with the beginning of construction of the AIDAnova in Germany and the Costa Smeralda in Finland. They will be the first of a new generation of cruise ships fully powered by LNG.