Adm. Bill Moran Named Next Chief of Naval Operations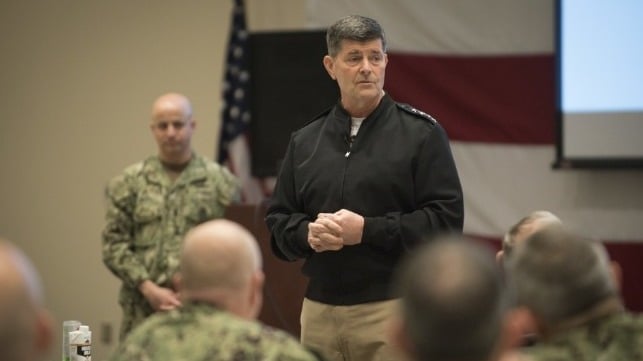 On April 10, Acting Secretary of Defense Patrick Shanahan announced that President Donald Trump has nominated Vice Chief of Naval Operations Adm. William "Bill" Moran to the post of Chief of Naval Operations (CNO), the Navy's highest commissioned officer.
"[Adm. Moran] has been central to the Navy adopting a fighting stance in this great power competition," said outgoing CNO Adm. John Richardson. "As I turn over and go ashore, I will rest easy knowing that, pending confirmation, Adm. Moran has the watch."
Adm. Moran, a naval aviator by training, has been the Vice Chief of Naval Operations (VCNO) since 2016, and he serves as Adm. Richardson's deputy. From 2013-2016, he was the chief of naval personnel, responsible for planning and programming of all manpower, personnel, training and education resources for the U.S. Navy. The surface fleet's training and manpower policies came under intense scrutiny in 2017 in the wake of the USS Fitzgerald and USS McCain casualties and revelations of pervasive deficiencies at Japan-based 7th Fleet; in his new role as VCNO, Adm. Moran took the lead in addressing these issues as head of the Navy's Readiness Reform Oversight Committee.
"I personally made the assumption, and I have made the assumption for many, many years that our forward-deployed Naval force in Japan was the most proficient, well-trained, most experienced force we had, because they're operating all the time," Moran told the House Armed Services Committee in 2017. "I've made the assumption. It was a wrong assumption, in hindsight."
Adm. Moran is also a believer in the promise of "digital transformation" and bringing new tech to the fleet. "[Digital is] as important to our future success as the transition from sail to steam was at the start of the 20th century or the harnessing of the atom for ship propulsion during the Cold War," he said.