Tanker Starts on Arctic Sea Route Via Northeast Passage
Stena Bulk's tanker Stena Polaris, with a cargo of 44,000 tons of naphtha, is sailing from the Gulf of Finland via the North-East Passage to South Korea - a route that passes through Arctic waters - in a 31-day voyage.
The Stena Polaris left Russian Ust Luga in the Gulf of Finland on 17 September and is expected to arrive at the port of Yosu in South Korea on 18 October. The voyage is a joint project between Stena Bulk and South Korean Hyundai Glovis.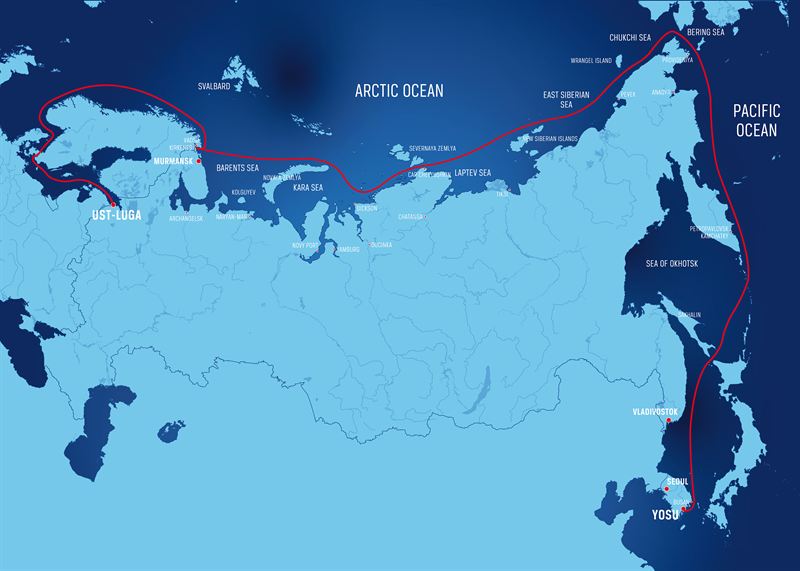 "This will be one of the greatest adventures in my life and I have very high expectation with regard to what we will see and experience. I'll also be getting a lot of useful experience, which we will be able to make use of in our continuous development work", says Patrik Svahn, who normally works in Stena Bulk's office in Gothenburg but is now "our" man on board. Patrik blogs daily directly from the ship.
Know-how and experience
There are a limited number of tankers that are equipped to sail through the North-East Passage. Operating in extreme Arctic conditions requires know-how and experience. Stena has extensive knowledge of the tough environment in the north and knows how to navigate safely through ice-covered waters. To maintain its leading position in safe transportation at sea, every year the company invests large sums in developing the necessary routines. Well-equipped vessels together with highly experienced crews are the only way to master Arctic conditions. This means that currently, only a relatively limited number of vessels are able to sail through these waters.
"One of the objectives of this special voyage through the North-East Passage is to transfer operational and technical experience from Stena to Hyundai Glovis. Accordingly, the focus is mainly on the experience we have gathered during all the years we have been operating in the icy conditions in the North-East Passage", says Erik Hånell, President & CEO of Stena Bulk.
P-MAX tankers
The P-MAX tankers were designed and built by Stena and Concordia Maritime. They have a double hull, optimum corrosion control, two engine rooms with full water and fire integrity and two propulsion systems. Double propellers and rudders and a specially designed bridge layout give the tanker extremely good maneuverability and a 360° view, which facilitate safe navigation in narrow waters.
The Stena Polaris, which is owned by Concordia Maritime and has been time-chartered by Stena Bulk for this project, has the following technical data: Length: 183 m, beam: 40 m, draft: 11.3 m, deadweight: 65,000 tons.