New Vessels Drive Offshore Wind Competitiveness
Legal firm Kravets & Kravets reviewed the wind energy technology on display at Wind Energy 2014 and believe that offshore wind is here to stay and only getting more competitive.
Offshore wind parks currently provide 0.6 Gigawatt (GW) of power to the mainland, but in the coming years this will rise to over 3GW, the equivalent of two large nuclear plants. By 2020 the amount of power provided by wind parks will double again to at least 6GW.
Simultaneously, old-style power generation (coal, gas, nuclear) are so expensive that investors like Younicos AG want to build enormous battery warehouses charged by renewable sources which are able to cover dips in power generation. This would address one of the primary concerns raised by renewable energy opponents, namely that old-style power generation will always be necessary to provide a basic level of network current.
According to Philip Hiersemenzel of Younicos AG: "Like wind power and solar, batteries are also always getting cheaper. It is a long-term downward price trend. But even today, this investment is economically viable." In other words, going forward, existing trends will only intensify.
The process of building offshore wind parks is incredibly complex and involves a vast array of specialized skills, vessels, materials and both on- and offshore management. The technological advancements and new insights gained from the challenge of building such infrastructure in such a difficult environment will without a doubt carry over to the rest of our society.
We were invited to attend Wind Energy 2014 and experience the excitement first hand. A variety of equipment was on display. We also were able to see some of the new materials being invented that make new kinds of construction possible, leading to lower prices and greater durability and efficiency.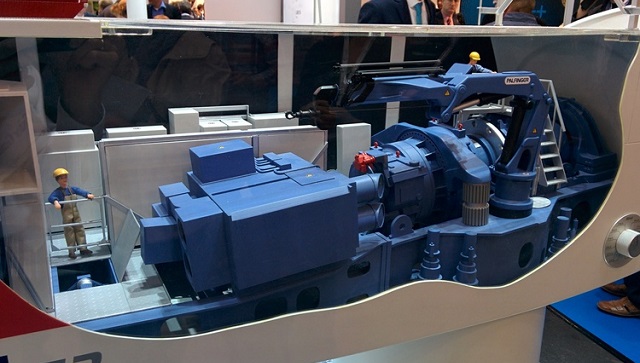 It's easy to lose track of how huge these offshore installations are, but this scale model shows how two people easily fit into an offshore installation's gondola. Like the proverbial tip of the iceberg, the monopiles and sub-sea noise dampeners are hidden from view.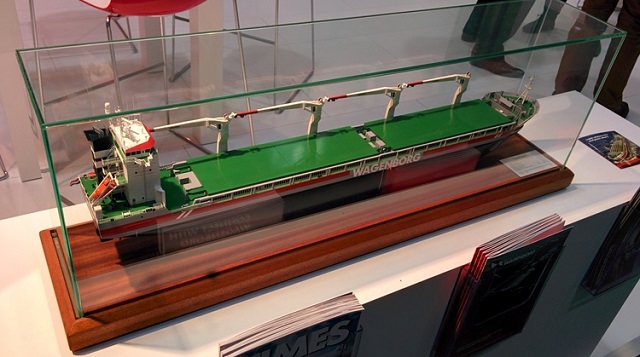 Ships such as these are used to transport wind park construction pieces, the multiple cranes on the port (left) side of the ship are used to rapidly unload. This ship is a self-discharging model, meaning that it can unload its own cargo without shore-side assistance.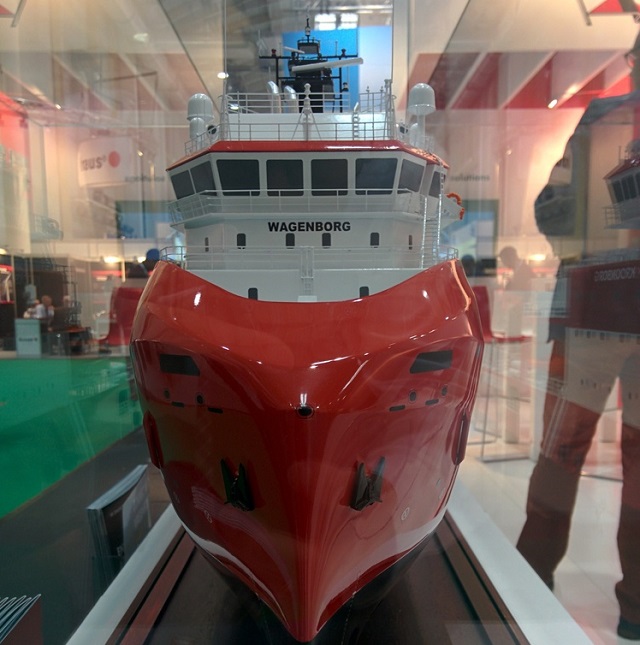 More and more, the care and provisioning of offshore wind parks is being taken over by offshore support vessels (OSVs). These vessels have high dynamic positioning capability, meaning that they are able to remain (largely) stationary while conducting work.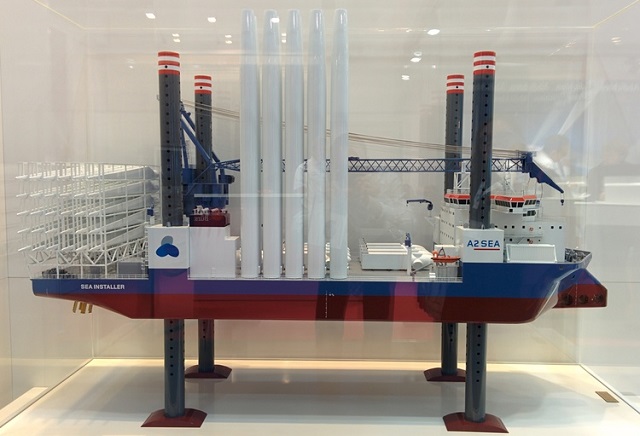 Installation ships like the one above are actually able to establish contact with the floor of the continental shelf, giving them maximum stability during their work. These vessels will install the monopiles and other base pieces for offshore wind generators. When in use, the ship will visually appear to be like an offshore drilling platform, raised above the ocean waves.
Cuxhaven was well-represented. Sharing a booth at the fair was the Economic Development Agency Cuxhaven (AfW), Cuxport GmbH, Otto Wulff GmbH, Cuxhaven Harbour Development Company and Sea Airport Cuxhaven / Nordholz. Otto Wulf GmbH & Co. KG, a family-run and owned tugboat company based in Cuxhaven, with years of experience in supporting offshore work. One of their newest projects via WP Group is a crew transfer vessel (built at the shipyard in Cuxhaven) that will do less damage to installations during docking and undocking. The key is a new hydraulic balancing system similar to the ones in use in tanks which raise or lower a platform segment on the crew transfer vessel along with the waves, thus allowing the crew to either exit or enter the crew transfer vessel more safely.
Siemens announced its new Model SWT-3.3-130 wind turbine. From Siemens' press release:
"Delivering 3.3 megawatts of electric power, this wind power unit extracts the maximum energy yield from low to moderate wind velocities, thereby rounding off Siemens wind power portfolio as an innovative and extremely efficient wind turbine for sites with low wind speeds. With its rotor measuring 130 meters in diameter, this giant unit will be available in early 2017."