[Updated] 7th Fleet Commander Relieved of Duty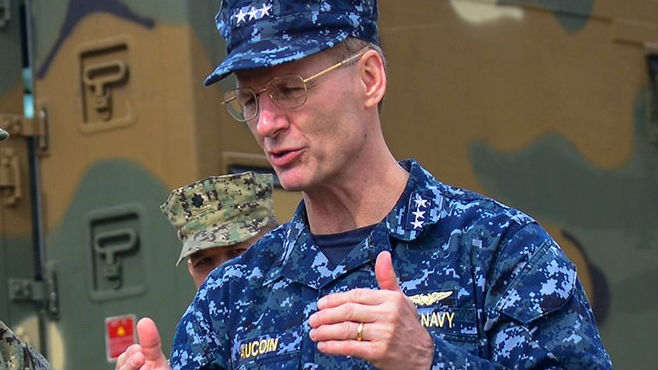 The commander of the U.S. 7th Fleet in Yokosuka, Japan, has been relieved of duty, due to a loss of confidence in his ability to command.
Vice Adm. Joseph Aucoin, a three-star commander, was scheduled to retire in a few weeks. Rear Adm. Phil Sawyer, who has already been nominated and confirmed for the position and promotion to vice admiral, will assume command immediately.
The news of Aucoin's dismissal follows the collision between the USS John S. McCain and a tanker on Monday. The vessel was damaged on its port side, and 10 sailors presumed dead.
The remains of some have been found in sealed compartments on the vessel, and U.S. Navy and Marine Corps divers continue to search the ship. In addition, they are conducting inspections of the damage to inform repair plans. More divers will join the effort August 24.
At sea, search efforts are focused on an area east of the Straits of Malacca and Singapore. The area centers around the point of collision, and is expanding to encompass a greater area as time goes on. On August 22, the Royal Malaysian Navy discovered the potential remains of a missing Sailor while searching the area. The remains were transferred to the U.S. Navy where efforts are underway to determine identification.
There have been four incidents involving U.S. Navy vessels in the region this year: the USS Fitzgerald collided with a container ship off the coast of Japan in June, killing seven sailors, USS Lake Champlain hit a South Korean fishing boat in May and the USS Antietam ran aground off the coast of Japan in January.
Admiral John Richardson, U.S. Navy Chief of Naval Operations, has called for a global operational pause after the last incident as well as an operational review and a comprehensive review. The comprehensive review will examine the process by which the Navy trains and certifys its forces that are foward-deployed in Japan including both tactical and navigational proficiency, and it will be in addition to the investigations that look into the details of the collisions.
The review will be headed by Admiral Philip Davidson, and Richardson says its scope will not only span the Navy, but look outside the military as well.
A U.S. Navy diver enters the water while conducting diving operations in support of the guided-missile destroyer USS John S. McCain (DDG 56) at Changi Naval Base in Singapore Aug. 23, 2017.