In the Know Podcast 50: Minna Kivimäki, Ministry of Transport, Finland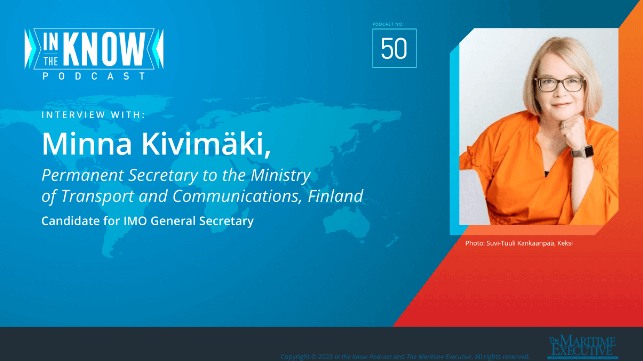 In this episode of The Maritime Executive's Podcast 'In the Know', Editor-in-Chief, Tony Munoz speaks with Minna Kivimäki, Permanent Secretary to the Ministry of Transport and Communications, in Finland. Minna Kivimäki is also Finland's nominee to become the next Secretary-General of the International Maritime Organization (IMO). In July 2023, the IMO will elect one of the seven nominees to replace outgoing Secretary-General Kitack Lim of the Republic of South Korea. The elected Secretary-General will take office on January 1, 2024.
Listen in to learn about Minna Kivimäki's background and her views on the role of the IMO and the challenges ahead for the organization:
The opinions expressed herein are the author's and not necessarily those of The Maritime Executive.