Viking Cruises: A World Apart
While much of cruising is about bigger ships and more theme park-style attractions, Viking takes a different approach, focusing on destinations and cultures. It?s ?the thinking person?s cruise.?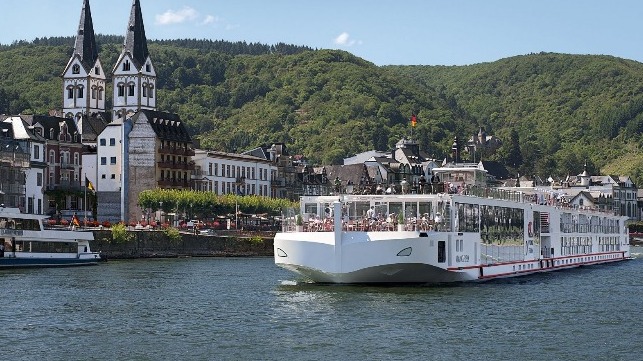 (Article originally published in Jan/Feb 2018 edition.)
Founded 20 years ago with four Russian riverboats, Viking singlehandedly popularized luxury river cruising and three years ago launched its award-winning ocean cruises. Today, Viking has 50 percent of the river cruise market and is on course to become the largest small ship cruise line by 2019. It's a remarkable story, led by a remarkable man.
An Industry in its Infancy
River cruising, despite its long heritage, was largely overlooked as the modern cruise industry began to grow. In the U.S., most consumers and travel agents equated river cruises with gambling on the Mississippi River or shooting the rapids while on a camping trip in the wilderness. Even in the mid-1990s, while the cruise lines were rushing to introduce new mega-ships, only a few thousand people a year took river cruises, and most of them were in Europe.
Torstein Hagen, however, saw the potential. No stranger to the cruise industry, Hagen in the mid-1970s was a management consultant to Holland America Line. By 1976 he had become CEO of Bergen Line, a coastal Norwegian shipping company, and four years later CEO of Royal Viking Line, one of the leaders in luxury cruising.
Working alongside Warren Titus, the founder of Royal Viking and a pioneer of the modern cruise industry, Hagen saw firsthand how customer loyalty could be built by focusing on the destinations and pampering well-traveled, mature passengers. After an unsuccessful effort to buy Royal Viking and failed bids for Nedlloyd and Kosmos AS, he was looking for new business opportunities when his daughter Karine took a Volga river cruise and introduced him to the concept. Hagen liked the emerging business opportunities in Russia and acquired four Russian riverboats. In August 1997, Viking River Cruises was incorporated in Leningrad.
Building the Market
Hagen moved quickly to realize the perceived opportunities. Through acquisitions, he began to consolidate the industry and expand operations from Russia to Western Europe. Viking had already assembled a fleet of 17 ships when, in March 2000, it acquired one of the industry's oldest and best-known lines, KD River Cruises. The addition of KD's nine ships made Viking the largest river cruise operator and, even more importantly, gave it the rights to prime docking locations in key European cities.
Viking began to improve the quality of its ships and hired Yran & Storbraaten, a well-known Norwegian design firm that had worked on highly acclaimed ocean cruise ships, to assist in the effort. Between 1999 and 2001 Viking introduced eight new ships. The onboard experience was enhanced with new amenities that included an outdoor promenade, single-seating dining, a lounge, bar, library, and sun deck with whirlpool. All of the cabins were outside, most with large picture windows, to take advantage of the scenery.
With a growing fleet, Viking began to address the capacity constraints that had plagued the industry. Viking's North American headquarters opened in Los Angeles in 2000, and the following year it rolled out its first all-inclusive tours.
Viking also began tailoring its product to American tastes, dedicating 14 of its 28 ships to the English-speaking market. "We wanted to provide a consistent experience for our guests," Hagen explains. To appeal to Americans, Viking designated the ships non-smoking, served lighter cuisine, and introduced hotel-style beds instead of the more common fold-down berths and sofa beds.
Creating Awareness
The lack of awareness and understanding of river cruising, however, remained a challenge. To combat it, Viking undertook extensive travel agent education programs, offered higher commissions and launched direct-to-consumer marketing and advertising. It focused on the Baby Boom generation, emphasizing river cruising as a sophisticated alternative that provided a relaxed atmosphere while taking in the scenery enroute to major cities.
"Don't try to be everything to everyone," Hagen likes to say, and Viking didn't. The targeted demographic was mature couples with inquiring minds and a lively interest in history, culture and geography. Hearkening back to his Royal Viking days, Hagen focused on the destination, creating cruises to take advantage of local festivals and programs and including shore excursions in each port to immerse passengers in the regional culture.
The strategy worked. In 2001 an estimated 85,000 passengers took river cruises, including 12,000 with Viking, which had $25 million in sales that year. Over the next four years, Viking averaged over 50 percent annual passenger growth and 60 percent revenue growth. Within 10 years of its founding and despite the emergence of competitors, Viking was operating at 97 percent of capacity, and many trips sold out a year or more in advance. And there was more to come.
The Viking Longships
Responding to the market, Hagen announced in 2010 what many saw as an ambitious new phase of growth: Viking would invest $250 million to increase capacity by 40 percent, including the introduction of eight new ships over the next three years. To support this growth, Viking would have to enhance its already well-developed marketing programs.
The company had surveyed its customers on their TV viewing habits when it learned that "Masterpiece Theater," the popular drama series on PBS, was looking for a new national corporate sponsor. An agreement was reached in the summer of 2011 and, through a combination of on-air spots as well as digital marketing and high-profile events, Viking gained unprecedented visibility with its target audience of culturally curious Baby Boomers.
It was the beginning of a relationship that associated Viking with the grace and sophistication embodied in such shows as "Downton Abbey," and it propelled the company's growth. By 2016, Viking had reached 86 percent brand awareness in North America, more than four times its closest competitor.
The timing of the PBS sponsorship worked perfectly as Viking was preparing to introduce a revolutionary new ship design, the Viking Longships. Developed in partnership with Yran & Storbraaten and Rottet Studios in Los Angeles, the Longships feature an innovative square bow, quiet diesel-electric engines, and an efficient design that creates 20 percent more usable space. The innovation allows for 30 additional passengers and 190 in total.
Initially conceived by Hagen himself, a patented asymmetrical corridor permits the introduction of cabin balconies and two-room suites. Three-quarters of the cabins have verandas or French balconies, and other signature spaces include an indoor-outdoor dining area. Reflecting Viking's philosophy, there would be a soothing, modern Scandinavian design but no casino, spa or children's facilities.
The first six Longships were launched in 2012, followed by 10 in 2013, helping Viking achieve a Guinness World Record for the most ships inaugurated in one day by a single company. In 2014, it set a second Guinness World Record by christening 16 Longships over a 24-hour period as part of 18 new ships launched across four countries in five days. Greeted with broad acclaim in the industry and from travelers, a total of 48 Longships have been introduced over the past six years.
Viking plans to launch another six Longships, along with a smaller version for Portugal's Douro River, in 2019. At that point the river fleet will total 69 ships operating throughout Western Europe as well as in Russia, Ukraine, China and Egypt.
Ocean Cruising
With the river business growing exponentially, Viking recognized another significant opportunity. Research showed that its passengers were looking for a similar experience when they took ocean cruises, prompting the company's expansion into the ocean cruise market. In 2012, Viking ordered the first two of what would be six 47,800-gross-ton cruise ships from Fincantieri.
The first ship, the Viking Star, was christened in Bergen in May 2015 with Janice Farrar Titus, the wife of Warren Titus – Hagen's mentor at Royal Viking Line – in attendance. To Hagan's delight, she noted that the new ship was "the Royal Viking Star reborn." The recipient of numerous industry awards, the Viking Star was followed by three sister ships over the next two years with a fifth ship due in June 2018. When the sixth sister ship enters service in March 2019, Viking will have 5,580 berths – making it the largest small ship cruise line in the world.
The vessels employ the same principles used so successfully by Viking in its river business, offering all-inclusive pricing, targeting the same audience, and emphasizing the destination through unique and extended port calls. "The thinking person's cruise," as Hagan says, with each of the ships accommodating 930 passengers – all in cabins with balconies – and featuring a relaxed, understated Scandinavian style, impeccable service, and unique elements such as a dining room with glass walls that roll back for al fresco dining.
Viking currently has four additional cruise ships on order for delivery between 2021 and 2023, which will bring the ocean fleet to 10 sister ships. It also revealed that it is exploring designs for the world's first hydrogen-powered cruise ship.
More to Come
In just 20 years Viking grew from a start-up with four riverboats to approximately $2 billion in revenues and 68 vessels, carrying over 350,000 passengers each year and employing over 6,000 people. Torstein Hagen proudly acknowledges all the milestones the company has achieved over the years and leaves no doubt that there is more to come. – MarEx
Cruise columnist Allan Jordan is a frequent contributor to The Maritime Executive.
The opinions expressed herein are the author's and not necessarily those of The Maritime Executive.