To 2020 and Beyond
As the transition to low-sulfur fuels accelerates, so do the problems.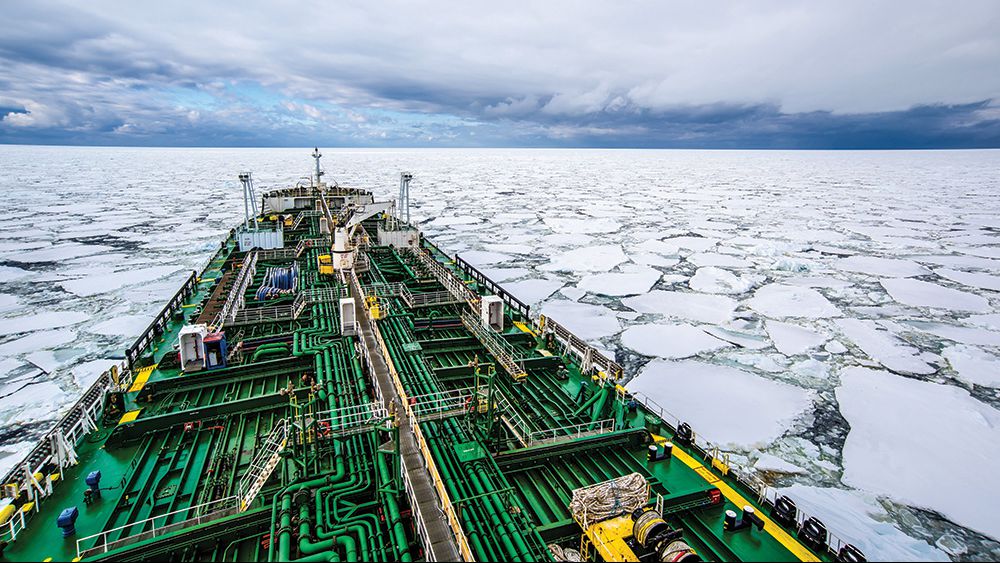 (Article originally published in Mar/Apr 2017 edition.)
The increasingly stringent sulfur requirements set by IMO are already taking their toll in the name of environmental protection with marine insurer Allianz, in its Safety and Shipping Review 2016, noting an increase in machinery claims related to fuel issues. And this is before 2020, when the global sulfur limit of 0.5 percent enters into force.
There's no standard specification for low-sulfur fuels, making it difficult for engine manufacturers to give appropriate operational and maintenance advice, says Allianz. A range of fuels are available that have the same sulfur content but are entirely different in composition. Captain Jarek Klimczak, Senior Marine Risk Consultant at Allianz, says: "We need proper International Organization for Standardization (ISO) standards as a matter of urgency."
It's not all bad news, though. Shell's gas-to-liquids technology is being used to produce a fuel that's readily biodegradable and reduces NOx and particulate matter emissions. It's made from natural gas using the Fischer-Tropsch process, which breaks the gas molecules down and reassembles them into larger, more uniform molecules that are cleaner burning than standard diesel. There's no need for engine modifications, and it's being taken up across road and rail transport as well as for marine applications including offshore support vessels and ferries.
A Range of Fuels
Most analysts forecast a range of fuels will be adopted across the industry with no particular fuel winning out in popularity, at least in the short term. Total Marine Fuels Global Solutions, for example, signed a three-year agreement with CMA CGM in February for the supply of three different bunkers – LNG, 0.5 percent sulfur fuel and also 3.5 percent sulfur fuel for use on ships with scrubbers.
In response to the demand for multi-fuel solutions, Total Marine Fuels was renamed Total Marine Fuels Global Solutions earlier this year. The new organization intends to become a leading player in the LNG bunker market. Total is also very active in marine lubricants, which it markets under the Lubmarine brand.
Olivier Baiwir, Managing Director of fuel additives manufacturer Aderco, echoes Allianz's concerns about standards and says the industry has been counting on a long overdue update to the fuel standard ISO 8217. "It seems to be receding farther into the distance," he says. "We can, however, expect that higher levels of biofuel and refinery byproducts will be tolerated. Higher concentrations of biofuel in bunkers alone, for instance, raises issues of microbial growth, which in turn poses risks to operations due to clogged filters, degraded combustion and the like. So with new factors impacting fuel quality but no clear standard adapted to market realities, you have a major challenge right there: uncertainty."
Compatibility Concerns
Along with that are issues of reliable supply and consistent quality. There are essentially two methods for getting sulfur out of fuel oil: hydrocracking and blending. Hydrocracking requires enormous investments and lead times on the part of refiners, which will impact price. Blending high-sulfur fuel oil with low-sulfur fuel oil raises the risk of fuel incompatibility, potentially creating problems that can impair operations and even lead to unexpected stoppages.
"If you consider the broad spectrum of fuels available today as a result of Sulfur Emission Control Area regulations," says Baiwir, "it is quite likely that we will see a similar development as we approach and pass the 2020 mark, and this may lead to more fuel instability and incompatibility issues that threaten operational reliability." He sees fuel treatments – in addition to their remedial function – being increasingly adopted as part of the key technologies to re- duce emissions going forward.
"One theme that seems to be slipping through the cracks is that regulators and environmentalists see only one course to better efficiency and lower emissions: high- tech hardware," Baiwir notes. "Improving efficiency and reducing environmental impact is an incremental process and requires an integrated approach. Fuel treatments are equally high-tech, and they deliver immediate dividends on all accounts while improving the user's bottom line. You could say that fuel treatments are the 'software' to the green-tech manufacturers' 'hardware.' They are complementary and not mutually exclusive."
Allianz cites loss of engine power during fuel-switching operations as a particular concern that is expected to increase as sulfur regulations tighten. The lubricant industry has responded by releasing products with broader and broader base number (BN) properties with the aim of minimizing the need to switch lubricants as well as fuel. For Total Lubmarine, this endeavor culminated last year with the launch of Talusia Optima, a cylinder lube oil suitable for use with fuels ranging in sulfur content from zero to 3.5 percent.
General Manager Robert Joore says it won't stop there: "Total Lubmarine believes that innovation is the key to success. In 2017 we will continue to invest heavily in developing a generation of marine lubes that are suitable for engines running both low and high-sulfur fuels. At the same time we anticipate the demand for environmentally acceptable lubricants (EALs) will continue to grow, driven by the rising number of ships trading in the polar regions."
Polar Impact
The Polar Code recommends that EALs be considered by vessel operators for components in propulsion, steering, stabilizer and deck machinery systems that could leak oil into the water. The Code also states that cold temperatures may reduce the effectiveness of numerous components of the ship.
Phil Cumberlidge, Business Development Manager for Panolin's GreenMarine lubricant product range, says "Thruster propulsion system makers, in particular, are taking the extreme sea conditions of the polar regions very seriously and developing their equipment accordingly. This includes specific investigations into the performance of lubricants that are environmentally acceptable."
He adds that "Top-tier, fully saturated synthetic ester-based lubricants, such as Panolin, exhibit very good thermal oxidation resistance and shear stability, have excellent additive solubility and low temperature pour- point performance characteristics," meeting all current environmental requirements. "With their long performance life and consistency of properties, fully saturated synthetic esters lower operational costs by reducing maintenance requirements and enhancing equipment performance and life. They ensure critical pieces of safety equipment are fully operational should the worst happen, in the worst of conditions."
Peter Vickers, Chairman and Managing Director of Vickers Oils, expects the Polar Code to accelerate an existing trend towards improved environmental performance by ship operators. He believes that existing environmental requirements in both the Polar Code and the U.S. Vessel General permit can be easily met already. The company's EALs have been used in polar waters for over 10 years.
Vickers claims first place in making EALs available to the marine market globally, and the company is continually developing new products as new raw materials, both base fluids and additives, become available. "We've actually got more people in our laboratory than we've got on our manufacturing team," he says.
The focus is on both performance and compatibility, but Vickers warns that the successful use of EALs is a tripartite responsibility. "We as formulators have got a responsibility to formulate products using materials that offer the highest degree of performance, that meet and exceed original equipment manufacturer (OEM) requirements, particularly for certain critical applications like thrusters, and that have minimal effect on components."
He says it is the equipment manufacturer's responsibility to make sure their equipment is fitted either as newbuild or retrofit, where necessary, with EAL-compatible components.
The third responsibility rests with operators. "These are premium products," he states. "They are superior in many ways to conventional mineral lubricants in performance. People should not regard them as fill-and-forget fluids. They need to be looked after, and that means things like starting with new seals and filters and employing a suitable condition-monitoring program."
Vickers says that there's a balance struck between environmental and technical performance: "You can't compromise on the technical requirements that the OEMs lay down in order to maximize the environmental performance."
Ecolabel Certification
Mike Guggenheimer, President and CEO of RSC Bio Solutions, sees it differently. RSC introduced its Futerra product line last year, a hydrocarbon-based EAL. "If there are regulators and stakeholders pushing for environmental solutions," he argues, "you really want to be able to offer that without asking a client to trade off something else."
Futerra has achieved Ecolabel certification. According to the European Commission, the Ecolabel helps identify products and services that have a reduced environmental impact throughout their lifecycle, from the extraction of raw material to production, use and disposal. The only EAL from a renewable hydrocarbon resource, Futerra offers drop-in replacement for mineral oil or petroleum-based lubricants.
It is demulsifying, allowing for the effective separation and removal of water from the fluid and system so that operators can recycle and reclaim product contaminated with water. The company says it also has good oxidative stability, resists corrosion and hydrolysis, has zero foam tendency and performs well in low-temperature environments.
"For us," says Guggenheimer, "it's about building formulas and products that provide the benefit of an environmental lubricant in terms of downstream impact with the compatibility and performance that our customers are used to with traditional mineral protecting assets and protecting the environment."
It's an industry sentiment being borne out by developments across the industry, for 2020 and beyond. oil-type technology. Our solutions are focused on the intersection of protecting assets and protecting the environment."
It's an industry sentiment being borne out by developments across the industry, for 2020 and beyond. -MarEx
The opinions expressed herein are the author's and not necessarily those of The Maritime Executive.