Target 2050
Hybrid-electric and fuel cells are the future of propulsion.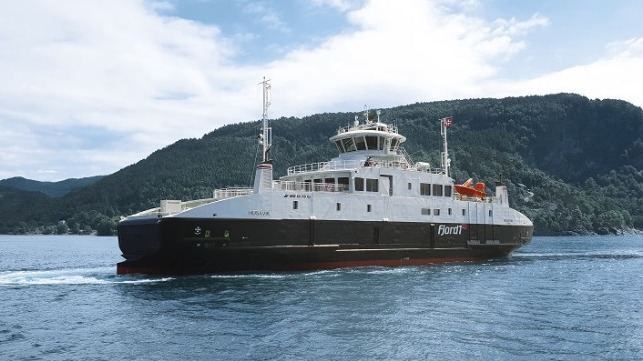 (Article originally published in Nov/Dec 2018 edition.)
With the IMO targeting 50 percent fewer CO2 emissions by 2050, the industry is already looking beyond LNG to a hybrid electric future for propulsion.
For the transition, Patrick Toll, Managing Director of Hamburg-based PT-Shipmanagement, says: "The reality is the diesel engine, in whatever configuration, will remain a dominant supplier of propulsion or electricity for marine vessels. Simply put, with current technology there is no better translation from fuel to power in terms of efficiency."
LNG will come, but it will struggle until the infrastructure is there. "There will be a smarter way of arranging propulsion systems to cope with the needs of the specific vessel," Toll adds. "We will see hybrid engines with batteries and diesel engines that might run on biofuel."
Hybrid Applications
Equipment manufacturers are already extending their range to suit hybrid applications. Rolls-Royce launched its latest in a series of LNG-fueled marine engines in September and also unveiled ELegance, a new podded propulsion system, the same month.
The ELegance pods – one with an open propeller, the other ducted – feature a "twin tail" concept to improve efficiency while significantly reducing cavitation-induced noise and vibration. A new, integrated hull-fitting interface allows a compact head-box to be used, minimizing drag and further improving hull efficiency. It also allows the height and tilt of the pod to be adjusted, enabling operators to select the optimum propeller size for the vessel.
Rolls-Royce is further launching a lithium-ion-based energy storage system for ships called SAVe Energy, a liquid-cooled, modular battery system that complies with international regulations for zero emission propulsion systems. The development work has been partly funded by the Norwegian Research Council of Norway's ENERGIX program. Color Line, Norled and the Norwegian Coastal Administration Shipping Company have been partners in its development, which is expected to suit a wide variety of marine applications including ferries, cruise vessels and multi-purpose vessels.
Andreas Seth, Rolls-Royce EVP, Electrical, Automation & Control – Commercial Marine, notes: "The electrification of ships is building momentum. From 2010 we have delivered battery systems representing about 15MWh in total. However, now the potential deployment of our patent-pending SAVe Energy in 2019 alone is 10-18MWh." Combined with an LNG or diesel-powered engine in a hybrid solution, Seth says SAVe Energy will increase efficiency and reduce emissions and can be coupled with most types of propulsion units.
Becker Marine Systems is also pursuing battery technology. The company continues to develop its COBRA maritime battery system which, it says, is the most compact on the market. COBRA is currently undergoing type approval by Bureau Veritas and DNV GL. In principle, it can be used on any ship and, depending on type and application, as part of a hybrid/electric drive, peak-shaving buffer or energy storage system. Possible applications include offshore vessels, harbor and workboats, police and fire brigade ships, passenger ships and car ferries.
"Currently installed as the prime energy source on a small ferry, the unique design offers solutions to many of the problems that have plagued lithium-ion battery systems in the past such as space, weight and direct water cooling," says Mike Pevey, Sales Director, Becker Marine Systems USA. "COBRA is an advanced concept employing tried and tested 18650 lithium ion cell technology and taking the special requirements of maritime operation and classification into account. Any scale of power storage will be available by freely configuring modular units in standardized cabinets of up to 1,000V DC including integrated and individually controlled cooling equipment."
The ferry installation is for the water taxi Liinsand, owned by Watten Fährlinien GmbH. The vessel currently exceeds all current and planned IMO environmental regulations and uses two redundant, hybrid-diesel propulsion systems with two propellers, two Becker rudders and two battery systems of 50kWh each.
The move to battery technology is a continuation of Becker Marine Systems' ongoing efforts to boost efficiency and reduce emissions. The company invented the High Lift Flap Rudder, and rudders have always been its core business. In addition to the original Flap Rudder, Becker invented the Twisted Leading and Trailing Edge Rudder technology. It owns the Schilling Rudder patent and is the designer of the King Support Full Spade Rudder, Heracles enclosed linkage Flap Rudder and rudder bulb technology. The company also delivers standard NACA and Hollow Profile Rudders.
The Mewis Duct® was introduced in 2008 and is mainly targeted at the tanker and bulker market up to about 17 knots, providing an average 6.5 percent fuel savings as confirmed by test results done for each vessel. "We have sold over 1,000 units to date," says Pevey. The company's Mewis Duct Twisted followed in 2012 for higher speed vessels such as container ships and ferries. "For the environment, we are pleased to report that the Mewis Duct has reduced CO2 emissions by an estimated six million tons or more per year."
Thruster Technology
Schottel has launched a new series of azimuth thrusters that it says demonstrate endless flexibility and meet requirements in terms of shifted engine power classes, new ice class rules and the trend toward electrically or hybrid-driven vessels. The so-called M-Series consists of three azimuth thruster sizes covering the power range of 500 to 1,000kW. The modular system ensures flexibility for any vessel design, offering three underwater gear modules, different installation variants and various power source options.
Hans Laheij, Deputy CEO & President, Marine, says Schottel sees new hybrid concepts as a great opportunity for shipowners to reduce operational cost and emissions: "When applying such new concepts, vessel crews have to be trained to work with a hybrid propulsion system. Vessel designs need to be adapted to accommodate the integration of hybrid components. At the same time, the savings on fuel and reduced emissions can generate further savings during the operation of a vessel."
Accordingly, Laheij sees more new concepts based on alternative fuels and battery operation. For example, Schottel is supplying its high-efficient Rudder EcoPeller®, an azimuth thruster, for zero-emission battery ferries for Norwegian ship operator Fjord1 and for gas-electric hybrid LNG ferries operated by Torghatten Nord.
Meanwhile, Caterpillar Marine has released its latest generation of azimuth thrusters, the MTA v3. With the introduction of a hybrid interface, the new technology enables a switch ability between mechanical and electric power. The company notes the many benefits of a hybrid system including higher average engine load, fewer running hours on main engines, maximum up-time and increased redundancy.
New Frontiers
Developments continue, and Scott Bergeron, CEO of the Liberian Registry, notes that the industry is already looking beyond the 2020 sulfur cap in designing new technologies to reduce CO2 as well as NOx and SOx. "While LNG as fuel is one option that is already available and regulated, there are ongoing projects with other propulsion types such as full electric, diesel renewable, nuclear, fuel cell, hybrid and gas turbines."
For example, Bergeron notes, "At the IMO Carriage of Cargoes and Containers meeting in September it was agreed to prioritize the work to draft technical provisions for ships using methyl/ethyl alcohol fuels, hence a clear indication that – due to industry demands – methyl/ethyl alcohol fuels are now highest priority for inclusion in the IGF (International Gas Fuel) Code that, so far, only includes LNG. After methyl/ethyl alcohol fuels, technical provisions for ships using fuel cells will be developed as it is a key potential fuel source for them. There are already a number of ships using methyl alcohol as fuel, and it's an area that's growing."
Fuel cell development and associated fuel sources are advancing on a number of fronts. Ferguson Marine Engineering is building the world's first fuel cell ferry that will use hydrogen harvested entirely from renewable sources. Known as Hyseas III, the ferry will operate around Scotland's Orkney Islands, which are producing hydrogen in volume from renewable energy. The vessel will be delivered in 2020 with steel cut around October of next year.
In October, PowerCell Sweden inaugurated "one of the world's most complete and powerful" fuel cell laboratories with two test beds, each with a testing capacity for fuel cells up to 150kW. In August, the company signed an MOU with Siemens for the joint development of fuel cell-based drive and power-generating systems for commercial shipping.
Game-Changer?
Proponents of fuel cell technology see it as a game-changer for meeting the IMO's 2050 targets and beyond, and a range of potential fuels can potentially offer flexibility and sustainability. IMO is already moving to tighten its Energy Efficiency Design Index requirements to reduce shipping emissions next decade, and 2050 is not that far away. – MarEx
Wendy Laursen is the magazine's Asia-Pacific Editor.
The opinions expressed herein are the author's and not necessarily those of The Maritime Executive.