"Glory Days"
The next generation of training platforms for U.S. mariners is being launched at Philly Shipyard.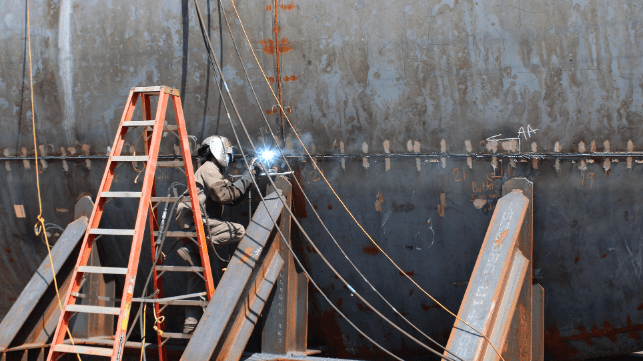 (Article originally published in July/Aug 2023 edition.)
Maritime cadets have been trained on 50- and 60-year-old ships in the U.S. for too many decades. Well, that's about to change as obsolete ships at the nation's state maritime academies are being replaced with five next-generation training ships known as National Security Multi-Mission Vessels (NSMVs).
In June, Philly Shipyard launched the first of these vessels, the Empire State, for SUNY Maritime. Construction of the second and third vessels – for Massachusetts Maritime Academy (2024) and Maine Maritime Academy (2024) – is currently underway with Texas A&M Maritime Academy (2025) and California Maritime Academy (2026) ships next on the agenda.
The program is being sponsored and paid for by the U.S. Maritime Administration (MARAD) and marks a new beginning and a new era for U.S. maritime. It took me back to the old Bruce Springsteen hit, "Glory Days," as a reminder of the good things to come. These vessels will pave the way for a renewal of the U.S.'s maritime leadership and train the next generation of merchant officers.
MARAD's mission is to foster and promote the development of the U.S. maritime industry to meet the nation's economic and security needs. Part of this mission entails educating the next generation of mariners through oversight of the U.S. Merchant Maritime Academy and the six state maritime academies. It's also developed the Military to Mariner program, trade union-sponsored schools, community college certifications and high school maritime career path programs.
MARAD manages the Ready Reserve Force and the National Defense Reserve Fleet and has oversight of the deepwater Cargo Preference laws, which dictate that 50 percent of the gross tonnage of all civilian government-generated cargo – meaning cargoes procured, furnished, or financed by the U.S. – be transported on U.S.-flagged ships. And 10 percent of DOD cargo is also transported by U.S.-flagged operators.
MARAD also manages commercial Sealift programs that sustain the international trading fleet available to meet DOD requirements. A total of 72 ships are authorized stipends from the Maritime Security Program, Tanker Ship Program and Container Ship Program.
Today, only about two hundred U.S.-flagged deepwater vessels are available for cargo preference, which must also be in proximity and available to transport the cargo. Meanwhile, there are thirty-four U.S.-flagged companies registered with MARAD with vessels ranging from container ships and tankers to general cargo, ro-ro, tugs and barges that are available to support government mandates.
A Change in the Weather
The decline in the size of the U.S. deepwater fleet can be traced back to 1981 when Ronald Reagan arrived in Washington with a quixotic strategy for reducing the size and scope of the federal government.
The OMB pointed him in the direction of the maritime subsidies program, which had supported U.S. flag operators for nearly 50 years prior with a total of $10 billion. Meanwhile, the U.S. Navy had contracted out spending of over $90 billion during the next five years on building and repairing ships.
Reagan then appointed Harold E. Shear, a retired admiral, to head the Maritime Administration. Not only did Shear believe that maritime subsidies were both exorbitant and ineffective, he agreed with anti-subsidy factions that U.S.-flagged vessels could be built overseas for more than fifty percent less than in the states. He then went about gaining temporary approval for operators to build U.S. vessels overseas.
But it was clear to the U.S. maritime sector that the temporary provision had an ominous undercurrent, which put the Jones Act in the crosshairs of laissez-faire proponents. The shipyards, labor unions and operators could see the long game was to dismantle maritime laws. They either stood together or would have to deal separately with the consequences.
They stood together, and today more than 40,000 Jones Act vessels are considered the world's most modern fleet. U.S. cabotage also supports more than 650,000 American jobs and contributes about $1.5 billion in economic impact for the country. The civilian merchant fleet is considered a core strategic reserve of maritime power, which can transport logistical supplies for the military in wartime.
Evolution of the NSMV
The National Security Multi-Mission Vessel is a bold initiative of fixed-price construction, dating back to 2014 when Congress appropriated $5 million to develop a design. MARAD then hired Herbert Engineering to develop the design with various stakeholders including the maritime academies, Coast Guard and Navy, and the Federal Emergency Management Agency.
The NSMV ships are an off-the-shelf design with technologies currently employed on commercial ships. In 2017, then-Secretary of Transportation Elaine Chao allocated $300 million from DOT's authorization budget to get the project underway. Senators Patty Murray (D-WA) and Susan Collins (R-ME) were influential in ensuring the training ship program was fully funded for all the ships.
Then-MARAD Administrator Rear Admiral Mark Buzby appointed Kevin Tokarski, Associate Administrator for Strategic Sealift, to develop a cross-agency team to implement congressional direction for a commercial entity to construct the ships. The Federal Acquisition Regulations (FAR) were in play for issuing a contract for the vessel construction manager (VCM), which mandated they had previously built Jones Act-compliant vessels.
TOTE Services met all the requirements and was selected through a competitive procurement to be the VCM for the project. TOTE was required to bid the complete design bids competitively, and Philly Shipyard was contracted to build the ships owned by MARAD.
While the "Build America" requirements were still valid and everyone would prefer the vessel be 100 percent-built with U.S. products, the reality is that many ship components are no longer made in this country. These ships are built with 98.5 percent of U.S. steel.
The Streets of Philadelphia
Philly Shipyard, formerly Aker Philadelphia Shipyard, is located on part of the original Philadelphia Naval Shipyard. Philadelphia's Americana roots include Independence Hall and the birthplace of the U.S. Navy on the city's Front Street Docks.
Philly Shipyard is listed on the Oslo Stock Exchange and is part of the Aker Group, controlled by Kjell Ingle Rokke. The yard was rebirthed in 1997 as a cooperation between Kvaerner ASA, the City of Philadelphia, the Commonwealth of Pennsylvania and the U.S. Government. The yard was reconstructed from the ground up with an investment of over $650 million. Twenty-six years later, it's recognized as one of the world's premier shipyards.
Steinar Norbovik is Philly's President & CEO. He likes to say he's been employed by the yard twice. First, as Vice President in 2003, but then transferred to the Norwegian Shipyard Vard Langsten. He returned to Philadelphia in 2013 as Senior Vice President of Operations and became President & CEO in 2014.
"We're committed to seeking commercial and government newbuild projects while offering repairs and conversions on an opportunistic basis," says Norbovik. "The five NSMVs are a government project, the first for Philly Shipyard, and the first government newbuilding in Philadelphia in almost fifty years."
Since 2000, the shipyard's stellar reputation for building deepwater Jones Act-compliant ships has become indisputable. The yard has recently received orders for a Subsea Rock Installation Vessel (SRIV) for Great Lakes Dredge & Dock and three new LNG-ready container ships for Matson. The Matson "green ships" will be delivered in 2026 and 2027.
Philly's orderbook for the MARAD ships, Matson's "green ships" and the Great Lakes SRIV totals $2 billion, the largest in the company's 26-year history.
"The contracts are further evidence that our strategy of pivoting towards diversity with a mix of government and commercial contracts is working," Norbovik notes. "We also ratified a new four-year collective bargaining agreement with the Philadelphia Metal Trades Council, which includes an apprenticeship program. There are 105 apprenticeships in our workforce with a total of 1,500 workers."
So the NSMV program is in good hands, and the future of Jones Act shipping never looked brighter. The "Glory Days" are back. Kudos to MARAD, Tote and Philly Shipyard!
Tony Munoz is Publisher & Editor-in-Chief of The Maritime Executive.
NSMV specifications:
Length: 525 ft.
Beam: 88.7 ft.
Design draft: 21.4 ft.
Total berthing: 600 cadets, 100 officers, faculty & crew
Speed: 18 kts. full power- 12 kts. cruise
Deadweight: 8,487 MT
Diesel-electric drive with 4 main engines
Special note: We offer our gratitude to MARAD administrators Sean T. Connaughton (2006-2009), David T. Matsuda (2010-2014), Paul "Chip" Jaenichen (2014-2017) and Mark Buzby (2017-2021) for their commitment to the NSMV program. And John Graykowski and Jim Miller at Philly Shipyard, who made the impossible happen.
The opinions expressed herein are the author's and not necessarily those of The Maritime Executive.