Executive Interview: Wendi Carpenter, President of SUNY Maritime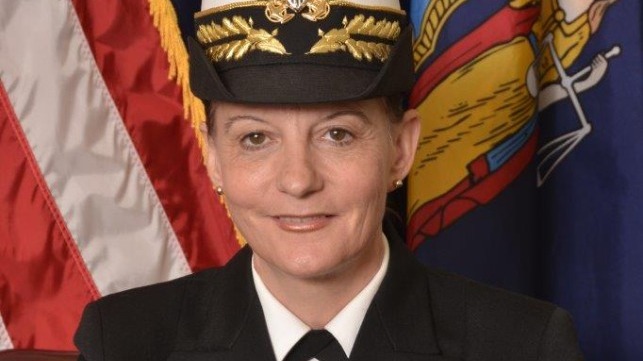 (Article originally published in July/Aug 2013 edition.)
After a groundbreaking 34-year career during which she became the first woman aviator to achieve the rank of Rear Admiral, Wendi Carpenter in 2011 was named the first woman President of SUNY Maritime. In a career of firsts, she continues to break new ground.
MarEx: What led you to a career in the Navy?
Carpenter: My father was career Air Force and his career spanned three wars, so that was no doubt a major influence. But my original goal was medical school. While attending the University of Georgia I would go to the Bull Dog Room every Friday and celebrate the end of the week. One day I began speaking to the Air Force and Navy recruiters there. The Air Force guy was indifferent to me, but the Navy recruiter told me about the possibilities in aviation, which sounded fascinating to a young twenty-year old girl.
Georgia Medical School in Augusta only selected five women out of 100 candidates. When I was not admitted that year, I took another path. I had been talking to my recruiter about naval aviation for a long time, and he said I had just missed the deadline for the new program for women and would have to wait a year. So I went back to my hometown and taught kindergarten for a year, took business courses at the local community college, and signed up as soon as possible.
MarEx: Tell us about flight school. What was that like?
Carpenter: I was one of three women in a class of 35 men at Aviation Officer Candidate School. Being a woman in the military at the time was tough enough, but trying to become a woman aviator was incredibly challenging. When I became an aviator there were only a small number of women among the Navy's many thousands of pilots; I became just the 31st woman aviator. I worked and studied hard and graduated first in my class. I was asked to stay on as a flight instructor for the T-44 training program – the first woman in the Navy to become an instructor in advanced multi-engine. Many times then and for the rest of my career, I was the only woman in the room. A challenge to say the least, but I had wonderful male mentors and role models.
I was also the first woman aviator in the Navy to be selected for admiral. Today, there are a number of admirals who are women, including several with three stars. Some were my flight students and have been long-time friends of mine. There wasn't a glass ceiling for me, but it was a long journey and sometimes you'd get tired. That is where mentors came in. They showed me the way through the maze and were always encouraging me.
MarEx: Who were your mentors?
Carpenter: My parents were my first and best role models. My father was a special mentor to a lot of people, and he taught them how to get to the next level in their careers. In the Navy, there was a senior chief who taught me a great deal about being an officer and leading troops, but it was an operations officer whom I remember the most. At first he was a jerk. But later he came around and accepted me. Then he would offer good advice. Great advice.
My Executive Officer at the time was also a tremendous asset and his wife too, who became a friend. We would sit for hours and talk about leadership and how to make your mark in a squadron and anticipate your boss's needs; he taught me about how to be two steps ahead of him. After that there were many others, most of whom were admirals or became admirals. I learned early how to "think strategically and act deliberately."
MarEx: What were some of the biggest challenges you faced after taking the job at SUNY?
Carpenter: No matter what the job, there is always a learning curve, so I did a lot of research. I needed to meet people, build relationships, and understand the culture of the oldest and largest maritime college in the country. I had a learning plan for myself, and I set specific priorities for the first 100 days.
In the beginning it was learning the SUNY "lingo" and the dynamics of the college, including the key people involved in running the institution. I had a larger staff in the Navy, but I only had a secretary at SUNY, which I shared with the provost. The first major task was setting about to ensure I had the right team members and enough of them. There was a lot of refurbishing going on around campus, so I had to peel back the onion and find out more about the projects and where the money was coming from to complete them, as well as what else needed to be done. Also, since I have a modeling and simulation background, I wanted to start delivering additional capabilities in that area and do it in a holistic manner.
I needed to develop external partnerships as well as with the alumni and our many supporters in industry. My number one priority was getting a new training ship for the school. But since the elections were looming, that priority had to be on hold for a while. It was too early to begin such an agenda when the players were subject to change. Now we are very engaged in that effort.
MarEx: Where do you want to take SUNY in the future?
Carpenter: SUNY Maritime will have a new academic building this fall, which will accommodate our undergraduate business-related program and the Master's Degree program in International Transportation Management. That will allow us to enter into new lines of operation. The new space also means we can now repurpose other areas for new and added capability development in simulation, for example.
We would like to become a premier conferencing center because our footprint extends over numerous industries because of our graduates. While Fort Schuyler is well-known in the maritime industry, the general marketplace is often not even aware that this jewel exists.
We want to have a local impact as well. There is great opportunity for us to work with K-12 programs and teach children about the possibilities of a maritime career. Around the country, thanks to the efforts of the maritime industry, there are more than 32 maritime-focused high schools. These schools are dedicated to maritime curriculums; and even though they are at various stages of maturity in what they are able to accomplish, it is a way to deliver what I call "delight directed study" and get kids excited about math and science and what you can do with them in practical application.
MarEx: What challenges face SUNY graduates as they enter today's marketplace?
Carpenter: SUNY graduates continue to be hired immediately. Surveys show that our grads make more money than Harvard graduates upon graduation. Even though U.S. deepwater jobs have been contracting somewhat over the past few years, if a SUNY graduate wants to sail in the deepwater industry they can still find a job. There are lots of jobs in the offshore industry, and engineering students are finding jobs on drilling rigs too. There are plenty of jobs on harbor and coastwise tugs and on boats working the inland waterways as well.
MarEx: Has sequestration affected SUNY's funding?
Carpenter: Directly or indirectly it has some effect on everyone and to varying degrees. We still received from MARAD the funds they normally give us, including the training ship's maintenance. We might see some impact in the future with respect to the number of cadet billets on MSC vessels, but so far that is not the case. The SUNY ROTC unit has not been affected because that is based on scholarship monies planned a long time in advance.
MarEx: SUNY was recognized on Maritime Day this year and you received a medal. Tell us about that.
Carpenter: First let me say, while I did personally receive a medal from MARAD as a result of SUNY's contributions to the Hurricane Sandy cleanup, I accepted the medal on behalf of all the people whose planning and execution went into preparing and securing the campus. It was an enormous team effort. Without them things would have been very different. And SUNY Maritime's ship crew and cadets had already been awarded medals for their support during the Hurricane Sandy devastation to the region.
We understood the campus could be cut off by high flood waters and could be without electricity for weeks or longer, so we bought new generators and wired the campus to accept their power. Being an aviator and fascinated with weather patterns, I began looking at the U.S. models of Sandy; I was concerned because I saw that there were no high-pressure areas to push such a storm off the coast. The European models had it coming much closer to us, well before the U.S. models sounded the alarm. Since I believed the European models, we began early planning and executed accordingly.
We cancelled classes from Monday till Wednesday and suspended all activities until further notice. We shut down the power and IT systems and began powering up the generators well before the storm hit. Since we have steam tunnels where our electrical and IT fiber runs, this was a vital step. The tunnels all flooded early on and had the power still been on and the systems hot, we would have had catastrophic consequences when the salt water hit them. The ship was heavily moored and everything tied down or put inside around campus.
Many of our team members stayed on campus during the storm to continue to monitor and provide safety and security for any of our students and staff who remained. They did this in spite of having their own homes which needed their attention and preparation. They did it tirelessly for many days with no break or rest. Our students also made significant contributions, on and off campus, to meet the needs of our local community and citizens. Some of the photos were picked up by the AP as our cadets, in boiler suits, pulled a Jon boat through the streets offering assistance to stricken homes. You can imagine how very proud that made me.
After the hurricane went through, MARAD reached out and asked us to host FEMA workers, trucks and first-responder teams. We even ended up with cadaver dog teams, although that was a surprise to all of us when we got the word only a short time before the first set arrived. Our mess deck and later the ship's kitchens prepared over 35,000 meals, and our campus became a regional communications hub. SUNY Maritime became a vital link to regional response and home to a lot of emergency responders for nearly two months.
The medal represents the entire community, our entire SUNY Maritime nation, including our students. I was also presented with a lovely gold-framed set of flags with a plaque that now hangs in my office. It says "Bravo Zulu," which means "great job." It was a great job by the team. Everyone contributed.
MarEx: Wow, what a great story! Do you have any final thoughts for our readers?
Carpenter: SUNY Maritime College is an incredible place and an educational gem. It has an amazing impact locally, nationally and internationally, which has sometimes gone unrecognized. I want to expand and change what people know and think about this incredible brand.
The opinions expressed herein are the author's and not necessarily those of The Maritime Executive.