Bulging Orderbooks
Flush times are here again for shipyards worldwide, but challenges remain – notably, a shortage of skilled workers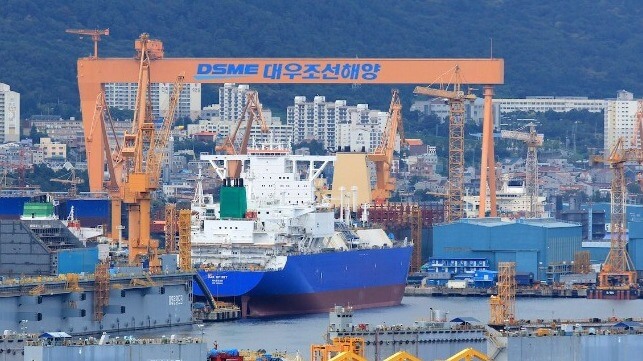 (Article originally published in May/June 2023 edition.)
The shipbuilding industry is in the middle of a boom, especially in East Asia, where most of the world's merchant tonnage is born.
After a big LNG carrier and boxship ordering spree in 2021-22, the Big Three South Korean yards – Korea Shipbuilding & Offshore Engineering (Hyundai subsidiary), Daewoo Shipbuilding & Marine Engineering (DSME) and Samsung Heavy Industries – are booked through 2026 or later. QatarEnergy's decision to launch a $20 billion LNG carrier fleet renewal program is part of the surge, reviving the orderbooks of the Korean yards that dominate this high-tech market segment. (Whether these orders will be profitable is a separate question since material costs are rising.)
On about the same timeframe, ocean carriers like CMA CGM, Evergreen and MSC plowed money into container ships, buying hulls by the dozen, and that trend continues despite a cooling freight market. Even with an armada of new boxships hitting the water in 2023-24, promising an oversupplied market, mega-scale ordering continues at pace.
In March alone, CMA CGM put in a record $3 billion order for another 16 ultra-large boxships from CSSC, and Ocean Network Express (ONE) ordered 10 Neopanamaxes from an undisclosed builder.
The resurgence of demand makes for an ideal time for M&A dealmaking. South Korean industrial conglomerate Hanwha recently acquired Korean shipbuilder DSME, bringing the yard's many years of public ownership and on-and-off merger attempts to an end. The once-troubled shipbuilder is still unprofitable, but it now has a long runway with a 3.5-year order backlog and a passel of LNG carrier orders. (It also has a new name – Hanwha Ocean.)
Product Differentiation
Some yards build a book of business with a specialized product, like Sanmar's well-known tugs or Fincantieri's world-class cruise ships. Yards can also use expertise in new green technology to differentiate their services and win a share of the next round of fleet renewals.
Derecktor Shipyards, an East Coast firm with four yards and interests in both yacht and commercial construction, has built a reputation for skill in delivering hybrid-powered workboats. Even through the pandemic, it continued to receive and complete orders for its proprietary hybrid aluminum catamaran design, which is popular with operators who have ambitious sustainability goals.
"I think there really hasn't been much of a time when we weren't building one over the last eight years," says John Koenig, Derecktor's Chief Marketing Officer.
Derecktor has produced four of these hybrids, all between 65 and 70 feet in length. The design is well-suited to multiple applications including light cargo transport and coastal research operations. The latest version is a research vessel for the University of Vermont's marine science program on Lake Champlain, and the vessel is just now preparing for delivery. Next up, Derecktor recently won a contract with the City of Savannah's transit agency to build two hybrid aluminum ferries, leveraging the yard's skill and reputation for this vessel type.
Looking ahead, Derecktor sees real potential for new work in the battery-electric arena. "All-electric will be the next move because there are so many operational profiles where it would work," says Koenig. "We believe in it and we think that especially in New York, the entire harbor fleet is going to undergo that transformation over the next 10 years, one way or the other."
The adaptation to new technology is part of a long tradition at Derecktor. Over the years, the yard has built peerless sailing yachts with the storied naval architecture house of Sparkman & Stephens, constructed the largest motor yacht ever built in America, repaired vessels for the U.S. military and developed the capability to excel with all forms of hull construction – from wood and fiberglass to aluminum and steel.
"The vast majority of U.S. boat builders who were around when we started are long gone, especially in our area around New York," adds Koenig. "We've been willing to adapt, and that's what kept us alive over the years."
Like most shipbuilders and industrial employers, Derecktor is adapting to the challenge of finding talent in a tight labor market. It partners with local technical schools and community colleges to cultivate a new generation of craftsmen, but Koenig acknowledges that this isn't always easy.
In addition, Derecktor's New York operation has a unique hurdle: workforce housing affordability. The yard is located in Westchester County, which was once rural but now ranks among the least affordable housing markets in the country. "If you were starting a shipyard today, you probably wouldn't do it in Westchester," he says.
Labor Shortage
On both sides of the Pacific, the biggest challenge for booked-up yards is finding enough skilled welders and shipfitters to fulfill new orders. During the last big shipbuilding downturn, East Asian yards laid off tens of thousands of workers, and finding and training the next generation of replacements is proving to be difficult.
South Korea and Japan are both addressing the shortfall by hiring in from other countries, primarily in Southeast Asia. In Thailand alone, South Korean shipbuilders have signaled interest in recruiting 4,500 new skilled workers this year, according to the Thai Ministry of Labor.
The other option is to send the work to where the workforce lives. HD Hyundai is pursuing this approach in the Philippines, following in the footsteps of its compatriot shipbuilder Hanjin Heavy Industries. In order to expand capacity, HD Hyundai is in talks to reactivate the vast Hanjin Subic Bay shipyard complex, which Hanjin opened in 2006 and closed due to lack of orders in 2019. It's a sprawling, underutilized asset with vast covered assembly halls and two drydocks capable of handling the largest vessel classes in the world. As a measure of its scale and its regional labor pool, Hanjin Subic Bay employed more than 30,000 people in its heyday – more than twice HD Hyundai's current headcount.
Meanwhile, Samsung Heavy Industries has signed a subcontracting agreement with the Chinese yard formerly known as STX Dalian (another Korean-run enterprise that closed in the 2010s). The STX name is long gone, but the mothballed yard has relaunched under Chinese ownership as Hengli Shipbuilding. It will be building blocks for a Samsung container ship series, drawing on China's shipyard labor pool.
The challenge of recruiting skilled workers in the trades is just as difficult in the U.S., where the need is significant – particularly for national defense. The U.S. Navy's four public shipyards are looking to fill about 1,200 vacancies, and the workforce council for Hampton Roads (the world's biggest base complex) says it has 10,000 openings.
Given the numbers, the workforce shortage is the Navy's "number one strategic challenge," naval procurement chief Vice Admiral William Galinis told a conference earlier this year. According to Shipbuilders' Council of America President Matthew Paxton, "The single biggest issue facing the industry is people, and that's going to be the case going forward."
"Wait and See"
With the major yards booked for years in advance, shipbuilders can afford to charge heftier prices. And as their labor and material costs go up, they may also have no choice.
For shipowners who can wait, it may well make sense to hold off and look for ordering opportunities later when prices come down. This incentive to "wait and see" may have a knock-on effect for the timing of the next round of fleet renewal and the uptake of new green fuel technologies. When a ship costs 20 percent more to build than it did last year, it may not make financial sense to build at all, let alone add another 20 percent for the cost of a green-fuel propulsion system.
Tanker owners in particular have been holding off, waiting for lower costs and more certainty.
As an example, MR owner Ardmore Shipping has committed to reducing emissions with clean technology on its current fleet by investing in efficiency improvements and carbon capture-ready scrubbers. But when it comes to moving ahead with green fuel technology on newbuilds, that will have to wait until the cost of building comes down, says Garry Noonan, Ardmore's Director of Innovation.
For now, it's the right time to strengthen relationships with shipyards and enter discussions on what future-fuel systems might look like.
"If we were to build vessels right now," says Noonan, "we'd be building really expensive vessels that we could be stuck with for 15 years. It really doesn't make sense unless you can get them into a financially viable charter. There's a 'wait and see' through the whole industry, and you can see that from the orderbook in the MR sector. Very few people are building, and those that are building are probably building conventional ships."
Paul Benecki is the magazine's News Editor.
The opinions expressed herein are the author's and not necessarily those of The Maritime Executive.