The Female Crew of the USNS Henson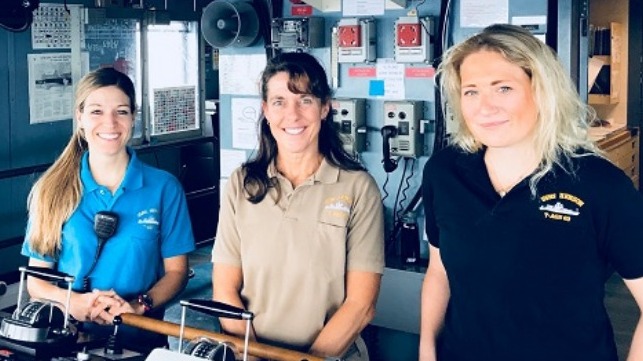 It's a quiet morning on the USNS Henson in the North Pacific Ocean. The captain visits the bridge at 0600 to check the vessel's position on the chart and speak with her chief officer. These two women are the command team of the 100-meter long Henson, an oceanographic survey vessel that transits the globe.
Captain Kristin Mangold is the Henson's Master. Her love of being on the water was inherited from her father who encouraged her to attend Texas Maritime Academy in Galveston, in order to earn a Bachelor of Science Degree in Marine Sciences and a USCG Unlimited Tonnage 3rd Mate License. 30 years post-graduation, Mangold is an industry leader with experience around the world on super tankers, container ships, research vessels, oil spill response boats and survey vessels.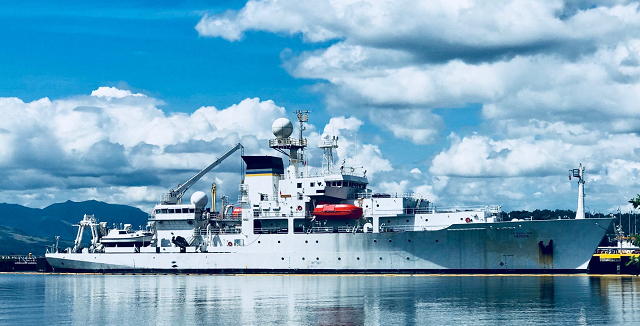 Mangold's Chief Officer is Alaina Basciano, who at the age of 30, is a licensed USCG Unlimited Tonnage Master. Basciano was inspired to work on the water by her grandfather, a merchant mariner of WWII. When Basciano was just 10 years old, he introduced her to a WWII Liberty Ship, the SS John W. Brown.
From that point forward, young Basciano was hooked. In 7th grade, Basciano decided she was going to attend the United States Merchant Marine Academy (USMMA) in Kings Point, New York and has since volunteered on the SS John W. Brown. After graduating from USMMA in 2009, Basciano has also sailed on tankers, container ships, articulated tug barges (ATBs) and inland tug boats.
Later on that morning, at a quarter before eight, Second Officer Alexandra Hagerty arrives on the ship's bridge to take the conn, meaning to have command of the ship as one navigates a vessel. Hagerty's career on the water started at the age of 18, where she worked at the Southampton Fresh Air Home as a sailing instructor for physically disabled children. Hagerty knew, even then, that a career on the water was made for her. The following year, she interned with Tall Ships America, where she met another intern named Mary Schneider, from Massachusetts Maritime Academy, who further inspired Hagerty to pursue working in the merchant marine.
After sailing Tall Ships in Denmark and France in her early twenties, that included a stint working as a translator overseas, Hagerty entered the graduate-license program at SUNY Maritime College. She entered the workforce in 2012 with a USCG Third Mate's License and Master of Science in International Transport Management. Since graduation, Hagerty has worked on drill ships, car carriers, and survey vessels.
Hagerty currently holds a USCG Unlimited Tonnage Second Mate License and will be ready to upgrade to a USCG Chief Mate's License, when she sits for the nine-module exam later this year. For Hagerty, "It's a pleasure working with the Captain and Chief Mate on the USNS Henson because of their wealth of information and varied experience in this industry."
Mangold, Basciano and Hagerty are not the only women on board the USNS Henson. Recently, they completed a voyage where women comprised eight out of 41 persons aboard.
Pictured below, from left to right, is Senior Navoceano Representative Margaret Pike, Second Mate Alexandra Hagerty, Able-Bodied Seaman Tiffani Hernandez, Steward Assistant Shardaysha Giles, Surveyor Kira Fargo, Surveyor Kate Kaminski, Captain Kristin Mangold, and Chief Mate Alaina Basciano.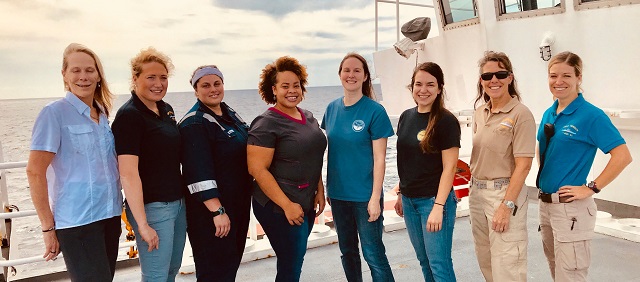 From the galley to the wheelhouse, this team of expert and seasoned female seafarers, each hailing from different backgrounds, is currently sailing the high seas and breaking stereotypes to accomplish their individual goals of working on the water.
Fair winds and following seas to the USNS Henson as she continues to survey the world's oceans.
Ally Cedeno is the founder of WomenOffshore.org
The opinions expressed herein are the author's and not necessarily those of The Maritime Executive.