Ukraine Claims to Have Destroyed a Russian Submarine
Ukraine's military intelligence service claims that a Russian submarine was destroyed in last night's missile attack on a shipyard in Sevastopol, along with a tank landing ship.
"Significant damage has been inflicted and we can now say that the vessels are most likely not recoverable. Yes, today there's good news - the destruction of the large enemy landing ship . . . as well as the Kalibr-carrying submarine, which is very important," said Ukrainian intelligence officer Andriy Yusov in a televised interview.
Explosions and fire in occupied Sevastopol, Crimea pic.twitter.com/3UkxcTIBZY

— Iuliia Mendel (@IuliiaMendel) September 13, 2023
Official photos from the scene confirm that one of the vessels was a Ropucha-class landing ship, and it appears that the attack destroyed much of the ship's superstructure.
While Ukraine's claim about the destruction of a submarine could not be definitively confirmed, it would align with satellite surveillance and with a recent report from a Russian military news channel. Telegram war-reporting account "Shot" reported Wednesday that a Kilo-class sub - identified as the Rostov-on-Don (B-237) - was damaged by the attack. Commercial satellite imagery also showed a Kilo-class sub in the drydock before the attack and blackened areas around the same spot the day after (below).
Russia's defense ministry has already confirmed that two vessels were damaged by the strike, without identifying their classes or names.
Apparent Kilo-class sub and Ropucha-class landing ship at the Pivdenny Bay drydocks, September 12 (BlackSky)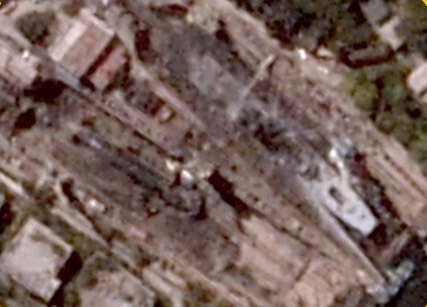 Apparent discoloration and damage at the same location, September 13 (BlackSky)
If accurate, the loss of two capable vessels would represent a serious blow to the Russian Black Sea Fleet, which cannot easily replace large warships because of the military traffic closure on the Bosporus. (Rostov-on-Don itself transited the Turkish Straits and entered the Black Sea just weeks before Turkey shut the waterway to naval vessels.)
It would also be a blow to the Russian Navy overall: in fiscal terms, the two vessels were worth several hundred million dollars, and the construction of a replacement Kilo-class would take years at backlogged Russian shipbuilder USC.
The wreckage left by the attack also takes two strategic graving docks out of commission for an unknown period of time. Drydocking capacity is already at a premium for Russian naval forces in the region, according to defense analysts.
For Ukraine, the destruction of a Kilo-class sub would be operationally and symbolically important. The Black Sea Fleet's diesel-powered subs have been used repeatedly to launch Kalibr cruise missiles at Ukrainian civilian infrastructure. They are also a potent threat to shipping, and Ukraine is working hard to restore confidence in the safety of the sea lanes to and from Odesa.