U.S. Secures Access to New Strategic Base Sites in the Philippines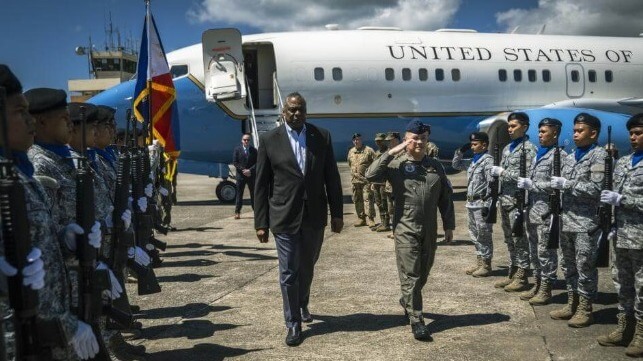 Amidst heightened tensions with China over maritime sovereignty and fishing rights, the government of the Philippines has agreed to give the U.S. military access to four more base sites on its territory. The new locations for forward-deployed assets could assist the U.S. in responding to any potential Chinese aggression in the Taiwan Strait or the South China Sea, according to analysts.
U.S. forces have the right to rotate through the Philippines thanks to a 2014 mutual-defense treaty, but the locations are subject to agreement. The new deal brings the total number of approved U.S. basing sites to nine. The exact sites were not disclosed, but previously, Philippine officials have discussed possible locations on the north end of Luzon, just across the Luzon Strait from the southern tip of Taiwan. This is a strategic location for any Taiwan Strait contingency. Other possibilities include Palawan, the Philippine home island located closest to the contested Spratly archipelago. This is the area where Philippine and Chinese forces interact most frequently (and occasionally U.S. and Chinese forces as well).
Both governments were quick to emphasize that U.S. troops will not be stationed at these locations indefinitely, which would violate the Philippine constitution. Instead, the arrangement is described as a way to increase opportunities for joint training, enhanced interoperability, disaster response and other cooperative ventures. "It is not about permanent basing, but it is a big deal. It's a really big deal," U.S. Secretary of Defense Lloyd Austin told reporters Thursday.
Beijing quickly pushed back on the announcement. "The U.S. side, out of selfish interests, holds on to the zero-sum mentality and keeps strengthening military deployment in the Asia-Pacific. This would escalate tensions and endanger peace and stability in the region. Regional countries need to remain vigilant and avoid being coerced or used by the U.S.," said Chinese Foreign Ministry Spokesperson Mao Ning on Thursday.
The agreement is a foreign policy win for the United States. In November, the White House dispatched Vice President Kamala Harris to the Philippines to discuss expanded basing arrangements and security cooperation with Philippine President Ferdinand Marcos, Jr. After the talks, she traveled south to Palawan, visiting a naval base where the Philippine military keeps watch on Chinese movements in the South China Sea. In a speech at the site, Harris emphasized that the U.S. would oppose Chinese "coercion" in regional maritime disputes.
The U.S. and the Philippines have had defense ties for more than a century, and the relationship appears to be back on the upswing after a low period during the administration of former Philippine President Rodrigo Duterte. The Marcos administration has been open to enlarging joint U.S.-Philippine military exercises: the next edition of the annual Balikatan drill will involve about 60 percent more personnel than last year, setting a new record.