U.S. Coast Guard Joins Freedom of Navigation Patrol in Taiwan Strait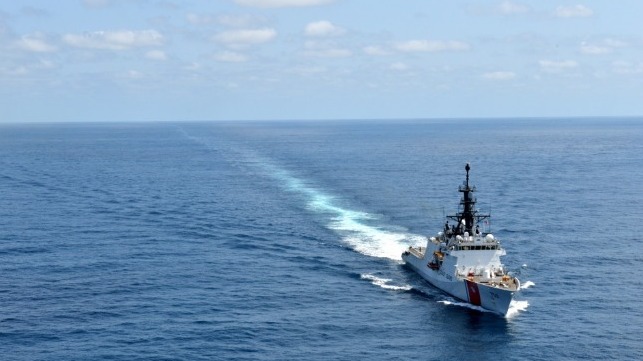 Last weekend, the U.S. Coast Guard cutter Bertholf joined the U.S. Navy destroyer Curtis Wilbur for a transit of the Strait of Formosa, part of the Navy's long-running freedom of navigation campaign in the Western Pacific. It is the third such transit in as many months, but the presence of the cutter was unusual, as previous patrols in the region have seen the deployment of Navy vessels only.
"The U.S. will continue to fly, sail and operate anywhere international law allows," said U.S. 7th Fleet spokesman Cmdr. Clayton Doss in a statement. "The ship's transit through the Taiwan Strait demonstrates the U.S. commitment to a free and open Indo-Pacific."
Bertholf is usually deployed off the coast of Central and South America for the Coast Guard's anti-narcotics mission, and her presence on the other side of the Pacific is a higher-profile assignment. "It signals a willingness to send a cutter for sensitive national security missions. It doesn't get much more sensitive than the Taiwan Strait," said Rand Corp. senior policy analyst Lyle Morris, speaking to Japan Times.
On a small scale, the tactic mirrors China's use of the China Coast Guard and other government-owned vessels for its national security objectives in the South China Sea and the Senkaku Islands. While technically not gray-hulled warships, these vessels can conduct presence operations, escort government-funded "maritime militia" fishing fleets and help enforce China's sweeping maritime claims.
Beijing rejects Taiwan's autonomy, and it intends to eventually reunify the island with the mainland under a single government. Cross-strait tensions have been high in recent years over the question of whether Taipei might formally declare independence - a red line for China.
The U.S. Navy's transits through the Strait are perceived as signals of American support for Taiwan, and usually prompt objections from Beijing. On Monday, the Chinese Foreign Ministry cautioned the U.S. not to interfere. "China has paid close attention to . . . the passage of the US military vessels through the Taiwan Strait. We have made representations to the US side. We urge the US to strictly abide by the one-China principle and the three China-US joint communiques, prudently and properly handle Taiwan-related issues, and avoid damaging China-US relations and cross-straits peace and stability," said Foreign Ministry Spokesperson Geng Shuang.