Taiwan Unveils First Domestically-Built Submarine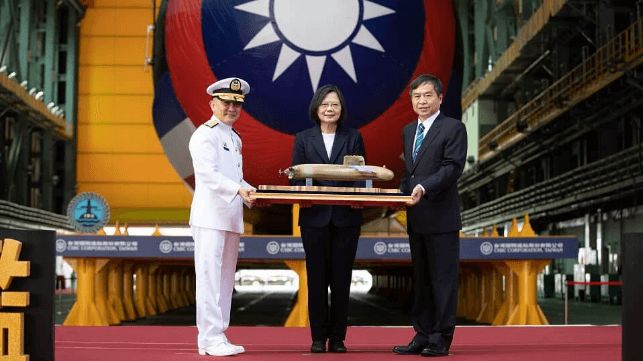 After years of painstaking effort, the government of Taiwan has unveiled its first domestically-built submarine, the Haikun. It is a key element of Taipei's plans to defend against a cross-strait invasion, which would be spearheaded by the far larger People's Liberation Army Navy.
The $1.5 billion diesel-electric attack sub is the first in a series of eight. It was locally built using technology and parts sourced from at least half a dozen allied nations, including the United States and the UK. The newbuilds will augment the four aging submarines in the inventory of the Republic of China Navy (ROCN) - two WWII-era subs from the U.S. Navy, used primarily for training, and two Dutch-built subs dating to the 1980s. The second new sub in the series is due to deliver in 2027.
Haikun will be armed with American-made torpedoes and an integrated combat system built by Lockheed, according to Reuters. The sub is reportedly not fitted with an air-independent propulsion system, which would allow it to remain submerged for extended periods. This shortcoming could be worked around, Prof. James Holmes of the U.S. Naval War College told Japan Times, if the subs were kept close to their home ports and used for short out-and-back sorties into the Taiwan Strait.
The name "Haikun" refers to a mythical fish from classical Chinese literature, known for its size and ability to fly. Taiwan also refers to the sub as the Narwhal for English-speaking audiences.
"With our first domestically produced submarine, Taiwan has taken a substantial step in boosting self-sufficiency in defense and protecting its territorial waters," said Tsai Ing-wen, Taiwan's president. "In the past, building submarines domestically was considered 'Mission Impossible.' But today, a submarine designed and built by our own people is right in front of everyone — we did it."
China's government disagrees about the program's potential. "No amount of weapons [Ing-wen's] Democratic Progressive Party buys or makes can stop reunification with the motherland," a Chinese defense ministry spokesperson responded when asked by the BBC.