[Updated] Panama Canal Allows Zaandam Transit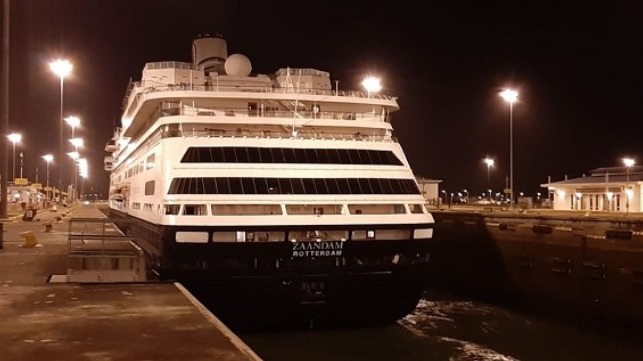 The Panama Canal allowed the transit of the cruise ship Zaandam through the waterway on Sunday, after receiving authorization from Panama's Ministry of Health.
In a statement Friday afternoon, the Panama Canal Authority had said that it would not allow Zaandam to pass through. However, the Ministry is making a humanitarian exemption to bans imposed as a result of the COVID-19 pandemic. Canal staff that boarded the ship wore biosafety equipment.
Four passengers aboard Zaandam have died, over 100 have reported being ill and two have tested positive for COVID-19.
The cruise ship was anchored outside Panama Canal waters while well passengers were transferred to Holland America's Rotterdam, as part of an operation approved by the Panama Maritime Authority.
There were 1,243 guests and 586 crew members on the Zaandam. The ship's passengers have been confined to their rooms since last Sunday.
According to the Zaandam's itinerary, the vessel was originally scheduled to transit the Panama Canal on April 1.
Traveling through the Panama Canal will allow the Zaandam to save two days in her journey back to Fort Lauderdale, Florida. Rotterdam has also been allowed to transit the Panama Canal.