Analysis of Vessel Inspections Shows Safety Gaps in Offshore Sector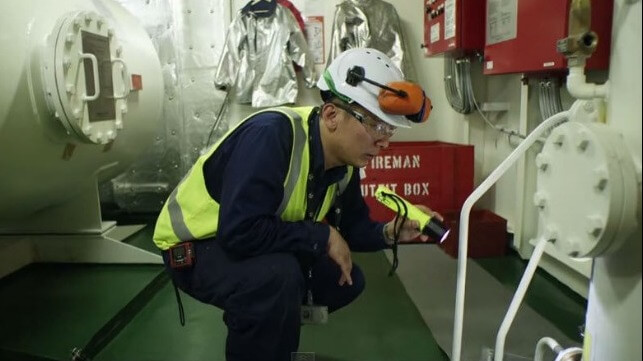 Concerns are being raised over the accuracy and thoroughness of inspections especially as it relates to the safety elements for vessels operating in the offshore sector. The International Marine Contractors Association (IMCA) released its annual analysis of the safety inspections performed on vessels and uploaded it into its database finding ongoing concerns around technical inspections and especially safety gaps identified in the reports.
The IMCA is a trade association representing the vast majority of contractors and the associated supply chain in the offshore marine construction industry worldwide. Among the services they provide the marine and offshore industry with standardized formats for vessel inspection. Offering a safety management system, the association says improves the quality and consistency of inspections while reducing their frequency on individual vessels through the adoption of a commonly recognized process. However, their recent review of the more than 1,500 reports on vessel inspections undertaken and uploaded to their database between April 2022 and April 2023, showed common themes that highlighted potential safety gaps that need to be addressed.
Fully 10 percent of the larger vessels covered with the association's eCMID inspections had not completed technical inspections by their operators. They highlight that normally these inspections are carried out by a fleet superintendent and identify potential issues that need to be addressed.
Among some of the specific gaps in safety found by reviewing the surveys is that nine percent of vessels inspected did not have enclosed space entry adequately controlled. The association highlights this noting that confirmed spaces and their dangers remain a significant issue for the maritime industry. They report between May and August 2022, 11 seafarers lost their lives due to not following enclosed space entry procedures.
Some of the other issues that recurred in the review of the surveys were that seven percent of vessels had defects reported with their lifesaving appliances. They also report that nine percent of vessels had issues with bridge navigation equipment while an additional nine percent had obvious leaks in their machinery spaces and eight percent had issues with mooring and/or towing equipment. Also, 15 percent of vessels did not have a lifting equipment management system in place while 13 percent of vessels did not have formal cyber security incident response, disaster recovery, and business continuity plans in place.
A range of similar safety issues were also found in the review of the reports on smaller vessels. Many of the issues highlight failures to inspect and test systems following regulations.
"The high number of ISM non-conformances revealed in this analysis demonstrates very clearly why the eCMID and eMISW are credible and justifiable vessel inspection tools which allow us to identify, monitor, and drive down unsafe practices for vessel owners and operators which have the potential for accidents and safety incidents," said Mark Ford, Marine & Quality Manager at IMCA. "This analysis will enable IMCA and its membership to focus efforts on reducing the number of findings," he said while also saying their goal is to also reduce inconsistency in reporting and feed into training enhancements and system improvements.
The analysis of the inspections highlights the broad range of safety issues present on vessels that are putting the people working aboard in danger. IMCA's goals are to enable the development of the world's marine energy resources while raising the standards for safety and sustainably.