Alternative Fuel Vessels Ordered by Yang Ming and X-Press Feeders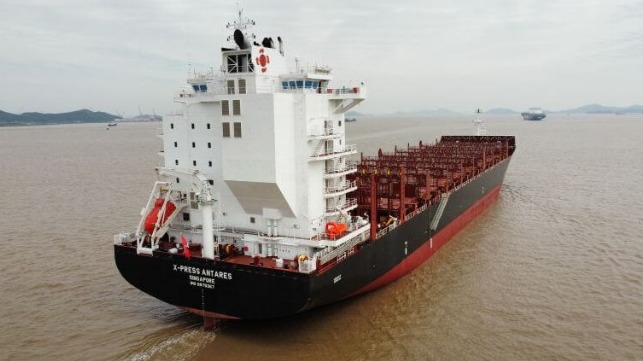 Efforts continue to accelerate the move toward alternative fuels to reach the goals of decarbonizing shipping operations. In recent developments, Yang Ming, the ninth largest container carrier, and X-Press Feeders, a leading feeder operator and seventeenth in the capacity rankings, both ordered new containerships to be fueled with alternative fuels. Both carriers emphasized the importance of moving now based on lead times in shipbuilding to make investments for their future operations and to meet decarbonization goals.
These orders come as growth continues overall in both LNG and methanol-fueled vessel orders according to Martin Wold, Principal Consultant in DNV's Maritime Advisory business. He recently highlighted that with the normalizing LNG prices after the market surge that they were again expecting to see the LNG bunkering market return to full strength.
For the second month in a row, DNV reported positive growth in the order for alternative fuel vessels after a slower start for orders in January 2023 and no methanol-fueled vessels ordered in March. "In May we added seven LNG-fueled ships and 12 methanol-fueled ships," Wold highlighted in the update. That came after strong growth for both methanol and LNG in April. "It's a tie! We added 10 LNG-fueled ships and nine methanol-fueled ships to DNV - Maritime's AFI database in April," Wold reported. He noted that LNG bunkering reached the 900-ship milestone while the methanol count had reached 115 ships.
X-Press Feeders continues to push the boundaries adding alternative fuel to the smaller segments of the market. They reported today signing an order for six additional 1,250 TEU container feeder ships that will have dual-fuel engines. Compared to other vessels that run on conventional fuels, X-Press Feeders says the new dual-fuel vessels will produce about 75 percent fewer emissions when operating on green methanol.
They said the ships, which will be ice class for the company's European network, are designed to use conventional fuel as well as methanol. This latest order is for ships adapted from China's SDARI Sealion design. They will be built by CSSC Huangpu Wenchong Shipbuilding with delivery dates estimated between Q3 2025 to Q3 2026.
This brings to 14 the total number of dual-fuel ships X-Press Feeders currently has on order. In December 2021, the company ordered eight 1,170 TEU dual-fuel containerships. Those were designed by TECHNOLOG Services of Germany and also prepared to run on green methanol. Those ships are scheduled for delivery between the end of 2023 and 2024.
Yang Ming Marine Transport Corp. opted for dual-fuel LNG vessels as part of its mid-long term fleet plan. They ordered five 15,500 TEU container vessels to be built by HD Hyundai Heavy Industries. These new vessels are scheduled to be delivered in 2026, equipped with high-pressure LNG dual-fuel main engines and a ballast water treatment system to meet the latest environmental regulations. In addition, these vessels will feature an advanced integrated system for navigational information and operation monitoring, as well as a broadband maritime satellite system. Yang Ming expects these newbuilds will be able to optimize its fleet, reduce operating costs, and reduce carbon emissions. They reported the new vessels will facilitate greater flexibility in vessel deployment, and enhance the company's overall competitiveness.
DNV has previously said that they expect momentum to continue to build in the alternative fuel segments.