New Antarctic Research Vessel Delivers State-of-the-Art Capability
The U.S. National Science Foundation teams up with Leidos to unveil the future of Antarctic exploration
The Southern Ocean is one of the most remote destinations on the planet for oceanographic research and the U.S. National Science Foundation (NSF) U.S. Antarctic Program (USAP) has supported shipboard-based science missions for over 55 years. The program's aging research vessel fleet is well due for replacement with a modern, highly capable, multi-role platform capable of operating year-round and allowing scientists to access previously inaccessible areas of scientific interest to better understand the changing environment. The NSF recently held a Preliminary Design Review for the next generation research vessel under a program called the Antarctic Research Vessel (ARV).
Efforts led by Leidos and its subsidiary, Gibbs & Cox, are helping to turn the science communities' vision into reality. Their expertise in shipbuilding, naval architecture, and engineering has been instrumental in creating a vessel design that optimizes scientific capabilities while prioritizing crew safety and well-being. This effort includes the development of structure, arrangements, power, mechanical and science mission systems. Close collaboration with Antarctic mission operators and planners and the greater scientific academic community has ensured the technical challenges of designing an ice-capable vessel operating in a harsh environment are carefully enmeshed with the important science mission drivers that make this platform necessary. The result is a vessel with significantly greater capability than the current fleet, including missions up to 90 days, continuous ice breaking through 4.5 feet of ice and holding up to 55 science and technical personnel.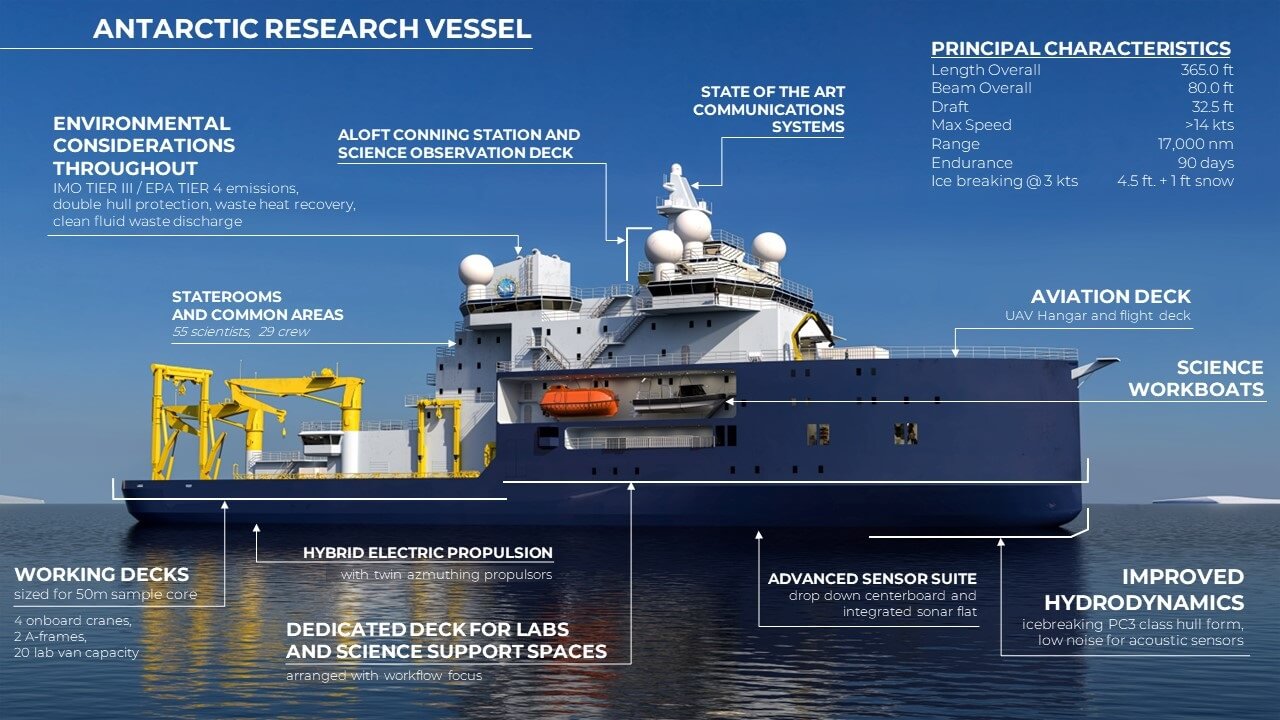 The ARV is designed to leverage cutting-edge technology and modern tools to support a broad range of scientific research efforts including ocean systems, atmospheric/aerosols, geology/geophysics, biology and chemistry. Science mission support includes water column profiling, net tows, both piston and box coring operations, seafloor mapping, bio-acoustics, ROV and sea floor drilling. The ARV will also have capable small boats to transport scientists off the ship and conduct surveys, sampling and supporting autonomous systems such as AUVs, UAVs and USVs (Uncrewed Surface Vessels).
One of the key features of the ARV design will be its robust construction, specifically engineered to withstand extreme weather conditions, breaking heavy ice as thick as 4.5 feet covered with a foot of snow. Extensive analysis optimizes the hull design to remain hydrodynamically quiet during acoustic operations and maintain a comfortable ride during open water transits. To support these goals, the team has performed extensive computational fluid dynamics modeling as well as physical model testing in ice and bubble seep-down acoustic testing at the Hamburg Ship Model Basin, HSVA. Results of these tests show that the ARV will have excellent icebreaking capability ahead and astern, maneuvering in ice and when breaking out of a channel and other attributes to attain Polar Code Compliance with a PC3 notation. This resilience will enable scientists to venture into previously uncharted areas, providing a unique opportunity to study the impacts of climate change, ecosystems, and biodiversity in this critical region.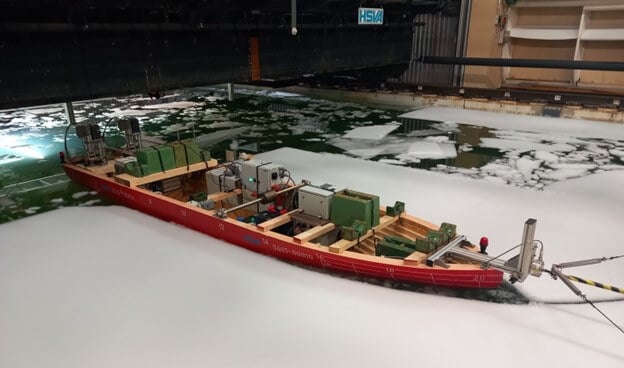 NSF ARV undergoing ice testing at HSVA in Hamburg, Germany
Equipped with state-of-the-art technology and cutting-edge research facilities, the ARV will facilitate a wide range of scientific investigations. Features include extensive main deck laboratories arranged with a workflow focus, a generous Science Operations Center (SOC), aviation facilities to support next generation unoccupied aerial vehicles (UAV) operations as well as landing and takeoff of light helicopters, an Aloft Conning Station to provide a higher line of sight for navigation in ice, a Science Observation Deck with surrounding exterior views for protected species observation, capacity for 20+ lab vans, four onboard cranes and two A-frames, and an aft/side working deck that supports up to a 40m or 50m bottom sample core. The vessel will support interdisciplinary research, including geology, oceanography, marine biology, and climatology, among others. This versatility will allow researchers to delve deeper into the mysteries of the Antarctic, uncovering vital information that could help address global challenges such as rising sea levels and environmental conservation.
The ARV's design also incorporates advanced underwater sensors and above water communication systems, ensuring seamless collaboration between scientists on board and their counterparts on the mainland. Sensors include deepwater and midwater multibeam mapping systems, sub-bottom profiler, Acoustic Doppler Current Profilers (ADCP) and fisheries sonar suites with much greater capability than the current USAP fleet. Transducers are mounted in a drop-down centerboard and in an integrated sonar flat to provide improved performance and be better isolated from hydroacoustic noise. Such excellent hull sonar performance is a new capability for the USAP and is outstanding among her icebreaking research peers. Gibbs & Cox's experienced communications and sensors team has provided an antennae suite design that will allow real-time data transfer in high latitudes and low satellite observation angles, and remote monitoring capabilities will expedite research processes and enhance scientific outcomes.
The ARV design's commitment to sustainability is also commendable. Incorporating environmentally friendly technologies, the vessel aims to minimize its ecological footprint, ensuring responsible scientific exploration for generations to come. From energy-efficient hybrid electric drive propulsion with steerable pods and energy-efficient sub-systems to pollution control, double hull protection, emissions and waste management protocols, the ARV design exemplifies the National Science Foundation's dedication to sustainable practices.
The ARV has been conceived with science at the forefront. Fatigued and sea-weary scientists cannot be at the top of their performance and ARV has been designed to address this. Common areas are spacious and well-lit, and there are many private workspaces throughout the ship. In addition to her required ship's crew, ARV has a berthing capacity to embark up to 55 science and technical personnel for large interdisciplinary science parties. Every one of the single and double occupant staterooms are located to provide natural light with easy access, while state rooms, common areas and ship service spaces have been located to minimize noise. Outstanding network connectivity will be available throughout the interior and exterior of the ARV, and multi-function displays throughout the ship will ensure total science situational awareness.
While the ARV has yet to be fully approved for continued advancement by NSF leadership, or funded by the U.S. Congress, the ARV's final design and construction phases are just around the corner, and anticipation is mounting among the scientific community and environmental enthusiasts worldwide. This vessel will represent a significant leap forward in Antarctic exploration, promising to shape the future of scientific research in one of the Earth's most remote and awe-inspiring regions.
The opinions expressed herein are the author's and not necessarily those of The Maritime Executive.