Snapshot: The World's Ultra Large Container Ship Fleet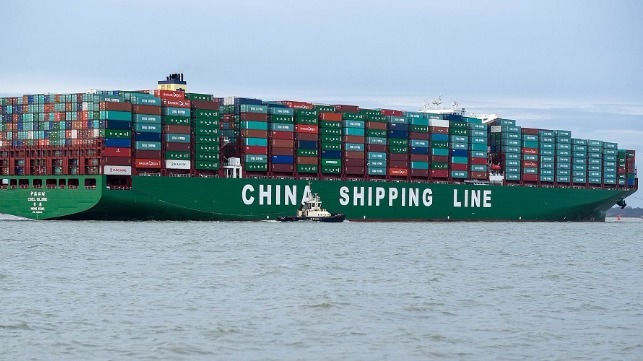 ULCS, short for Ultra Large Container Ship, is the generic name for container ships with a nominal container capacity of 10,000 TEU and over. For many, the ULCS is a fascinating ship, and the editors of DynaLiners Weekly, published by Dynamar of The Netherlands, are no exception.
DynaLiners is keeping track of all ULCS operating and on order. Not only that, we also check the distribution of the ships over the individual operators, both by number, size and type. This, amongst others, reveals a carrier's flexibility of trading through the new Panama Canal with ULCS. If not, it would basically be condemned to serving the Europe-Far East trade only with such large tonnage.
As of January 1, 2018, 451 ULCS were operating, while another 129 were on order for delivery into 2020. MSC deploys the largest number (90) and at the same time has the largest ULCS on order (11x 23,350 TEU).
Maersk Line, the inventor, initiator and developer of the ULCS with its 15,500 TEU Emma Maersk (initially rated at 11,000 TEU when launched in August 2006), comes second with 86 existing vessels, of which 13 were inherited from its recent Hamburg Süd acquisition. The Danes have 11 units on order, including six of 20,600 TEU each.
Cosco Shipping Line currently uses 67 ULCS, which will be joined by another 29 units over the next two years. A total of 22 existing units and 27 being built come from the 2016 incorporation of China Shipping.
Finally, of the biggest ULCS operators, CMA CGM presently deploys 74 such ships, including 20 originating from APL. Its orderbook comprises nine 22,850 TEU leviathans, which are bound to become the first ever LNG-powered ULCS.
Thanks to its takeover of UASC (22 ULCS), Hapag-Lloyd is leading the next tier with 45 ships (nothing on order), followed by ONE (the April 1 next coming together of "K" Line, MOL and NYK).
Staunch loner Evergreen has 31 ULCS operating and in the pipeline (it is contemplating 20 more), and its equally standalone compatriot Yang Ming, 21. Six units are being built for the account of non-operating owners.
In February 2018, another 10 or so ULCS will have been delivered and added to the existing fleet, with the total number remaining unchanged.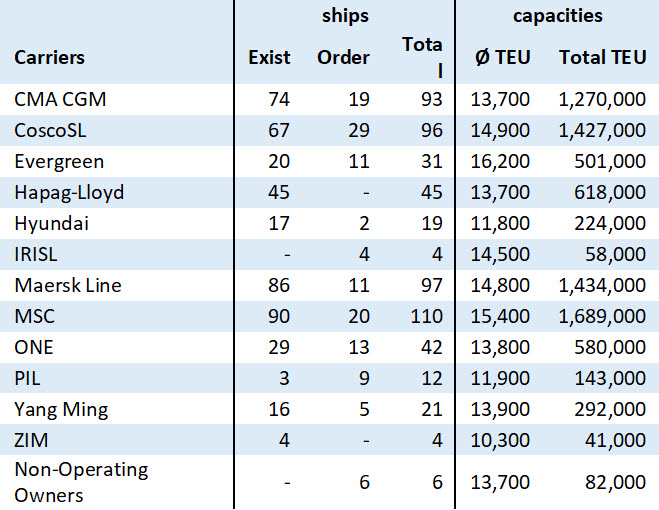 ULCS can be distinguished in five different types, of which the "names" speak for themselves. The large newPostPanamax types, the 18+ ones in particular may speak to everybody's imagination, but the two newPanamax ULCS kinds are the more much flexible vessels, able to trade worldwide:
SNP - SubNewPanamax 17 to 18 boxes wide across deck
NP - NewPanamax 19-boxes wide across deck able to cross the Panama Canal
NPP - NewPostPanamax 20 to 21-boxes wide cannot pass through the Panama Canal
18,000 TEU+ 23-boxes wide across deck
22,000 TEU+ 24-boxes wide across deck
The distribution per carrier of the various types appears from the below table: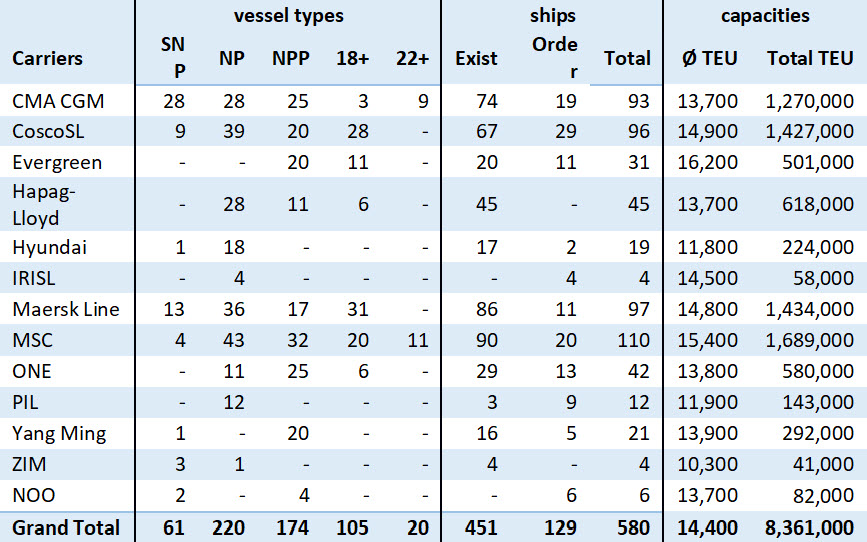 A last note: all ULCS larger than 18,000 TEU invariably operate in the high density North Europe-Far East trade. The average capacity of all ships of all sizes currently operating here is 15,000 TEU.
The opinions expressed herein are the author's and not necessarily those of The Maritime Executive.