Profile: Young Royal Fleet Auxiliary Officer Finds Opportunity at Sea
""I have always enjoyed being challenged. A nine-to-five job has never appealed to me," says Daisy Jarvis, UK MCA's Officer Trainee of the Year for 2023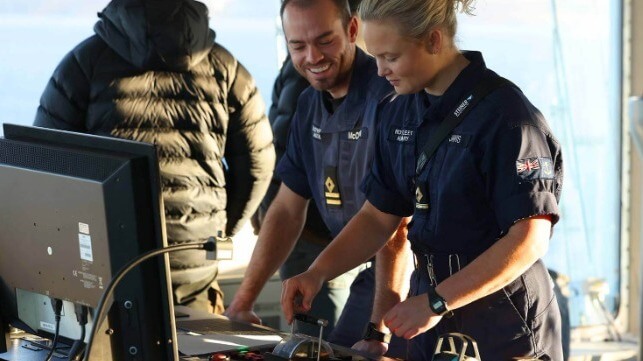 A Royal Fleet Auxiliary deck officer has been recognized for her hard work and commitment. Daisy Jarvis, a third officer in the RFA, has been given the Maritime and Coastguard Agency's Officer Trainee of the Year award. She was nominated for the award by her nautical college the Warsash Maritime School (Solent University Southampton) and the RFA.
The judging panel made particular note of her exceptional leadership qualities when providing support for her peers. Daisy put in time and effort to help overseas students adjust to the UK education system, stepping in when needed, and developing her own problem-solving skills. The judges were unanimous in agreeing that she would make an excellent ambassador for the profession and will make an excellent officer.
"I have been a volunteer crew member with the RNLI for over a decade and have previously worked as a commercial skipper, so applying for a cadetship and joining the RFA felt like natural progression for me. I have always enjoyed being challenged. A nine-to-five job has never appealed to me and, although being in the Merchant Navy involves long periods away from home, there are also many benefits such as continuous career progression and opportunities to travel," said Jarvis. "I feel honoured to have received such a prestigious award."
Officer Trainee of the Year is an annual award presented by the UK Maritime & Coastguard Agency, which aims to raise the profile of officer training. Nautical colleges such as Daisy's in Warsash liaise with shipping companies and are asked to submit nominations for recently qualified officers have achieved academic progress, professional progress and outstanding contributions to their class. Leadership and personal qualities are considered as important as technical competency.
"Daisy's perseverance and welcoming attitude to tackling challenges was behind this expert panel of industry judges choosing her as the 2022 winner," said Damien Oliver, interim MCA chief executive. "I am honored to have met her and had the chance to present such a prestigious award to such a deserving winner. It demonstrates the level of cadets we have coming through our academies and the abundance of talent we have training for the future."
The opinions expressed herein are the author's and not necessarily those of The Maritime Executive.