Market Potential for Ferry Service on Lake Superior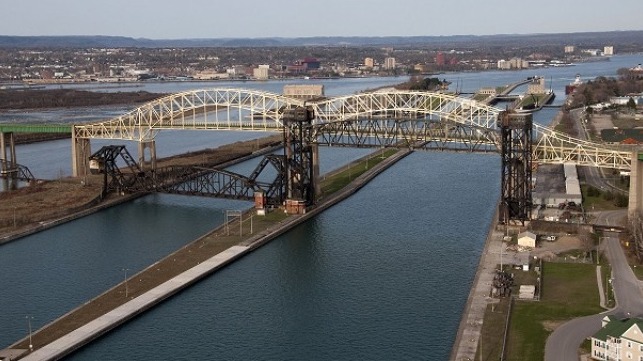 The market for seasonal ferry services that operate on North America's Upper Great Lakes involves shorter travel distance than road transportation. A mega-size Ro-Ro ferry could operate voyages of 380 kilometers (235 miles) on the Canadian side of Lake Superior between the ports of Thunder Bay and Sault Ste Marie, competing with the 700-kilometer (435-mile) journey by road.
Introduction
While road transportation is usually fast and convenient, large bodies of water require that some road traffic travel extended distances. On Lake Michigan, the direct ferry service between Milwaukee and Muskegon involves one-third the travel distance via the congested roadways of Chicago. There are at least eight ferry services across Lake Michigan that involve shorter travel distance and faster travel time than road journeys between the same origins and destinations. Other trans-lake ferry services operate on Lake Erie, Lake Ontario, Lake Huron and Georgian Bay, with the maritime voyage incurring comparable travel costs and less travel time than road trips.
At present, the ferry services that operate on the Upper Great Lakes offer Ro-Ro services involving mainly smaller private vehicles. In Europe, large Ro-Ro- ferries carry fleets of trucks on overnight voyages across the Baltic Sea. Without access to ferry services, trucks would travel vastly greater distances at much greater cost and involve greatly extended transit duration. Ro-Ro ferry services on the Baltic Sea could serve as a precedent to consider a variation of such a service operating seasonally on the north side of Lake Superior, between a pair of long established Canadian ports.
Market Niche
While the railways carry much container and intermodal freight across North America, truck transport is a major contender in the long-distance freight market, offering door-to-door service in often less time than the railways. While the railways can operate trains throughout the day as well as the night, courtesy of crew changes, state regulators restrict the number of hours a long-distance truck driver may provide service before mandatory rest stops requires them to remain out of service for several hours duration. During compulsory layovers, truck drivers may either stay at motels or sleep onboard their vehicles.
A Ro-Ro ferry could sail across northern Lake Superior between Sault Ste Marie and Thunder Bay in the equivalent amount of time as truck drivers' compulsory rest stops. The road distance between these cities is almost double the sailing distance. A ferry that carries 200 trucks could offer much lower transportation cost per unit-of-distance than road transportation cost and the sailing distance is about 60 percent of the road distance. Most truck companies could incur a savings in transportation cost and time-in-transit if their vehicles were carried by ferry during the drivers' compulsory out-of-service periods.
Daily Schedules
Many truck transportation companies carry payload that pass through Sault Ste Marie and Thunder Bay while traveling between Canadian points of origin and destination. They could seek to coordinate schedules with the Lake Superior ferry operator so that their drivers' downtime periods would begin as their trucks arrive at either city. The ferry would operate as a mobile motel providing accommodation and dining services while also carrying trucks and other road vehicles. Given that some trucks will carry freight between northwestern U.S. and Eastern Canada, there may be a market to operate a Duluth – Sault Ste Marie Ro-Ro ferry service.
Market demand will determine the size of Ro-Ro ferry vessels that will sail possible Sault Ste Marie – Thunder Bay and Sault Ste Marie – Duluth services. Should the seasonal service gain acceptance, there may be sufficient market to operate a scheduled pairs of eastbound and westbound sailings, perhaps offering both early evening and late evening departures. At Sault Ste Marie, a ferry terminal located west of the navigation locks could extend the sailing season into January, with first sailings beginning around mid-March.
Sailing Technology
Much larger ships sail on the Upper Great Lakes than the Seaway-max size of ships that sail between Port of Montreal and Lake Erie. A shipyard based on the south side of Lake Erie builds the large ships that sail on the Upper Great Lakes. Seaway-max size of vessels may have sufficient capacity to introduce the ferry service and sustain it for the first few years of operation. Future market growth could require the maximum size of ship that sails on the Upper Great Lakes, perhaps with reinforced bows to cope with winter ice on Lake Superior.
Due to frequent severe wave conditions on Lake Superior, designers may consider a Ro-Ro ferry layout where entrance and exit are built into the stern. Onboard turntables located near the bow would allow trucks to be turned around. Upon entering the ferry, trucks would be driven to the turntable to be turned around prior to being parked facing the stern. Smaller vehicles would be turned 180 degrees at the bow without turntable assistance before being parked facing the stern. A stern without doors could offer greater structural strength to contend with severe wave conditions that occur on Lake Superior.
Conclusions
There are several ferry services that operate internationally, where maritime transportation offers more direct, faster and lower cost transportation between major points of origin and destination, that either road or railway transportation. Several such ferry services already operate on North America's Upper Great Lakes and mostly across Lake Michigan. Other comparable ferry services operate across Lake Erie, Lake Huron and Georgian Bay. There is likely a business case to further examine a possible future Ro-Ro ferry service across Lake Superior, carrying trucks on sailing schedules that coincide with truck drivers' compulsory resting time.
The opinions expressed herein are the author's and not necessarily those of The Maritime Executive.