Flexitank Shipments Should be Added to Black Sea Grain Initiative
If the Grain Corridor included container terminals, it would be a more cost-effective means of transporting agri- and food products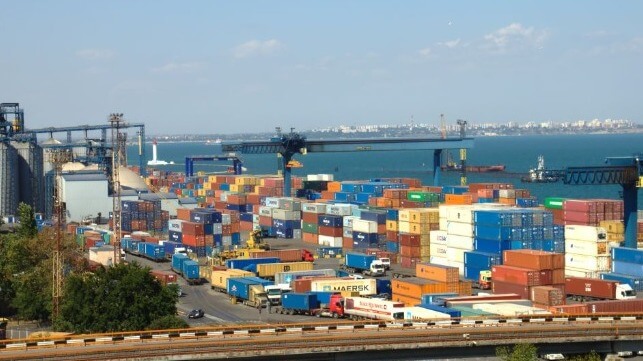 Despite the widely recognized challenges of vessel inspection delays at Turkey's Bosphorus Strait, the Black Sea Grain Initiative was recently granted a further 60-day extension on May 18, 2023. Nonetheless, the repetitive disruptions of joint vessel inspections always affect both agricultural producers and the shipping industry in Ukraine.
Ukraine is a global leader in the production of sunflower oil, serving as a large supplier to a number of countries across the world. In the pre-war year of 2021, Ukraine's sunflower oil producers found their primary markets in India, China, and the countries of the European Union, making them the top three destinations for Ukrainian exports. During the 2020-21 season, spanning from September to August, Ukraine successfully exported a substantial quantity of 5.3 million tons of oil. However, as a consequence of the Russian war in Ukraine, the following 2021-22 season witnessed a notable decline in export volume, plummeting to a mere 4.5 million tons.
The approaching 2022-23 season-end presents a real challenge for oil producers in Ukraine as they grapple with the unpredictable Grain Corridor and its Joint Coordination Center (JCC) operation. The inconsistent functioning of the JCC creates congestion at the Bosporus, resulting in significant operational disruptions and substantial financial losses for Ukrainian agri-industry and sunflower oil producers in particular. The pressing situation is pushing local seed-oil exporters to explore alternative routes to navigate around the congestion and avoid massive delays.
Alexander Khromov, an expert at Informall BG, highlights the potential relief that flexitank container shipments could offer to oil producers. However, several obstacles need to be addressed for this method to be successful. "In contrast to the conventional practice of transporting sunflower oil in bulk via tankers, utilizing flexitanks presents a slightly more complex approach, yet offers significant advantages in terms of logistical flexibility in these circumstances. Due to the sluggish pace of ship examinations under the Grain Deal in 2023, flexitank container shipments have emerged as one of the viable options," says Khromov.
Informall BG estimates reveal that approximately 3,000 flexitank containers were dispatched from Ukraine in March 2023, utilizing both Ukrainian river ports and foreign ports in Poland and Romania. To facilitate the transportation of flexitanks out of the country, freight forwarders and liner operators have begun employing rail and road transport. The demand for flexitanks in Ukraine has witnessed a surge, with Informall BG estimating that the share of exported sunflower oil shipped in containers reaching 20 percent in March 2023.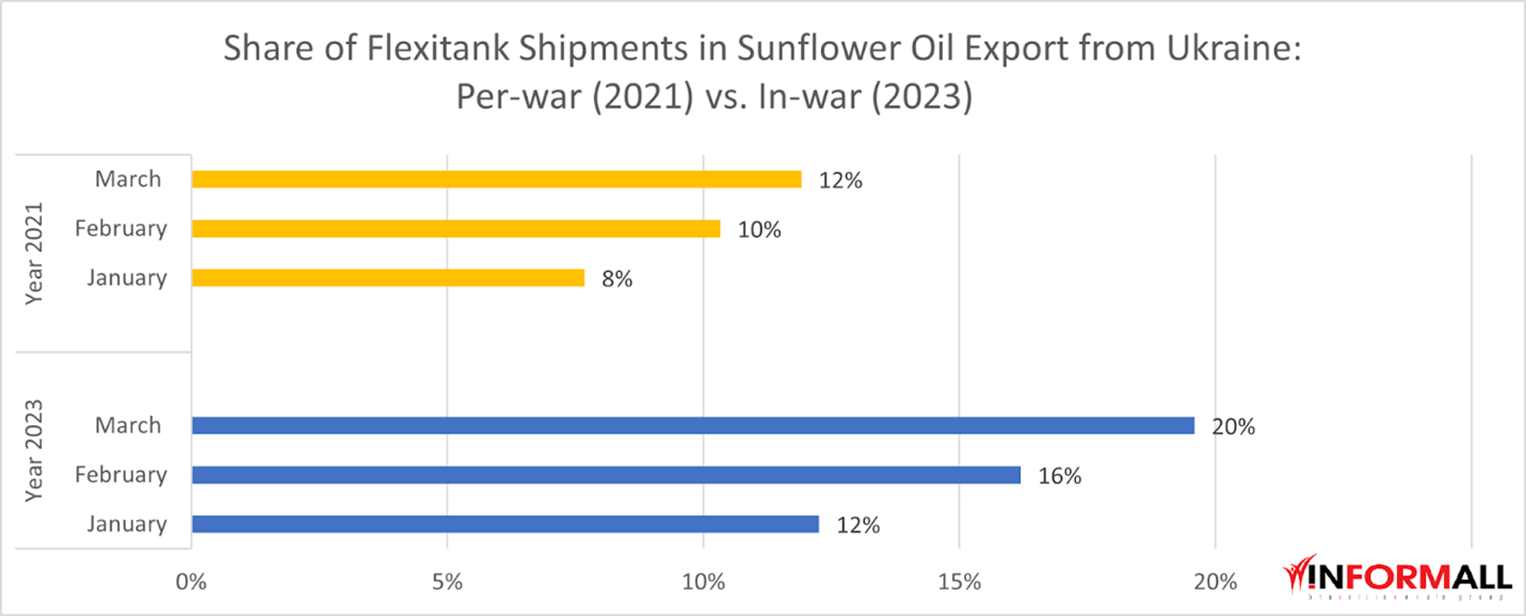 Naturally, as demand for containers continues to rise, the availability may become another challenge for Ukrainian seed-oil exporters, potentially leading to further increases in freight rates believes Informall BG.
Additionally, the low-draft river ports in Ukraine have limited infrastructure, and the local river banks of the Danube are currently being utilized for transporting various types of freight in both import and export directions. Although flexitank shipments have a smaller capacity compared to bulk shipments, they do provide some relief to medium and small-scale exporters in Ukraine. This allows them to empty their storage facilities and maintain production, as highlighted by Daniil Melnychenko of Informall BG. However, major local producers in Ukraine continue to face challenges, as their volumes cannot be accommodated by flexitanks alone, resulting in production suspensions and layoffs, as seen with one of Ukraine's largest oilseeds processing businesses in Ukraine - 'Allseeds'. The company has faced major difficulties in managing their production and logistics due to the Grain Corridor inspection delays and unreliable vessel scheduling.
"During the pre-war 2021 year, Ukrainian agri- and food industries exported over 100,000 TEU (2.2 million tonnes) of products in ocean containers, including grains and its by-products, vegetable and oils. This might be the clear grounding to consider a 'Ukrainian Container Initiative' as a natural widening of the Grain Corridor. Informall BG suggests the inclusion of container shipments from Ukraine, utilizing Turkey's fleet and container terminals for the transshipment of Ukrainian cargoes. If the Grain Corridor were to include container terminals of Odesa ports, it would offer a significantly more efficient and cost-effective means of transporting agri- and food products in containers including seed oils. However, the realization of this potential improvement ultimately depends on the political will of the global community and the parties involved in the deal," said the CEO of Informall BG consulting, Vassiliy Vesselovski.
Vassiliy Vesselovski is the CEO of Ukrainian shipping intelligence firm Informall BG. Daniil Melnychenko is a Data Analyst with the firm, and Alexander Khromov is a Project Manager.
The opinions expressed herein are the author's and not necessarily those of The Maritime Executive.