Could Electronic Logbooks be the Answer to Shipping's ESG Challenge?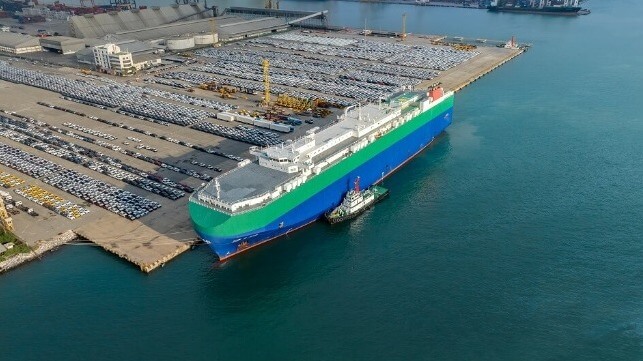 Are your fleets ready for the ESG era? Perhaps a little more than you think. The wealth of data that is collected onboard most ships today can be turned into a goldmine of insights; not just for reporting, but also helping improve actual operations. Often overlooked, electronic logbooks are becoming shipping's unexpected ally, helping unlock new efficiencies beyond the much-discussed fuel and route optimization, and shifting operational cultures for greater safety and sustainability.
Shipping is entering two new eras that will profoundly transform businesses and operations. The first is the era of accountability, bringing enhanced scrutiny of companies' environmental, sustainability and governance (ESG) credentials. The second is an era of digital opportunity, with technology enabling data collection, integration, and analysis on an unprecedented scale.
The good news for the industry is that the two eras are intrinsically linked. Greater ESG accountability will be enabled by the latest generation of digital tools that can help companies report on and improve those parameters.
The ESG playbook
These twin ESG and digital transformations are well underway for passenger ships, and the cruise segment in particular, which are spearheading the change as the most "visible" shipping segment to the general public.
Companies already see that standardized, consistent and reliable reporting on ESG credentials is essential to earn and maintain the trust of key stakeholders – sustainability-conscious passengers, of course, but investors and insurers, too. Capital injections, which are a matter of survival for the cruise industry as it recovers from the pandemic-induced slump, often come with strict ESG criteria. Put simply, companies will increasingly struggle to secure financing and attract customers if they don't have proper reporting in place.
These trends will become more important for shipping as a whole, meaning that ESG reporting is no longer a "nice-to-have" for shipping, it is critical to doing business. As cargo owners face greater scrutiny of their Scope 3 emissions, we are likely to see a domino effect where customers and potential financiers will request ESG data from their partners to ensure their reports are watertight.
In this context, integrated data flows can make reporting and data sharing with third parties far easier. This is where electronic logbooks come into play; as the official reference, signed and approved by the captain, they add a critical stamp of legitimacy to the data that companies share and report for ESG to their investors, banks, and insurance companies, for example.
What more can your ship data do for you?
The potential of onboard data goes beyond reporting on ESG – it is also an opportunity to improve those results and many more aspects of a ship's operations.
To start with, much can be achieved with the data that companies already collect for regulatory and record-keeping purposes. Here, electronic logbooks provide a framework for data collection and analysis, bringing different data streams together and turning them into actionable insights to improve a wide range of operational factors, from waste to engine utilization and stability management.
And this doesn't stop with regulatory logbooks. Digitalization is powering a revolution where every aspect of a vessel's operations, from greenhouse gas emissions to food waste, air conditioning and heating systems, and grew water management can be benchmarked, measured and improved. The possibilities are endless, going far beyond fuel savings and voyage optimization. In other words, electronic logbooks can be tailored to include whatever metrics the company wants to measure and improve – whether the aim is improving ESG metrics, or operational efficiency more generally.
A tangible example is Columbia Cruise Services (CCS), a ship management company that adopted a NAPA solution in 2019 to monitor and action its ESG commitments. This helped create new avenues for data analysis; CCS is now able to capture vessel-performance-related data such as water tank balance, fuel efficiency, ballast conditions and voyage performance, all of which were previously not available or difficult to extract from various manual Excel sheets or unstandardized reports. And this is only the beginning, as CCS is looking to expand its use of digital insights to new areas, such as improving crew situational awareness, and giving each passenger an accurate picture of the carbon impact of their journey.
A technical and cultural transformation
So, what is holding us back? To fully unlock the potential of the digital era, we need to collectively overcome obstacles linked to data collection, integration and implementation.
Globally, the vast amount of data collected on board vessels remains underutilized. Many companies are not yet aware of the sheer volume of data that they are already capturing. Moreover, data is often fragmented, hidden in emails, spreadsheets or paper, and therefore unsuitable for analysis. Therefore, a clear first step must be to implement a more structured and systematic way of compiling and managing data. Electronic logbooks are a turnkey solution to that puzzle. Only with streamlined collection and integration will companies be able to move on to the next stage: making sense of it to inform decision-making.
Beyond the technical challenge, the digital transformation will only succeed if it is accompanied by a profound shift in operational cultures and practices. There has always been a culture of strict record-keeping onboard vessels, but the digital revolution is moving the goalpost beyond simply "storing information" to "putting that information to good use".
This is a significant transformation, and as an industry, we need to build and nurture the right environment and mindsets to make it work in practice. Training crews and shoreside teams will be essential, but this process should be a dialogue, working for and with seafarers to turn data into practical insights – and tangible action.
The cumulative effect of these digital transformations across the industry will be to reshape shipping's paradigms, supporting changes in the way we do business and how we make decisions, both onboard and onshore. The impact is more fundamental than fuel savings and efficiency gains – data is helping create and reinforce a culture fit for the ESG era, with collaboration and safety front and center.
Esa Henttinen is Executive Vice President for Safety Solutions at NAPA.
The opinions expressed herein are the author's and not necessarily those of The Maritime Executive.