Cleaning Up After Hurricane Michael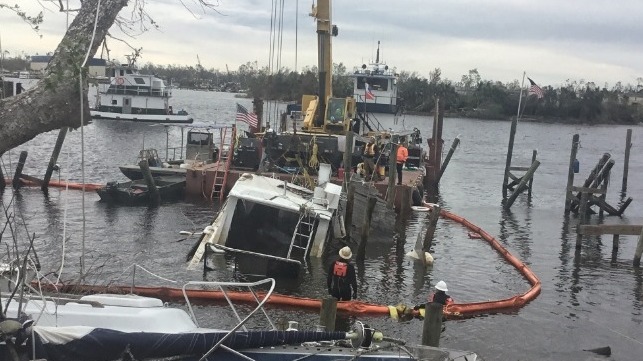 [By PO2 Paul Klug]
The Florida Panhandle experienced pure devastation from Hurricane Michael, Oct. 10, 2018. It ripped through coastal towns and made its way inland, driving people from their homes and leaving thousands without power and fresh water. Relief efforts from federal and state agencies, as well as local and out-of-state volunteers, responded to help displaced survivors.
After the hurricane, the spotlight shifted away from Northwestern Florida. Those not affected went on with their lives, news outlets found more current stories to follow and disasters on the West Coast demanded the nation's focus. However, despite the end of search and rescue operations, members of the Coast Guard (active duty, reserveand civilian), stayed behind to complete a critical mission not often found in headlines: Emergency Support Function (ESF) 10 – Oil and Hazardous Materials Response.
Marine science technicians Heath Ard and Christian Heming observe vessel removal efforts, Panama City, Florida. (U.S. Coast Guard Photo by Petty Officer 2nd Class Paul Krug)
According to the Federal Emergency Management Agency (FEMA), the ESF-10 mission "includes the appropriate actions to prepare for and respond to public health, welfare, or the environment caused by actual or potential oil and hazardous materials incidents". In this specific case, displaced, damaged, overturned and sunken vessels in state waters have posed such a threat to the area. A Unified Command, consisting of the Coast Guard, the Florida Fish and Wildlife Conservation Commission (FWC), the National Oceanic and Atmospheric Administration (NOAA) and salvage contractors, was established to address the threat head-on, Oct. 21, 2018.
The Coast Guard set up an Incident Command Post (ICP) in Miramar Beach, Florida, consisting of operations, planning, logistics, finance, documentation, situation, environmental and demobilization units. With a fully staffed ICP and a steady rotation of incident commanders, the effort to remove environmental threats from local waterways was underway.
A team consisting of Coast Guard and Florida Fish and Wildlife Conservation Commission personnel conduct a vessel assessment in Port St. Joe, Florida, Nov. 10, 2018 (USCG)
"Thanks to our partnerships with FWC, NOAA and private industry, we are making great progress toward the successful completion of our mission to help return our maritime environment to pre-storm conditions," said Cmdr. Catherine Phillips, the current Deputy Incident Commander.
Outside of the ICP, Coast Guard members from multiple districts, including the National Strike Force, began deploying to areas posing potential threats. Working alongside FWC, NOAA personnel and salvage contractors, field teams started the process to rectify concentrated areas of displaced vessels. Over 500 targets were assessed within the Panama City Beach and surrounding areas.
A displaced vessel is removed from Fanning Bayou, Panama City, Florida, Nov. 15, 2018 (USCG)
With such a large area of responsibility, the expectation of challenges was high. One of the more common issues found in the field is distinguishing ownership of displaced vessels and whether removal and/or recovery responsibilities would fall on the owner/operator, pier owners, or insurance companies (if the vessel was covered by insurance before the hurricane).
"Each scenario is case-by-case and not always black and white," said Petty Officer 1st Class Anthony Clark, a marine science technician overseeing operations in the Massalina Bayou in Panama City. "Acting as a mediator between vessel owners and the owner of a pier is a big part of the job."
Other challenges have presented themselves throughout the operation, resembling an ethical dilemma.
"To me, the hardest part of this response was finding common ground with the owners of destroyed vessels," said Chief Warrant Officer Kevin Parrington. "The last thing they want to deal with is salvaging their boat while already burdened by the destruction of their homes."
Part of the Coast Guard's mission here is to help restore the environment back to its natural state. Removing displaced vessels, while potentially causing hardship for some vessel owners, is a difficult yet necessary step.
"There is a tangible benefit amid all of the destruction provided to the people of the region," said Parrington. "These beautiful waterfront properties, ecosystems and waterways are what we are here helping to restore."
Coast Guard Petty Officer 2nd Class TJ James assesses a displaced vessel in Panama City, Florida, Nov. 6, 2018 (USCG)
Once a displaced vessel has been assessed as a potential hazard, field teams determine whether or not it is targeted for recovery or removal. If targeted for removal, the owner/operator must take it upon themselves, or work with their insurance company, to recover their displaced vessel from its current position and move it back to the original location and make any necessary repairs. Additionally, some vessels require the recovery of oil/hazardous materials.
Vessels targeted for removal are lifted from the water or shoreline via crane and transported to a staging area where vessel owners are provided an opportunity to salvage their boat or release ownership. Chief Petty Officer Matthew Cote, a marine science technician assigned to the staging area, oversees this process alongside FWC personnel.
"What has gone very well is the communication and coordination with the contractors directly involved with the transition of vessels from the transition site to staging," said Cote. "This has allowed for very efficient and smooth transfers without complications. In addition, working in conjunction with the FWC representatives has been outstanding."
As operations continue, the ESF-10 mission has begun to see light at the end of the tunnel.
"This has been a total team effort of all levels to include federal, state and private industry to support the ESF-10 mission," said Mr. Kevin Sligh, Deputy Office Chief, Office of Marine Environmental Response Policy and current incident commander. "The coordination has been outstanding and crucial to supporting the state of Florida and its residents."
This article appears courtesy of Coast Guard Compass and may be found in its original form here.
The opinions expressed herein are the author's and not necessarily those of The Maritime Executive.