Breaking Ice on the 41-Year-Old Polar Star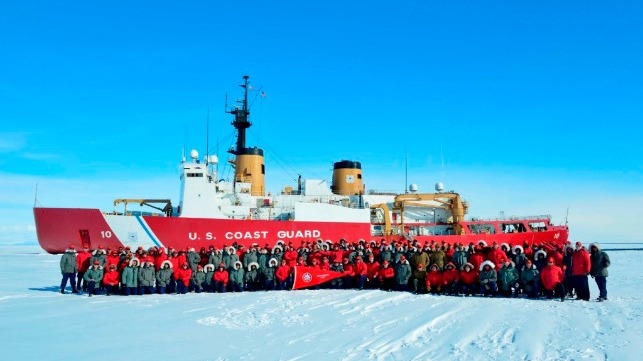 The Coast Guard Cutter Polar Star deploys to Antarctica every year to break ice and create a navigable channel. That channel allows supply ships to reach the National Science Foundation's McMurdo Station to make crucial deliveries. Achieving mission success in Antarctica relies on many variables. Capt. Michael Davanzo, the commanding officer of the Polar Star, said there's a series of events that must happen in order for everything to fall into place.
"Mission success happens when we get both supply ships safely to the ice pier in McMurdo, they don't get damaged, the ice pier doesn't get damaged, McMurdo gets the supplies it needs, we don't get damaged, and we all leave together and get home safely," said Davanzo.
Davanzo started his career as an enlisted member and worked his way up to becoming a chief boatswain's mate before earning his commission as an officer. He praised his crew for all their hard work during Operation Deep Freeze 2018, the U.S. military's logistical support for the Antarctic Program.
"It's an honor to be the commanding officer of the Polar Star and work with this crew," said Davanzo. "We have an amazing crew and we probably have the best chiefs' mess in the Coast Guard. I think we've got the best engineers in the Coast Guard, too. They've done some incredible stuff, and overall we just have a really great crew."
Master Chief Petty Officer Buddy Gilbert, the command master chief of the Polar Star, echoed Davanzo's sentiments about the crew and their professionalism in achieving mission success in Antarctica. "I think this crew is the most competent and tightest crew I've ever been around," said Gilbert. "I respect each and every person aboard this cutter because of what they've given up as far as being away from homeport for 10 months out of the year."
Gilbert said operating a cutter as old as the Polar Star requires a lot of work, effort and competent skill to keep the ship running and performing the mission it performs in the harshest environment on Earth. "Crashing into 10-foot blocks of ice with a 41-year-old boat takes a lot of effort and skill to maintain and keep it running," said Gilbert.
The crew faced numerous engineering challenges during their deployment to Antarctica including two incidents of flooding and the loss of one of three main gas turbines. There were no injuries as a result of the engineering malfunctions; however, they took a toll on the crew and slowed the cutter's progress. "Although we had less ice this year than last year, we had several engineering challenges to overcome to get to the point where we could position ourselves to moor in McMurdo," said Davanzo.
Coast Guard leadership closely monitored the aging cutter's progress throughout their trek to the seventh continent and were continuously impressed with the ingenuity and perseverance of the crew. "If the Polar Star were to suffer a catastrophic mechanical failure . . . our nation has no vessel capable of rescuing the crew," said Vice Adm. Fred Midgette, commander, U.S. Coast Guard Pacific Area. "The crew members aboard Polar Star not only accomplished their mission, but they did so despite extreme weather and numerous engineering challenges. This is a testament to their dedication and devotion to duty."
The Polar Star is scheduled for another drydock availability in 2018 to get ready for Operation Deep Freeze 2019, when the cutter will once again break the ice and blaze the trail to Antarctica.
This article appears courtesy of Coast Guard Compass and may be found in its original form here.
The opinions expressed herein are the author's and not necessarily those of The Maritime Executive.