Are Some Lubricants Causing Stern Tube Bearing Failures?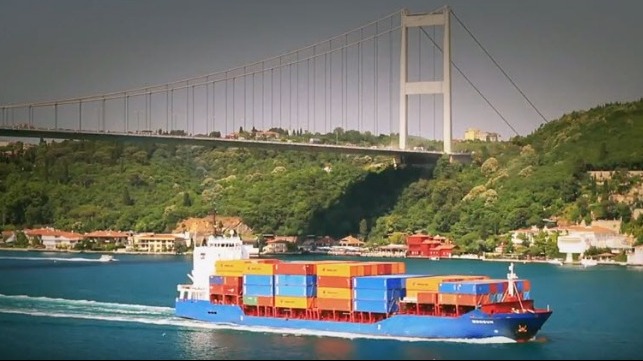 "I never thought that I would ever start a contribution to a technical article with the words... 'Once upon a time'…, but here we go!" said Patrick Lämmle, Chairman of Panolin International, Swiss-based designers and manufacturers of high performance, long life, environmentally friendly lubricants.
Recent issues in the maritime world echo a problem that occurred many years ago.
Déjà vu
Patrick recalls Bauma 1989, a German exhibition for construction machinery, when Panolin started ramping up the promotion of its biodegradable hydraulic fluid, Panolin HLP SYNTH, based on saturated synthetic esters that it had developed a few years earlier.
At that time a global construction machinery OEM had started to promote canola oil-based bio-hydraulic fluids. There had been some years of producing biodegradable chain saw oils based on canola oil, with experience gained by both the lubricant blenders and the forestry industry. Obviously, all agricultural organizations and their farmer members were euphoric about becoming suppliers to the lubricants industry, through their supply of raw materials for plant-seed base oils.
"The idea was ingenious and at first sight the formulated hydraulic fluids based on canola oil showed impressive technical data." The viscosity index was 200 (classic mineral oil is around 105), the flashpoint was at 270°C (classic ISO VG46 grade mineral oils were at 200°C) and the anti-wear performance, measured by FZG test rig, showed a pass of 12 (from the pure base oil, no anti-wear additives required).
After time, however, thermal degradation and polymerization resulted in oil molecules sticking together, meaning that these oil clumps (sludge) cannot be 'eaten' (biodegraded) by bacteria. Additionally, what looked to be good performance in tests turned into a dramatic failure in practice – in the real world.
"After a certain time pump failures, hose failures, seal failures, sticking valves, blocked hydraulic systems, clogged filters and components covered with a lacquer coating of hardened lubricant residue were occurring more and more. The replacement of the failed components was not enough to remedy the problems. Even extensive flushing did not remove all deposits and lacquer coatings, so that more or less the entire hydraulic system had to be dismantled, cleaned (often with scrapers) and re-assembled with new spare parts. One can imagine the cost of such an action. The estimate for the entire industry would have easily amounted to several hundred millions of Euros."
Panolin had always refused to use canola oils as base oils and only used the much more expensive, higher thermally stable saturated synthetic esters. "We always insisted that the unsaturated canola oil would not support the high operational temperatures experienced in the machines for the operational periods of time demanded for the equipment and would start to polymerize and cause precisely the failures in hydraulic systems and gearboxes being experienced.
"The much more expensive but technically superior saturated synthetic esters we selected, exhibited no such problems."
Increasing use of bio oils
With the advent of greater use of biodegradable lubricants in maritime applications, particularly following the coming into force of the (second) U.S. EPA Vessel General Permit (VGP) at the end of 2013, stories started to be told about problems with overheating stern tube bearings of newbuild vessels on sea trials in the Far East. These problems were occurring when environmentally acceptable lubricants (EALs) were used, in different vessel types, with different EAL makes and with different shipbuilders.
The problems were apparently not occurring with vessels filled with mineral based stern tube lubricants. Over the past year or so, there have been instances occurring of the leakage of some EALs from the stern tube - this time on vessels that have previously been in service without a history of stern tube problems - following conversions to EALs from mineral oils a couple of years earlier.
On drydock investigations, problems of wear and blistering of the stern tube seal lips became apparent. Also, in some instances, "stinking" black oily sludge greeted the service engineers. This thick butter-like sludge had to be scraped out of seal cavities and seal oil feed pipes required to be blown through with compressed air to remove it.
These occurrences are currently happening around the world.
Patrick recalled: "When we learned about the VGP, we knew immediately that we already had the right lubricant type for stern tubes. With our 30 years of experience, we knew our lubricants for hydropower turbines must fulfil more or less the same requirements as the ones used for stern tube lubrication. While in a ship the power train goes engine – tail shaft – propeller, in a hydro turbine the power train goes impeller – turbine shaft – generator. So the requirements are nearly identical. Even the compatibility with water plays an important role in both applications.
"Coming back to the negative aspects of natural esters described above, the bad behavior of natural esters (hydrolytic instability) with water has to be mentioned. Our Stella Maris non-emulsifying saturated synthetic ester technology with selected additives, shows good compatibility with water ingress - in practice, similar to the behavior of mineral oils."
Current investigations
The recent announcement by DNV GL of a joint development project with several marine insurers and the University of Sheffield in the U.K. to investigate the increase of stern tube bearing failures will shed light on whether EALs are to blame – and if so, which base oil lubricant types are prone to operational failure.
"We are certain that this investigation will confirm our 30 years of experience."
Choosing which EALs to use in different applications in a vessel is clearly a difficult choice and a tough decision for shipowners, as with five base oil types that are generally considered to be biodegradable and several blends of these lubricants available from many oil companies (and numerous re-brands). Many are engineered down to a price: performance: environmental compromise. Identifying those lubricants that do work and those that don't is a big job.
Therefore, at this moment, the problem is with the vessel owners with EALs in their stern tubes and other oil-to-sea interfaces - those who need to use EALs to carry cargo within U.S. waters and polar regions and those who select to use EALs as part of their corporate social responsibility for the environment. Have they chosen the ones that work or the ones that don't?
…This really is déjà vu in the lubricants' world!
Phil Cumberlidge is Business Development Manager, GreenMarine at Panolin International.
The opinions expressed herein are the author's and not necessarily those of The Maritime Executive.