Another Type of Hero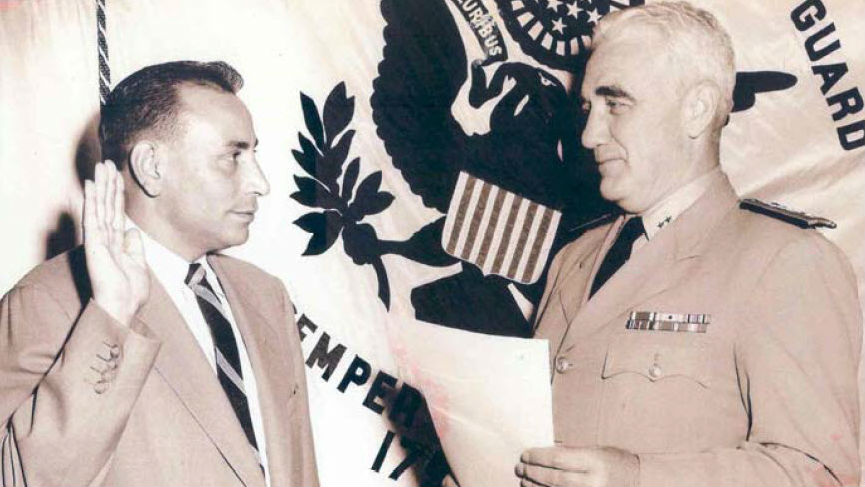 By John Dalziel
The recent film The Finest Hours highlights the courage of a young U.S. Coast Guard crew in rescuing seafarers in distress. This is a fine example of humanity at its best - seeking to help strangers in trouble, often at considerable peril to themselves. This story has oft been repeated to varying degrees in the world's sea rescue services as well as in many other instances.
However, in addition to first responders there is another type of hero. That person is one who relentlessly pursues the facts and the truth, hoping to prevent harm from coming to others. Almost inevitably this is done at a personal cost. In many (if not most) cases there is a price to pay, sometimes an end to career advancement, occasionally far worse.
One such person is Captain Domenic Calicchio of the U.S. Coast Guard. ?His personal and professional qualities were an embodiment of the U.S. Coast Guard's core values of honor, respect and devotion to duty. Calicchio's adherence to strict safety requirements, regardless of the financial burden they created for shipowners, sometimes put him at odds with the shipping lines whose safety he regulated.
Calicchio's greatest achievement was his role in the investigation into the sinking of the Marine Electric, a bulk cargo carrier built to fill Allied war-time shipment needs. The vessel sank in 1983 off the coast of Delaware, and 31 of the 34 crewmembers on board were lost. The three survivors endured 90 minutes drifting in the frigid waters of the Atlantic.
Calicchio was appointed to the Coast Guard's formal inquiry and uncovered the causes of the loss that led to a criminal indictment of Marine Electric's owners.
As a result of the inquiry, greater safety standards were implemented for older vessels, and this led indirectly to the scrapping of about 70 vessels that were unable to comply. It also led to regulations requiring the adoption of survival suits on board vessels navigating in cold waters and helped create the Coast Guard's rescue swimmer service.
Calicchio retired from the Coast Guard in 1985, shortly after the Marine Electric inquiry. According to the book, Until the Sea Shall Free Them by Robert Frump, who covered the inquiry on behalf of the Philadelphia Enquirer, his resignation was prompted by the subtle pressures put on him not to be quite so vigorous in his questioning. He went on to set up his own private maritime safety consultancy.
Hopefully, we still have Domenic Calicchios among us, to protect today's seafarers.
Excerpt from "Captain Domenic A. Calicchio: The Coast Guard's Champion of Marine Safety Regulations"
By William H. Thiesen, Ph.D., Atlantic Area Historian, United States Coast Guard
Calicchio was born in 1926 in Boston to a seafaring family. His brothers Michael and Alfred served as ship's masters, and so did Domenic. "Dom" Calicchio knew well the hazards of working on board ocean-going vessels. He began his career in 1943, entering the merchant marine at the age of sixteen to support the war effort. He served in the merchant marine for twenty-three more years and ended his career as captain commanding ships of the United States Lines.
During his merchant marine years, Calicchio had served as an officer in the Coast Guard Reserve, and, in 1968, he accepted a commission as an active duty lieutenant commander. He took the commission believing that he could make a difference in the service's marine safety field by championing the safety of crews and passengers on board ocean-going vessels.
Calicchio's adherence to strict safety requirements, regardless of their cost, sometimes put him at odds with the shipping lines whose safety he regulated. Early in his Coast Guard career, Calicchio made a name for himself in cruise ship safety requirements, especially in regulations guiding lifeboat capacity, and as a captain of the port for ports in Florida and the Gulf Coast.
Calicchio's greatest achievement, and one that would mark the end of his career, was the investigation into the infamous loss of the Marine Electric. The Marine Electric was a T-2 bulk cargo carrier built during World War II and intended to fill Allied war-time needs for bulk cargo and fuel shipments. Numerous T-2s found employment in shipping lines after the hostilities, even though designers only intended them to serve for the duration of the War.
The T-2s proved so brittle that several of them produced stress fractures or split in two before they set sail on their maiden voyage. Not surprisingly, more and more T-2 tankers sank or fell apart as these vessels grew older and rustier. For example, the T-2s Fort Mercer and Pendleton sank on the same February evening in 1952 off the Cape Cod coast leading to one of the Coast Guard's best known rescues.
Like many of its T-2 sister ships, Marine Electric saw service well beyond its years and, on a stormy evening in February 1983, the ship sank in the Atlantic off Maryland's Eastern Shore. Of the thirty-four crew members who went into the frigid seas only three came out alive.
The Coast Guard's marine board formed to investigate this disaster included Calicchio and two other Coast Guard marine safety officers. It was due in large part to Calicchio's effort to uncover the causes of the wreck that the board handed down a criminal indictment of the Marine Electric's owners.
The case was a landmark event in U. S. marine safety because it set safety standards for older vessels, such as the T-2s, and led indirectly to the scrapping of about seventy vessels unable to meet those standards. It also led to regulations requiring the adoption of survival suits on board vessels navigating in cold water climates. Lastly, the tremendous loss of life in the Marine Electric disaster focused attention on the need for Coast Guard rescue swimmers and spurred support for establishing that fledgling program.
Throughout his career, Captain Domenic Calicchio championed the cause of safety on the open ocean. Ironically, he downplayed his own critical role in overhauling marine safety regulations in the Marine Electric case and other cases during his Coast Guard years. Not long after the Marine Electric marine board of inquiry released its critical 1985 report, Calicchio chose to retire.
He established a very successful practice as a cruise ship safety expert in Fort Lauderdale, Florida. Captain Calicchio passed away in March of 2003, but his honor, integrity, devotion to duty and his high regard for those who go to sea in ships have set the standard for all Coast Guard personnel tasked with overseeing marine safety.
The opinions expressed herein are the author's and not necessarily those of The Maritime Executive.