A Maritime Market Niche for Autonomous Parcel Delivery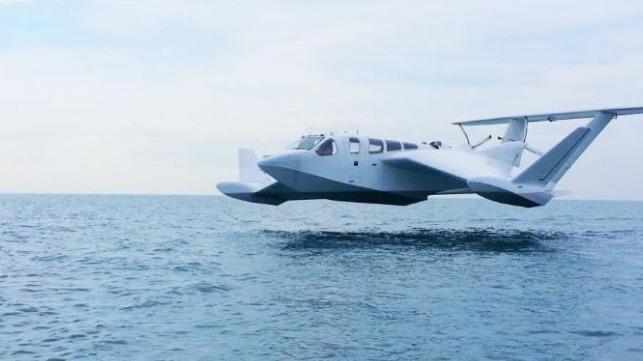 Marketing and distribution companies such as Amazon are exploring the option of direct delivery of small parcels using autonomous programmable drones capable of dropping off packages at customers' doorsteps or balconies. In some regions and during some seasons, there would be scope to introduce small-scale maritime technology into autonomous parcel delivery.
Introduction
The combination of advances in online marketing, improved storage battery technology and advancing computer technology have made possible the option of quickly and directly transferring small parcels from distribution warehouse to customers' premises. Advances in lithium battery technology have extended the operating range of micro-helicopters that can carry parcels. New developments in advanced graphene battery technology in Japan and South Korea promise 20,000-rapid recharges that can allow each micro-helicopter or micro airplane to quickly recharge between deliveries. Some micro-airplanes are capable of undertaking a return trip of 100 miles, carrying payload to a destination.
While advances are occurring in micro-scale flight technology, companies in Singapore, South Korea, China, Germany and Australia have been advancing research and developments into winged boats, or wing-in-ground (WIG) effect technology, and beginning with scale models. Various small-scale configurations of WIG vessels have successfully traveled above calm water such as small inland lakes and above navigable rivers. These vessels can travel for two to three times the distance as small-scale airplanes and perhaps four to six times the distance as micro-helicopters, while consuming the same amount of energy and carrying equivalent or greater payload.
Northern Markets
Online marketing and distribution companies such as Amazon experience their peak of customer demand in the months prior to Christmas. During that period, recreational traffic along northern navigable waterways declines following the end of the summer vacation season. As well, cold winter temperatures cause several rivers in the northern hemisphere to freeze over, requiring the season closure of inland navigation. The wave conditions along northern navigable inland waterways are sufficiently small to allow for the operation of small-scale WIG vessels that could operate in intermodal or transshipment service with airborne delivery drones.
Sections of the Upper Missouri River include a series of long, narrow dams above which small-scale autonomous WIG vessels could travel. In South America, such vessels could travel from Buenos Aires into the Parana River to inland locations such as Rosario and Santa Fe, perhaps even as far as Resistencia. Suitable rivers also flow across Russia and China where small-scale WIG vessels could carry small parcels between towns and cities. Automated mini-transshipment terminals would allow for transfer of small parcels between local micro-helicopters and long-distance mini-WIG vessels that provide seamless links between distribution warehouse and customer premises.
Eastern United States
In the Eastern United States, the Hudson River is free from navigation locks between New York City and the state capital of Albany, with towns of Newburgh, Beacon, Poughkeepsie, Kingston, Hudson and Troy being located at intermediate points along the river. A small-scale WIG drone could travel over New York's East River and across Long Island Sound to Bridgeport and New Haven, with the option of entering the Connecticut River to destinations such as Springfield and Hartford. Further south, small-scale WIG vessels could travel above water between Norfolk and any of Baltimore, into the Potomac River or Susquehanna River.

The operating environment between destinations that are free from navigation locks allows for operation of Class-A WIG vessels that only operate in ground effect mode, between automated micro –transshipment terminals that could include runways for vessels built with landing gear and catapults to assist in vessel launching. Such terminals could either be built along banks of rivers or on specially built floating structures moored offshore. At some locations, drone helicopters could touch on the decks moving WIG vessels and transfer small parcels through automated operation.
Technology Factors
At the present day, the popular configurations of WIG vessels include the reverse-delta wing and tandem-flair-wing designs. A small-scale reverse-delta wing WIG vessel built to six-foot (1.8 meters) wingspan could be designed to travel up to 2.5-foot (0.76-meter) elevation above a water surface where waves may rise to two-foot (0.6 meter) amplitude. On smoother water surface, traveling at an elevation of 0.15 meters above water surface could provide for more energy efficient operation over extended distances. A second set of flight wings installed well above the WIG-wings would allow for the combination of ground effect flight and higher flight elevation.
There would be application for small-scale vessels that undertake deliveries over extended distances and that would require the combination of high-elevation short-distance flight capability and long-distance low-elevation travel capability. Such autonomous WIG-vessels would be able to jump over navigation locks and dams located along navigable rivers while carrying high-priority small parcel freight, expanding the future operational areas for such technology. The ability of some micro-vessels to ride above the water surface would allow for operation along rivers or sections of rivers that would otherwise be off limits to conventional, hull-in-the-water sailing craft.
Conclusions
Ongoing advances in autonomous navigation technology could be applied to small-scale technology used to deliver small parcels from distribution warehouse to customers' premises. While the small-scale autonomous delivery technology would initially involve drone helicopters, the range of technology could expand to include autonomous WIG vessels that carry small parcels between transfer points located along inland waterways. Advances in electric battery technology include future ultra-capacitor and graphene technologies capable of several thousand repeat rapid recharge cycles.
The opinions expressed herein are the author's and not necessarily those of The Maritime Executive.