Viridis Bulk Carriers Receives NOK 152 Million Investment Grant from Enova
Enova SF, a Norwegian government agency, has granted Viridis Bulk Carriers financial support of NOK 152 million to help finance the construction of two ammonia-powered bulk carriers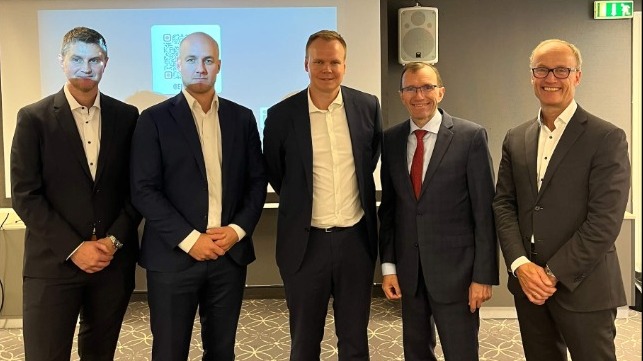 [By: Viridis Bulk Carriers]
Espen Barth Eide, the Norwegian Minister for Environment and Climate, announced the award in a press conference in Oslo this morning.

In a related press release from Enova, Barth Eide states: "The world's energy systems must become emission-free if we are to succeed in reaching the goals we have set ourselves in the Paris Agreement. For shipping, this requires us to adopt new technologies and sustainable zero-emission fuels. The projects that Enova supports make an important contribution to this. Here, the entire breadth is covered from demand, distribution and use of hydrogen and ammonia, development of technology for CO2 capture on board ships, all-electric operation of ships as well as charging facilities for these".

The investment grant is an important and necessary step to realize the carbon free transportation system including ships, cargo and bunkering that Viridis Bulk Carriers and its ecosystem of partners have developed for the past three years. The Viridis vessels which are designed to support charterers cargo capacity needs, have similar sailing range as the current fleet of short sea bulk vessels, and to maintain the crew and societal safety at the level of conventional vessels. Viridis Bulk Carriers expect to place orders for ships around year end 2023, with deliveries starting in 2025.

"The ENOVA grant enables construction of these highly innovative vessels, which we expect will be amongst the very first ships to kickstart the ammonia-powered green shift in shipping," says André Risholm, Co-founder and board member at Viridis Bulk Carriers.

Collaboration with client partners & key suppliers
The Viridis vessels have been designed with the customer in focus and close collaboration with client partners and key suppliers. The company has collaborated with the eight charterers in the 'Flexbulk NH3 Ammonia Power' consortium project to ensure that cargo capacities and operational capabilities are just as future-proof as the power technology and emissions reductions. The vessel design is by Kongsberg Maritime, one of the world's premier marine technology groups and the leading ship designers.
"This is a key milestone in our long-term commitment to decarbonize the short sea bulk market together with forward-thinking clients and leading technology makers," says Espen Nordstrøm, Co-founder and board member at Viridis Bulk Carriers.
Ammonia-powered ships and fuel infrastructure being developed in parallel
Solving the chicken-and-egg dilemma of new ships and new bunkering infrastructure has been a key challenge that the partners around Viridis Bulk Carriers have been working to solve. Together with Yara Clean Ammonia, Azane Fuel Solutions and other partners in the "Ammonia fuel bunkering network" project, Viridis is making sure that ammonia fuel will be available by th time the vessels start operations.
"We are building a new fuel value chain by leveraging partnerships from production to bunkering to providing an ammonia-powered shipping service. We solve the "chicken-and-egg" dilemma by having them both appear at the same time," says Peder N. Jarlsby, Board member at Viridis Bulk Carriers.
The products and services herein described in this press release are not endorsed by The Maritime Executive.