Svitzer and Caterpillar Sign MOU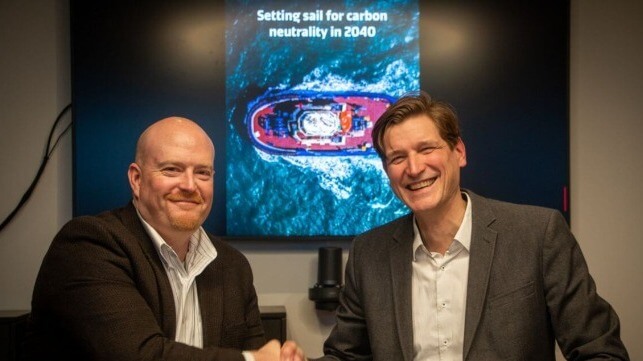 Svitzer and Caterpillar Sign MOU to Implement Methanol Dual Fuel Solutions to Power Svitzer Newbuilds and Convert Existing Tugs. Caterpillar Marine and Svitzer Sign a Memorandum of Understanding (MOU) to Support Svitzer's Decarbonization Strategy by Addressing Methanol As a Fuel in Newbuilds and Conversion of Existing Tugs.
Caterpillar Marine and Svitzer, a leading global marine operations and towage operator, have signed a Memorandum of Understanding (MOU) to adopt solutions that enable Svitzer to utilize methanol in their fleet. The implementation of dual-fuel methanol engines focuses on new tugs as well as conversions of existing Cat® powered tugs, which comprise the majority of Svitzer's fleet. With a relationship spanning numerous decades, this agreement marks the next evolution of their journey to, amongst other initiatives such as the adoption of biofuels in EcoTow, enable the fulfillment of Svitzer's decarbonization strategy.
Following the recent Cat 3500-E series methanol-readiness announcement in September 2022, this MOU formalizes the collaboration to deploy engine technologies that enable Svitzer to utilize methanol, which can be produced from renewable energy sources to reduce lifecycle greenhouse gas emissions. "Svitzer has a significant fleet of vessels powered by Cat systems, as well as ambitious decarbonization targets for our future fleet. It is therefore of utmost importance that we join forces with strategic collaborators, such as Caterpillar Marine, to find solutions for both existing and future vessels." said Kasper Karlsen, global chief operating officer of Svitzer. With a focused strategy on sustainability, Svitzer is making pragmatic decisions to support reductions in carbon intensity in the maritime industry, aiming to achieve a 50% reduction in the CO2 intensity of its entire fleet by 2030 and become CO2 neutral across all scopes by 2040.
"Many companies within the industry are exploring methods and solutions that can be incorporated today while also determining viable options for the future. The collaboration between Caterpillar and Svitzer is an important step towards implementing the solutions that support their decarbonization strategy," said Brad Johnson, Caterpillar Marine vice president and general manager of marine.
"Given the size and complexity of our fleet and the ambitious target we have set of becoming carbon neutral in 2040, it is critical to take a holistic approach to reducing our CO2 emissions. While we seek to mature and utilize new technologies, fuel types and operational approaches for new vessels, we also have to find solutions that help reduce the emissions from our existing fleet. The support Caterpillar provides in finding ways of converting our equipment to methanol usage plays a key role in this" says Gareth Prowse, head of decarbonization for Svitzer.
"The focus of our collaboration is two-fold. We are supporting Svitzer to enable tugs to operate on methanol with diesel-like performance while providing fuel flexibility which is key to enabling operators to lower their carbon intensity via green methanol as availability increases. Additionally, we're taking full advantage of the learnings to provide conversion solutions for the existing fleet. This is a critical aspect to reach the level of methanol adoption that Svitzer seeks to fulfill their goals" said Andres Perez, global tug segment manager, Caterpillar Marine.
About Caterpillar Marine:
Caterpillar Marine, with headquarters in Houston, Texas, offers premium power solutions for a wide range of marine applications. With decades of experience designing engines and aftertreatment solutions, Caterpillar Marine products set the standard for quality, performance, and reliability. Caterpillar is dedicated to being your service provider on the water to provide engine and operational success. With Customer Value Agreements (CVAs), customers can take advantage of an extensive array of service options that can be tailored to their specific needs. Combined with our digital solutions, a CVA can provide valuable insights to engine health and performance. The global sales and service network is ready to support customers in tug, offshore, inland waterways, fishing, governmental, dredge, ferry, and yachting wherever they are.
About Caterpillar
With 2022 sales and revenues of $59.4 billion, Caterpillar Inc. is the world's leading construction and mining equipment manufacturer, off-highway diesel and natural gas engines, industrial gas turbines and diesel-electric locomotives.
For nearly 100 years, we've been helping customers build a better, more sustainable world and are committed and contributing to a reduced-carbon future. Our innovative products and services, backed by our global dealer network, provide exceptional value that helps customers succeed. Caterpillar does business on every continent, principally operating through three primary segments – Construction Industries, Resource Industries and Energy & Transportation – and providing financing and related services through our Financial Products segment.
www.caterpillar.com or join the conversation on our social media channels at caterpillar.com/en/news/social-media.html.
The products and services herein described in this press release are not endorsed by The Maritime Executive.