Sanmar Ceremony for New HaiSea Marine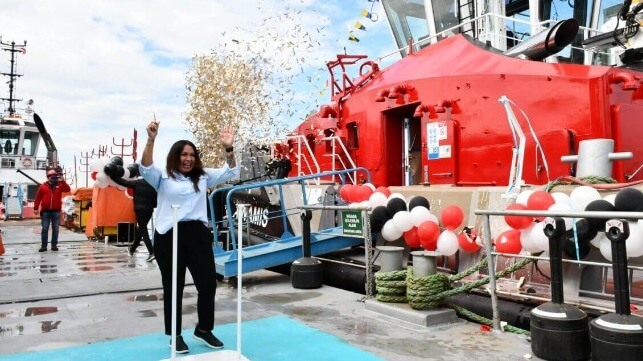 Industry leaders gathered at the naming ceremonies for Sanmar's five new ground-breaking tugboats for HaiSea Marine
Sanmar Shipyards has held naming ceremonies over two consecutive days for five tugboats. 2 LNG-fuelled escort tugs are the most powerful tugboats that Sanmar has built to date, while the other 3 of the tugs are the first in the game-changing all-electric ElectRA series. All of them will work at Canada's prestigious and environmentally-sensitive new LNG terminal in British Columbia.
The naming of the 2 LNG-fuelled escort tugs at Sanmar's Altinova Shipyard took place in early March. Based on the RAstar 4000 DF design from Vancouver-based naval architects Robert Allan Ltd, the two Azimuth Stern Drive (ASD) tugs named HAISEA KERMODE and HAISEA WARRIOR will be Canada's first LNG tugs.
Ranking among the world's highest-performing escort tugs, at 40m in length and with more than 100 tonnes of bollard pull, these impressive tugs will generate indirect escort forces of approximately 200 tonnes. HAISEA KERMODE and HAISEA WARRIOR were named by Lisa Grant, Interim Deputy Chief Administrative Officer of the Haisla Nation and Haisla Nation Councillor Kevin Stewart.
The second ceremony on March 8 was held at Sanmar's Tuzla Shipyard and saw the naming of HAISEA WAMIS, HAISEA WEE'GIT, and HAISEA BRAVE, 3 ground-breaking all-electric ElectRA tugboats, which will carry out harbor duties at Kitimat. Crystal Smith, Chief Councillor of the Haisla Nation, named all three.
At 28.4m in length, with 65+ tonnes bollard pull and 6,102 kWh of battery capacity each, the Electra 2800 electric harbor tugs will perform all their ship-berthing unberthing missions on battery power alone. With ample clean hydroelectric power available in Kitimat, the harbor tugs can recharge from dedicated shore charging facilities at their berths between jobs, resulting in zero emissions.
Ali Gurun, Chairman of Sanmar Shipyards, said: "We are proud to be delivering these vessels on time despite having had serious challenges during and after Covid, with limitations on travel, closed days, limitations on going to work, then a shortage of components. We have had the earthquake with many of our workers traveling to the quake zone to help and assist family and friends."
Cem Seven, Vice Chairman of Sanmar Shipyards, said: "I would like to offer our most sincere thanks to LNG Canada, HaiSea, Seaspan and Haisla Nation for their confidence in Sanmar and we wish these 5 beautiful tugs will bring all of you prosperous, safe and clean operations."
Jason Klein, CEO of LNG Canada, said: "The collaboration between Seaspan and the Haisla Nation is an exciting and purposeful partnership that will provide dependable and responsible marine services to LNG carriers calling in Kitimat. Their culture of safety, respect and environmental stewardship is an extension of LNG Canada's commitment to designing, building and operating our project considering community interests while providing benefits to north coast communities."
VIP guests at the ceremonies included top-level executives from the LNG Canada, HaiSea Marine, Seaspan Marine, Haisla Nation and Robert Allan Ltd, including along with Chief Crystal Smith, Derek Ollman and Jason Klein, Gord Miller, COO of Seaspan Marine; Jordan Pechie, Director at HaiSea Marine; and Mike Fitzpatrick, President & CEO of Robert Allan Ltd, plus Anna Maria Darmanin, Secretary General of the European Tugowners' Association, Sanmar employees and representatives of the international maritime media.

The products and services herein described in this press release are not endorsed by The Maritime Executive.