MHI Vestas to Open U.S. Headquarters in Boston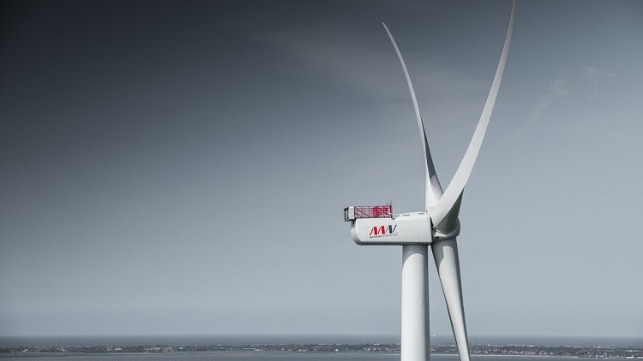 Marking a new era for MHI Vestas Offshore Wind in the U.S., the company will establish its base in Boston with recent hire Jason Folsom to lead the company's ramp-up efforts. The office will focus initially on sales and strategy as it develops a local footprint for projects in the region.
The only pure play offshore manufacturer and service provider in the world, MHI Vestas Offshore Wind announced today that it has chosen Boston for its U.S. headquarters. The company's announcement demonstrates a long-term commitment to Massachusetts, advancing the progressive state's lead in the burgeoning U.S. offshore sector.
"The Baker-Polito Administration was proud to secure the largest single procurement of offshore wind by any state in the country, and MHI Vestas' selection of Massachusetts for its North American headquarters is one of a series of initial steps that will support the Commonwealth remaining a national leader for this emerging industry," said Massachusetts Governor Charlie Baker. "We look forward to helping lead this new frontier for American energy and establishing a hub for offshore wind development on the East Coast through continued collaboration with MHI Vestas and the rest of the offshore wind industry."
"Massachusetts is now a global hub for the offshore wind industry thanks to our landmark legislation to expand the procurement of clean energy," said Massachusetts House Speaker Robert A. DeLeo. "We congratulate MHI Vestas Offshore Wind on its selection of the Commonwealth as its new U.S. home, and we look forward to seeing the jobs, economic and environmental benefits that this evolving supply chain will bring to the people of Massachusetts."
Massachusetts Senate President, Karen E. Spilka, said, "We are excited to welcome the headquarters of MHI Vestas to Massachusetts. This is another example of how, by working together to be a leader on environmental innovation, our Commonwealth can attract the businesses and technologies that will help us create a clean energy future. This is important not only to our economy, but to the long-term health of our environment."
"Under the leadership of Speaker DeLeo and Speaker Pro Tempore Haddad, the Massachusetts House has been laser-focused on creating the framework for a thriving offshore wind industry right here in the Commonwealth," said State Representative Thomas A. Golden, Jr. (D-Lowell), Chairman of the Joint Committee on Telecommunications, Utilities, and Energy. "With the passage of the 2016 and 2018 energy bills that allowed for 3200 megawatts of offshore wind to be built, the House has sent a signal to the offshore wind community that the Bay State is open for business. We welcome MHI Vestas, a world-class turbine manufacturer, with open arms, and look forward to a collaborative partnership as we jointly take great strides to further strengthen the state's leadership in offshore wind."
"I am very pleased that MHI Vestas has chosen the Commonwealth of Massachusetts as the location for their corporate offices in America," said Senator Marc R. Pacheco (D-Taunton). "This announcement is tremendous news for the Commonwealth's promising offshore wind industry. Our commitment to a clean energy future will mean more clean energy jobs, improved public health, and an overall reduction in statewide carbon emissions. I am proud that Massachusetts has had the vision to commit to becoming a leader in the transition to a clean energy economy and excited to welcome MHI Vestas to the Commonwealth."
"I congratulate Vineyard Wind for moving ahead in the process with such a prominent industry leader such as MHI Vestas, and I welcome MHI Vestas to the Commonwealth," said State Speaker pro Tempore, Rep. Patricia A. Haddad (D-Somerset). "Collectively we can now move forward in identifying supply chain vendors here in Massachusetts which will aid us in moving closer to our vision of clean energy and laying the foundations for this new industry."
The MHI Vestas office, which will officially open in the coming weeks, will be led by wind industry veteran, Jason Folsom, the company's U.S. National Sales Director. Additional administrative staff will be hired in the coming months as the company progresses its plans for the 800 MW Vineyard Wind project as well as exploring potential projects in nearby states.
"We believe that the U.S. offshore wind industry is starting a prosperous journey, and we are committed to working with our partners to contribute with our latest technology and experience to the transformation of the energy sector. Our office in Boston is our first step before establishing an actual supply chain," said MHI Vestas Co-CEO Lars Bondo Krogsgaard.
Up first for MHI Vestas in the U.S. will be the 800 MW Vineyard Wind project off the coast of Martha's Vineyard. With a scheduled installation in 2021, this will be the first large-scale offshore wind park in the US, will feature the industry-leading V164-9.5 MW turbine, and will provide enough wind energy to power 450,000 Massachusetts homes.
"Vineyard Wind is very proud that our competitive bid for cost-effective offshore wind generation is bringing the world's most powerful offshore wind turbines to Massachusetts and we applaud the decision of MHI Vestas Offshore Wind to establish its North American headquarters here in the Commonwealth," said Lars Pedersen, CEO of Vineyard Wind. "By delivering new jobs, innovation and locally produced carbon-free energy, Vineyard Wind and MHI Vestas are setting the stage for a new industry in the Bay State."
The Vineyard Wind project is large enough to serve as a catalyst for the build-up of a local supply chain in the region. Once the turbine supply order is confirmed, MHI Vestas will ramp up the process of local hiring and supply chain investment to support the project as it nears the construction phase.
The Vineyard Wind and MHI Vestas partnership advances the ambitious vision of the Massachusetts Legislature and Governor Baker who in 2016 passed bipartisan, comprehensive energy diversification legislation requiring utilities to competitively solicit and contract for approximately 1,600MW of offshore wind. Then in 2018 Massachusetts furthered its commitment to offshore wind with legislation calling for the review of the cost-benefits of an additional 1,600MW of offshore wind by 2035.
The products and services herein described in this press release are not endorsed by The Maritime Executive.