Med Marine Celebrates Delivery of Tugboat Built for Misurata Free Zone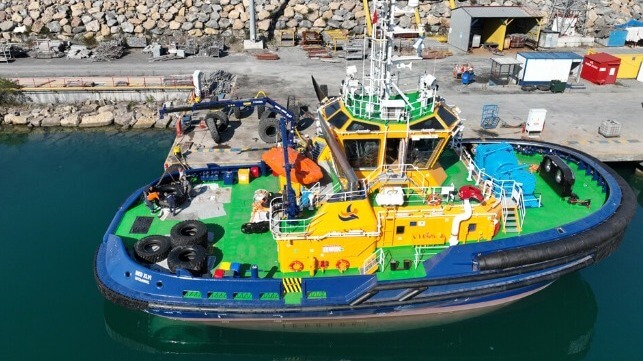 [By: Med Marine]
Med Marine, a leading global shipbuilding company, is proud to announce the successful launch and delivery of the MED-A2885 tugboat to the Misurata Free Zone.
The vessel, exclusively designed by Canadian Naval Architects Robert Allan for Med Marine, represents a significant milestone in Med Marine's ongoing partnership with the Misurata Free Zone.
The MED-A2885 tugboat, belonging to the renowned RAstar 2800 series, was constructed at Eregli shipyard and officially launched on May 14th, 2023.
This state-of-the-art tugboat is now on route to its home port, Misurata Free Zone, after sailing through the historic Bosphorus Strait.
To commemorate this momentous occasion, Med Marine hosted a humble yet meaningful event at its head office, attended by esteemed guests including Chairman of the Misurata Free Zone Mr. Muhsin Sigutri.
Med Marine 's C.E.O. Mr. Hakan ?en, General Manager Ms. Y?ld?z Bozkurt and Sales Director Ms. Melis Üçüncü, grace the ceremony with their presence as well.
This significant sale of the MED-A2885 tugboat further solidifies the longstanding and mutually beneficial business relationship between the Misurata Free Zone and Med Marine.
It underscores both parties' commitment to providing world-class maritime solutions that enhance the efficiency and productivity of valued partners.
About Med Marine:
Med Marine is a leading Turkish shipbuilder and leading tugboat operator. The firm employs Eregli Shipyard, one of the largest shipyards in Turkey based on some 180.000 sqm with more than 30.000 sqm indoor areas to build state-of-the-art tugboats, workboats, offshore vessels and coated/Stainless Steel (STST) IMO II type chemical/oil tankers, either for its own operations or clients around the world. Med Marine has a very wide selection of state-of-the-art tug boat design portfolio and the shipyard is constantly being improved with advanced production standards by keeping up with latest health, safety and environmental regulations. Med Marine has successfully completed the construction and delivery of almost 200 projects, including tugboats, chemical/oil tankers, mooring and pilot boats. Ere?li Shipyard, owned by Med Marine Group, has received certifications for "Shipyard Security Compliance" and "Shipyard Production Compliance" certificates to build naval ships for Turkish Military and NATO.
About Misurata Free Zone:
Misurata Free Zone (MFZ) is the first free-trade zone established in Libya, based on Act No (9/2000) for free zones and transit trade. It is designated and organized by law to host industrial, commercial, and service operations that are available to all those interested in investing in Libya. The main objectives of MFZ are to increase the revenue sources, to contribute in supporting the local economy, and to provide employment and training opportunities. Such goals are achieved by creating an attractive investment environment where all free-trade activities are facilitated and liberalized. MFZ also strives to be the world's gateway to Africa and open doors to both local and foreign investors to develop international trade and investment at this transit location.

The products and services herein described in this press release are not endorsed by The Maritime Executive.