LR Foundation Backs Sea Shepherd Global's Initiative for African Seafarers
Grant for programme to sponsor African female maritime cadets, helping to combat illegal fishing across the continent.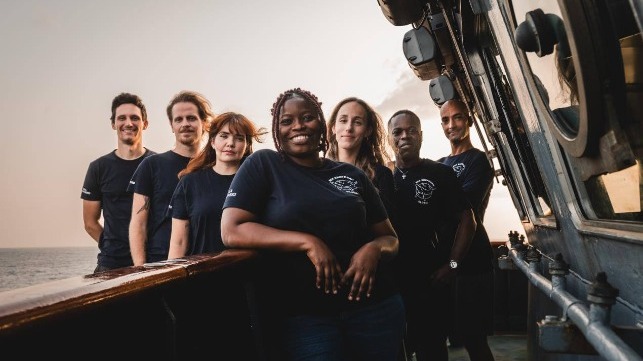 [By: Lloyd's Register]
Lloyd's Register Foundation has announced a new grant to Sea Shepherd Global, to develop and expand its programme sponsoring female maritime cadets from Africa onboard its ships.
The Foundation's grant will allow four cadets to join crew onboard Sea Shepherd's vessels, combatting illegal fishing in Africa. They will be paired with a dedicated Chief Engineer or Bridge Officer to complete their logbook — the ticket to their qualification known as a Certificate of Competency, required to become a fully qualified seafarer.
According to the International Maritime Organization, today women represent just 1.2% percent of the global seafarer workforce. Global Maritime Trends 2050, a recent report produced by Lloyd's Register and Lloyd's Register Foundation, however, estimates that the use of more advanced technologies and systems, plus extensive reskilling and training programmes, will pave the way for women to take on more roles on land and at sea. This means women could make up a quarter of global seafarers by 2050.
Despite this, women around the African continent still face substantial barriers in obtaining the sea time needed to attain the professional qualifications necessary for employment. Sea Shepherd Global is committed to equipping underrepresented seafarers with professional seagoing experience, by upholding the highest industry standards in safety, crew welfare, and training onboard.
"Sea Shepherd Global is proud of its four-year history of partnering with women maritime professionals around the African continent to promote marine conservation while helping advance the careers of some of the world's least represented seafarers in the marine space," said Captain Peter Hammarstedt, Sea Shepherd Global's Director of Campaigns. "The initiative is the result of connections made between Sea Shepherd Global and African Women in Maritime (WiMA) during the Africa Blue Economy Forum organised by Mrs. Leila Ben Hassen in Tunisia in 2019, and its further development and expansion is now possible thanks to the generous support of Lloyd's Register Foundation."
Bea Agüera, Sea Shepherd Global's Crew Coordinator Said: "Crewing agencies in West Africa either don't exist or can't compete with the more established and dominant ones in Indonesia and the Philippines where the recruitment system is more developed. It's also harder to get a visa, and travel can be more expensive. Unfortunately, gender discrimination is prevalent throughout the maritime world, including in developed countries. At Sea Shepherd Global's crewing department, we're committed to breaking down gender barriers in the maritime world. This partnership with Lloyd's Register Foundation reflects this commitment."
Sea Shepherd Global is working towards a future that promotes gender equality in the maritime sector, working to make tangible improvements for women who dedicate their lives to working at sea.
"Governments, regulators, and the private sector need to work together to remove barriers of entry into the maritime system, increase diversity and aid the just transition for all demographics in the ocean economy. I'm excited by Lloyd's Register Foundation's initial collaboration with Sea Shepherd Global and looking forward to seeing how our funding will make a real difference to Africa's female seafarers," said Olivia Swift, Senior Programme Manager at Lloyd's Register Foundation.
Beyond the women directly impacted by this initiative, Sea Shepherd benefits from having locally trained cadets onboard, with first-hand experience in ocean conservation measures combating illegal, unreported, and unregulated (IUU) fishing.
Funding from Lloyd's Register Foundation will also enable Sea Shepherd to develop future collaborations with groups such as Women in Marine Africa, Women in Marine East and South Africa, and the Female Seafarers Association of Nigeria. By expanding this programme, Sea Shepherd will create opportunities for former cadets to mentor new ones from their home countries.
The products and services herein described in this press release are not endorsed by The Maritime Executive.