Intermarine UK appoints agent for Greece and Cyprus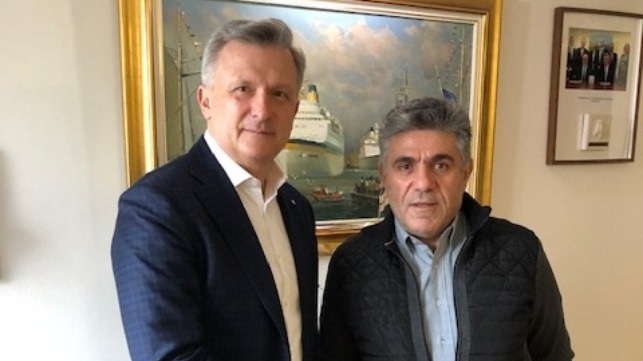 Port of Portland Dorset UK-based maritime engineering company Intermarine UK has appointed the shipping agent Olimpic as its representative in Greece and Cyprus.
Intermarine President Slawomir Kalicki said the new agreement will see Olimpic charged with bringing Greek and Cypriot-owned and registered ships into its 2400 sqm ship repair facility in Portland Port on England's south coast.
"We are delighted to appoint Olimpic as our agent for the Greek and Cypriot ship owning markets which are so important globally," he said. "I have known Olimpic's owner Georgios Orfanos for many years through his Polish operations in the Port of Gdynia and we are confident we can offer ship owners a very strong ship repair and spares package at Intermarine's base in Portland."
Olimpic president Georgios Orfanos, who was born in Poland to Greek parents, said he will be bringing an extensive contact network in the Greek shipping market to Intermarine.
"We will be focusing on promoting Intermarine's Portland operations to tankers and bulk carriers," he said. "Mainly we are looking at non-drydock afloat repairs, emergency repairs and classification society upgrades. Intermarine has a very well equipped welding and fabricating factory and is strong in hot and steel works and it can offer engine works and electrical system repairs and maintenance. We think this is a very strong package for Greek and Cypriot-owned ships operating on England's south coast which is one of the busiest in the world."
Kalicki said Greece is a critical market being second only behind China for fleet size by ship owners and ship managers based in the country.
"Greece is home to more than 4,000 ships of 1,000 gross tons and above," he said. "So it is very important we raise awareness of Portland Port to Greek ship owners and managers. Portland is one of the best located ports in Britain. It sits on pole position for commercial shipping operating on the South Coast and English Channel. Intermarine offers ship repair facilities that complement the range of maritime services already available at the port. The depth and size of the harbor means Portland can accommodate ships of all sizes."
In summer 2018 Intermarine announced it has supplied £1million worth of piping to Cammell Laird shipyard for the building of the RRS Sir David Attenborough polar ship. Intermarine has further worked with the A & P shipyard group helping maintain Royal Fleet Auxiliary vessels. And the company recently demonstrated its wider engineering capacity by assembling a pre-formed corrugated stainless steel tank for Cornwall-based water treatment specialist Eliquo Hydrok.
Kalicki said Intermarine has invested more than £500,000 of its cash reserves in equipping its workshop in Portland since opening in January 2018. Equipment includes bending machines, welding sets, CNC plasma machines and laser cutters. In addition, he said the company has created 20 jobs, including 15 labourers and five office-based positions. In total he said 60 new jobs should be created in the next two years as Intermarine seeks to support shipyards and ship owners across the UK and the world in line with the UK's new shipbuilding strategy. Kalicki said Intermarine is actively recruiting for more multi-skilled engineers who have competence across plating, welding and mechanical fitting and urged anyone in the area with this skill-set to get in contact.
Intermarine's expansion to Portland has been championed by politicians as an example of much coveted foreign investment in the UK's maritime sector. South Dorset MP Richard Drax said: "Intermarine's investment is truly exciting and welcome. The company brings with it highly skilled jobs and good career prospects, which is exactly what we need in South Dorset."
Meanwhile, then Business and Industry Minister Richard Harrington said: "Intermarine's investment in Portland Port will bring new jobs to the local area and will also help ensure UK shipbuilding expertise remains in the area for years to come. Through our modern Industrial Strategy and National Shipbuilding Strategy, we are working with the sector to attract more investment like this and secure a viable future for UK's maritime sector."
The products and services herein described in this press release are not endorsed by The Maritime Executive.