Damen Maaskant Builds Low Fuel Solution for Shrimp Trawlers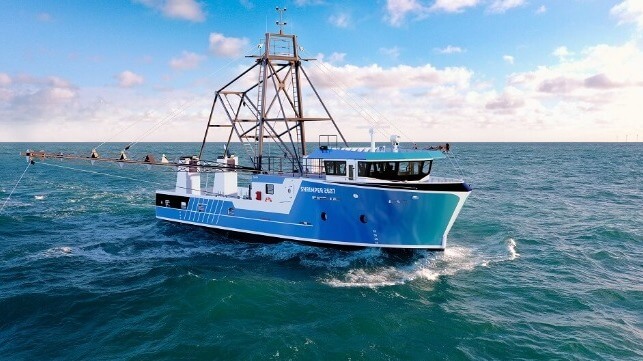 Brand-new design Shrimp Trawler with focus on low fuel consumption
The Damen Shrimp Trawler 2607 is a brand-new design, developed as a simple basic standard vessel, to fish (sub)tropical shrimps, safe and sturdy and easy in maintenance and serviceability, with focus on low fuel consumption.
Wild caught shrimps are fished by shrimp trawlers in tropical or sub-tropical areas. These shrimps are sold to places all over the world and the market is still growing. The catching areas are mainly Africa, South America, and Asia. Fuel consumption is the major cost driver in the operation of fishing shrimps.
Damen researched the market and technology and looked for future-proof solutions for shrimp fishermen. Eric Moerkerk, Managing Director at Damen Maaskant: "The characteristics of the newly designed Damen Maaskant Shrimper 2607 align with the existing vessels. The biggest change is the propulsion system itself. We have optimized the propulsion train, specifically the propeller, nozzle, skeg, and rudder. Resulting in low fuel consumption."
Limited propulsion power
Damen Maaskant is a specialist in designing high-pull vessels with limited propulsion power (thus fuel consumption), such as Belgium's most recently delivered beam trawlers. This has resulted in an aft ship with an enlarged propeller diameter, a high-catch nozzle is applied together with a streamlined balance rudder and streamlined skeg.
Other changes have been made by positioning the engine room aft of the fish hold, thus shortening the propulsion line without the shaft passing underneath the fish hold. The fish hold is now located under the deckhouse, positively influencing the trim of the vessel in different loading conditions. Processing and freezing the shrimp is now on the aft side of the deckhouse, directly above the entrance of the fish hold, for better logistics. The plate freezer is on the aft side of the working deck on the existing vessels.
Builders Certificate
The Shrimp Trawler 2607 is delivered with a Builders Certificate. The hull and superstructure's strength and plate thicknesses meet Bureau Veritas's rule requirements. The CAPEX of the vessel is kept as low as possible. The basic vessel can be upgraded to a certain extent with optional extras.
Damen Shipyards Group - Oceans of Possibilities
Damen Shipyards Group has operated for over ninety years and offers maritime solutions worldwide through the design, construction, conversion, and repair of ships and ship components. By integrating systems, we create innovative, high-quality platforms that provide our customers maximum added value.
Our core values are fellowship, craftsmanship, entrepreneurship and stewardship. We aim to become the world's most sustainable shipbuilder via digitalization, standardization, and serial construction of our vessels.
Damen operates 35 shipyards and 20 other companies in 20 countries, supported by a worldwide sales and service network. Damen Shipyards Group offers direct employment to more than 12,000 people.
The products and services herein described in this press release are not endorsed by The Maritime Executive.