Concordia Damen Converts Shipping Vessel into TSHD for Nigerian Dredging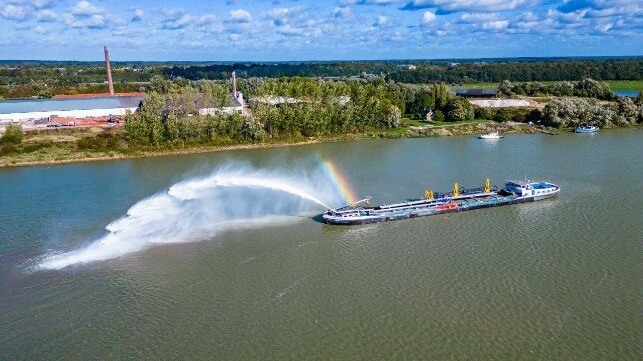 [By: Concordia Damen]
Concordia Damen recently delivered a special project: the conversion of a Dutch barge into a Nigerian dredger. The TSHD (Trailing Suction Hopper Dredger) 'Sayonara' has now arrived and is at work on the Lagos lagoon.

Three years ago, the Werkendam shipyard came into contact with a Nigerian dredging company via Damen Shipyards Gorinchem. This eventually led to the start of the complex conversion project in December 2021. After extensive testing to ensure that the vessel, once in Nigeria, would not experience any teething problems, Jumbo-SAL-Alliance's HLV Fairplayer transported the special TSHD to the customer in Lagos.

Why convert?
Converting an inland shipping barge instead of building a new-build dredger has several advantages, according to the yard. Both because of the fast delivery time and because this method simply saves money at the bottom line, it is a very attractive option for dredging businesses.

On top of that, all the dredging equipment is supplied by Damen Dredging - the same installations that are usually fitted in newbuilds. These include a 500 mm trailing suction pipe, gantries, winches, the dredge pump and valves. The refitted TSHD has a capacity of about 1,400 m3.

Through close cooperation with several trusted suppliers, including, for example, system integrator Werkina Werkendam, the conversion of the Inland Trailing Suction Hopper Dredger has been a success. To create the necessary space for the dredge pump - with drive and various dredging pipes - Concordia Damen cut the "Sayonara" in half and extended it with 7.5m and a special pump chamber.
The products and services herein described in this press release are not endorsed by The Maritime Executive.