Coast Guard Foundation to Honor Hurricane Response in South Florida
Service members saved more than 1,000 after Hurricane Ian struck Florida last year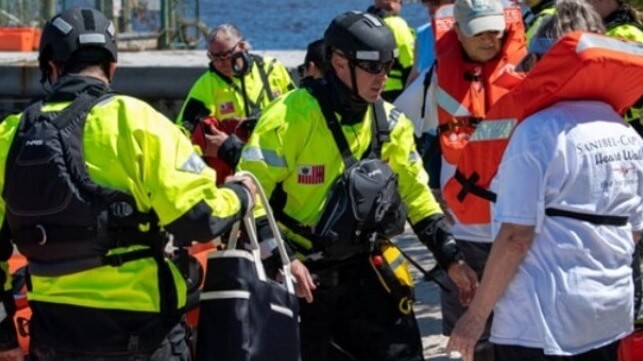 The Coast Guard Foundation will honor the Coast Guard's response to Hurricanes Fiona and Ian at its annual South Florida event on April 28, 2023. The Tribute to the Coast Guard Seventh District is attended by Coast Guard members, maritime and defense industry leaders and supporters of the Coast Guard.
The Award
The Coast Guard plays a vital role in preparing communities for hurricanes as well as saving lives and ensuring the essential flow of maritime goods after storms pass. In less than seven days following Hurricane Ian's landfall near Fort Myers Beach, Florida, Coast Guard members rescued more than 1,000 people and over 100 pets. They also rushed relief supplies to and evacuated residents from coastal islands that were cut off after the storm.
Following the storms, the Coast Guard Foundation opened its disaster relief program to assist Coast Guard members who suffered losses. More than 160 families received grants of up to $3,000 to cover critical needs, including: replacement and repair of household goods, food and necessities, insurance deductibles, temporary housing, and emergency travel.
"We are thrilled to recognize Coast Guard members who rushed to the aid of their communities after these destructive storms," said Susan Ludwig, president of the Coast Guard Foundation. "The Coast Guard's signature ability to save lives and rush toward danger were clearly on display in 2022. These storms also highlighted that the Coast Guard is an important element of local emergency management efforts nationwide as they integrated to support state and local agencies that rapidly responded to relieve suffering and rebuild."
The Event
The annual event honors the Coast Guard and raises money for Foundation programs that support members and families. The Vice Commandant of the Coast Guard, Admiral Steve Poulin, and other national and regional leaders will attend, as will Coast Guard members from throughout the southeast United States.
Lisa Lutoff-Perlo, President and CEO of Celebrity Cruises, will also be recognized for her leadership in the maritime industry.
The event will be held at the Marriott Harbor Beach Resort in Fort Lauderdale, and starts with a reception at 6:30 p.m. Program and awards presentations beginning at 7:30 p.m.
Local Coast Guard Support
While the event raises funds for the Coast Guard Foundation's work nationwide, notable local projects
include:
• scholarships awarded to Coast Guard children attending college and training/technical
• school throughout the southeast U.S. and Puerto Rico, which encompasses the Coast Guard 7th District;
• 28 grants awarded to Coast Guard spouses attending college and or training/technical school throughout the region;
• Morale and wellness programs that include:
o A significant investment in Coast Guard gyms, fitness centers, and recreational equipment
o in Fort Pierce, Miami, and Clearwater, Fla., to help members stay physically fit for duty;
o A significant investment in fitness and morale equipment for Coast Guard cutters including
o the Coast Guard Cutters Diamondback in ST. Petersburg, Valiant in Jacksonville, Vigilant in
o Cape Canaveral, and Charles Sexton in Key West.
To learn more about the Coast Guard Foundation or to support its work, please visit www.coastguardfoundation.org or call 860-535-0786.
About The Coast Guard Foundation
The Coast Guard Foundation is committed to ensuring all Coast Guard members and families have the resources they need to build resilience throughout their lives. Founded in 1969, we're a vital partner to the Coast Guard—tackling the toughest challenges confronting our heroes and strengthening the entire community. Coast Guard members sacrifice so much to protect our nation. We must stand together and show them our appreciation so they can remain always ready.
Join us at www.coastguardfoundation.org
The products and services herein described in this press release are not endorsed by The Maritime Executive.