ASKET Launches Free Maritime Security App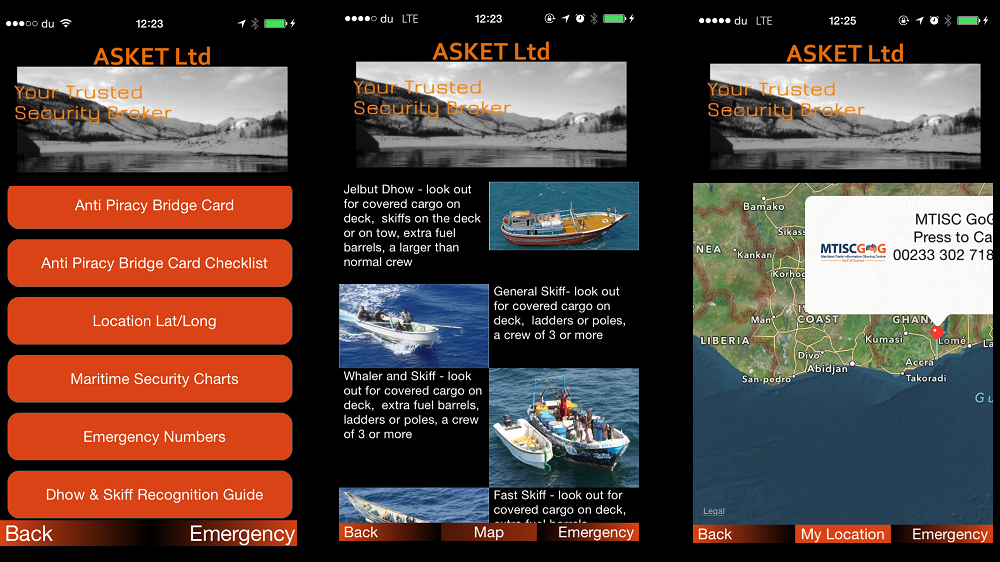 To complemement the range of free services ASKET provides to the shipping industry which includes PMSC auditing, vessel tracking, intelligence and monitoring we have recently launched a free app.
Originally designed designed for Masters and CSO's it is being utalised by a great number of people involved in all aspects of vessel managemnet and security including ship brokers, ship managers, charterers and insurers.
The app available on android and iOS provides over 50 pages of information including both proactive and reactive resources and maritime security short cuts, links and useful advice all at the users fingertips that includes:
• Best managment practices links and guides
• Anti Piracy bridge cards
• Security checklists and ISPS guides
• Emergency numbers and links for vessels transiting SE Asia, West Africa, the Mediteranean and the Indian Ocean.
• Location services
• Bridge and crew training aide memoires
• Skiff and Dhow recognition guides
• Crisis managment guides
• Guides on resourcing and managing on board security teams (coming soon)
• Resources from and external links to IMO, MSCHOA, ReCAAP, MTISC GoG etc etc.
The app is being updated regularily to keep pace with the dynamic security enviroment and has been designed so that it can be used off line, we are adding pages as we go to keep up with the feedback we recieve from the industry.
ASKET was established in 2013 to work with and for the shipping industry, our vision was to set up an independant brokarage and be able to support an industry being hammered by costs of manpower, time, insurance and armed guards.
Our aim was to use our knowledge gained from all sides of the industry to take the pressure away from the risk managers and CSO's, and in turn help to ensure the safety and well being of the seafarers that keep our world turning.
We have come a long way since 2013 and our free service now also includes vessel tracking and risk monitoring.
Blending an understanding of current risk, quality, realistic practical standards and creating a healthy competitive tension amongst PMSC's is at the core of ASKET's independent brokerage service.
ASKET draw from a selection of audited and constantly monitored PMSCs to ensure they have real quality and the ability to support our shipping clients
These PMSCs are tiered depending on their standards and have to remain competitive as each transit is still subject to a bidding process which keeps them keen to be priced competitively.
Our shipping clients also gain by receiving fleet type pricing no matter how big they are, and can also decide on the type of company and composition of team they require on a transit by transit basis but without the headache of auditing and managing several PMSCs.
ASKET Ltd is a true independant broker working for the shipping industry, one of our clients recently said we were a 'breath of fresh air' and best of all our service will not only save money it is free.
--Emma Mitchell- ASKET Director
The products and services herein described in this press release are not endorsed by The Maritime Executive.